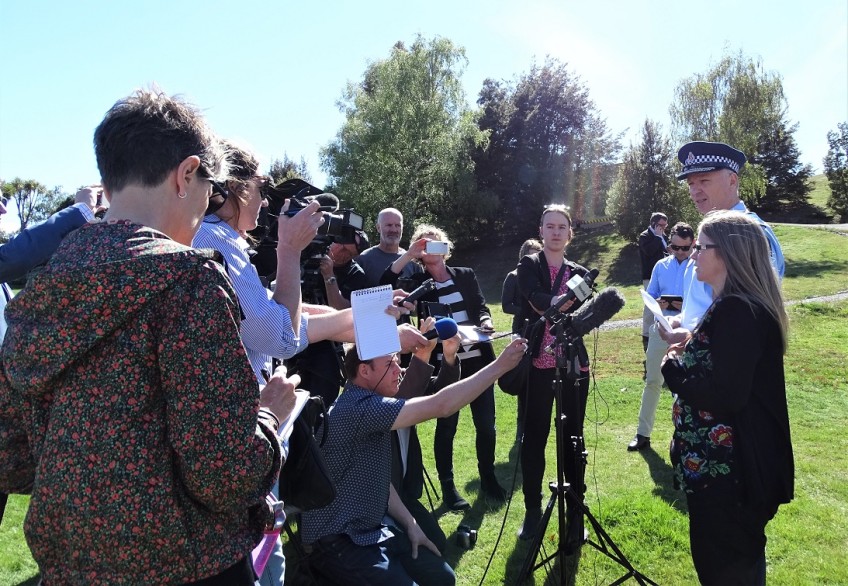 Police release more details of Wanaka helicopter crash
by Kerrie Waterworth - Oct 19, 2018
---
The Wanaka community continues to be in shock and is deeply saddened by the deaths of Alpine Helicopters director and general manager Nick Wallis, and two Department of Conservation staff in a helicopter crash yesterday morning.
Pilot Nick Wallis, 38 of Wanaka, and DOC rangers Paul Hondelink 63, and Scott Theobold, 59, both of Twizel were killed when the Hughes 500 helicopter in which they were travelling crashed shortly after take-off from Wanaka Airport in perfect weather conditions.
The Hughes 500 helicopter was to undertake tahr culling operation in the Haast area.
The cause of the crash is not yet known but at a media briefing this morning outside the Wanaka police station Southern District Commander Superintendent Paul Basham says there was nothing to suggest at this stage that the machine has been the subject of foul play. 
There are reports that the tail section of the helicopter is more than 100 metres away from the burnt out wreckage but Superintendent Paul Basham wouldn't be drawn on any details of the crash. 
"I am not in a position to comment at all with regards to the specifics of the helicopter, the machine or any aspects around the accident."
He says the priority for police today is to formally identify the victims so the bodies can be removed from the scene of the accident and then to expedite the coronial process and "get the deceased, the loved ones, back to their whanau". The lead investigation agency into the cause of the accident, a team from the Transport Accident Identification Commission team will then take over the scene. 
This latest crash comes just three months after Matt Wallis, 39, died when his Robinson 44 helicopter crashed into Lake Wanaka, near Stevensons Island.  Both Wallis men are sons of aviation pioneer and Warbirds Over Wanaka air show founder Sir Tim Wallis and his wife, Lady Prue Wallis.
Superintendent Basham was at a briefing that took place at Alpine Helicopters led by Jonathan Wallis and the board this morning. 
"You get a sense of the impact of the event by being close to a meeting of that nature, it is huge and I think it will be felt very deeply within the Department of Conservation, deeply within the alpine and aviation community here, not only in Wanaka but further afield, and of course across the community here in Wanaka. We see our function as a policing agency in the weeks and months ahead as part of helping supporting them with victim support and other agencies to work their way through what has to be a very, very difficult time for everybody involved."

---