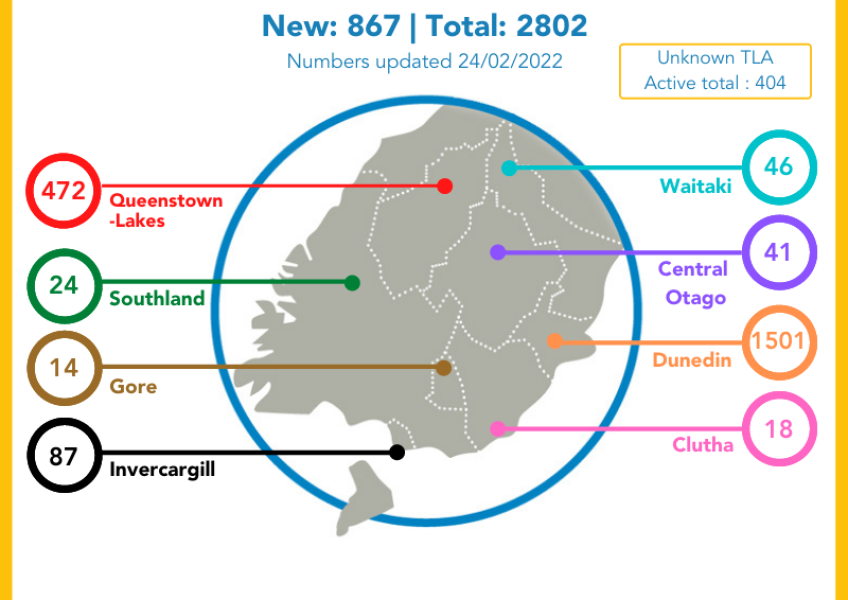 Over 500 active cases in Central Otago & Southern Lakes
Feb 25, 2022
---
From the SDHB:
Summary:
At 11.59 pm on Thursday 24 February New Zealand moved to phase 3 of our Omicron response. Please visit the Ministry of Health website for more information about the phase 3 response.
There are high numbers of COVID-19 positive people in Southern. Please be vigilant when out in the community. COVID-19 is widespread, and we all run the risk of being exposed.
If you test positive on a RAT test you do not need to have that confirmed by PCR – you are a case. Please update your My Covid Record with your result. Call 0800 222 478 if you need any support to do that.
Demand on lab capacity throughout Southern has eased with the introduction of RATs.
Please only get tested if you have symptoms or are a household contact of a confirmed case. We need to ensure those who are symptomatic, or a close contact, get access to testing.
If you receive a text notification that you are positive, please do the online survey in the link you receive in the text message as soon as possible. This will ensure you can receive the appropriate care and support when you need it.
COVID-19 positive cases admitted to hospital
SDHB can confirm there were two patients admitted to Dunedin Public Hospital in the last 24 hours because of COVID-19 symptoms. One further case has been transferred from Southland Hospital bringing the total number of hospitalised cases in the Southern district to three.
None of these patients are in and ICU or HDU.
What are the key changes in phase three?
At 11.59 pm on Thursday 24 February the whole of New Zealand moved to phase three of our response to Omicron.
Daily case numbers are now in the thousands and forecast to rise sharply. This next stage of the plan will keep New Zealand going through the Omicron peak which is currently expected to be in mid-to-late March.
What are the key changes?
Close contacts will no longer be required to self-isolate unless they have symptoms. Only confirmed cases and household contacts of a confirmed case will be required to do so.
Confirmed positive cases should isolate for 10 days but can now self-release after day 10, providing.
Household contacts will need to isolate for 10 days and are required to do a RAT test on days three and ten. Their entire household should be recovering well before being able to self-release. If they develop symptoms, they need to get tested immediately. If they test positive they become a case and begin their 10 days of isolation.
Further guidance for COVID-19 cases or household contacts during phase three of the Omicron outbreak is available on the Ministry of Health website
Our testing strategy will shift its focus to the use of Rapid Antigen Tests (RATs) instead of PCR tests to enable quick testing of those at higher risk of testing positive. PCR tests will still be reserved for those who need them most.
Workers in critical workforces, who are household contacts, will be able to use RATs to confirm they are able to return to work. This is part of the Critical Worker Close Contact Exemption Scheme.
Find more information on the Unite Against COVID-19 website.
Isolation requirements
All people who test positive for COVID-19 are required to self isolate in their place of residence. A place of residence includes hostels and backpackers and any long-term residential locations.
If you find yourself being asked to vacate your place of residence as a result of testing positive for COVID-19 please call Healthline immediately on 0800 358 5453 at any time. Healthline staff can ensure you are connected to the appropriate support that you need.
Current cases as of 11.59pm 24 February 2022
| | | |
| --- | --- | --- |
| Territorial Authority | New – Positive (PCR & RAT) | Active total |
| | | |
| Central Otago | 19 | 41 |
| Clutha | 12 | 18 |
| Dunedin | 546 | 1501 |
| Gore | 3 | 14 |
| Invercargill | 32 | 87 |
| Queenstown-Lakes | 108 | 472 |
| Southland | 13 | 24 |
| Waitaki | 20 | 46 |
| Unknown | 114 | 404 |
| TOTAL | 867 | 2802 |

Please note, the Ministry of Health's daily reported cases may differ slightly from those reported at a DHB or local public health unit level. This is because of different reporting cut off times and the assignment of cases between regions, for example when a case is tested outside their usual region of residence. Total numbers will always be the formal daily case tally as reported to the WHO.
We are unable to provide the territorial authority for RATs.
With the introduction of RAT testing, comparison of Southern case figures to Ministry of Health case figures may become less reliable.
Testing locations can be found on the WellSouth website.
If you have concerns about COVID-19 symptoms, please call your general practice or Healthline on 0800 358 5453 at any time. If you are very unwell or having breathing difficulties, please call 111 immediately.
If you have any questions about COVID-19, self isolation, or what you need to do if you test positive, please call Healthline on 0800 358 5453
If you are self isolating and require well fare support such as help getting groceries, please call 0800 512 337

---