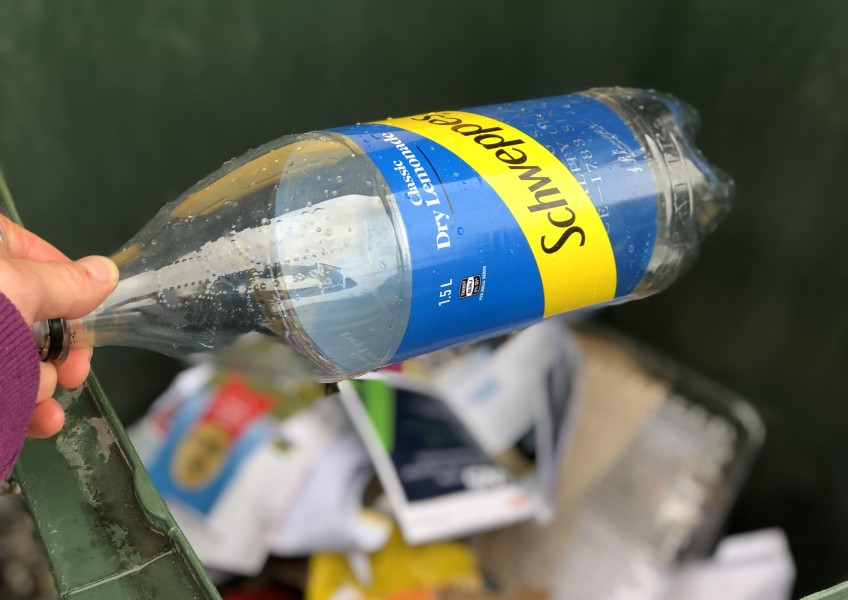 Our local recycling: silver bullet or comforting myth?
---
There's a certain satisfaction that comes from chucking used plastic or glass into their respective colour-coded kerbside-collection bins.
You've done your bit.
But, don't be sold the myth – recycling is no silver bullet for the world's waste, or the district's.
This week, the Central Otago and Queenstown Lakes District Councils have responded to questions from Crux regarding where the contents of our kerbside recycling bins ends up.
Both have confirmed plastics numbered one to seven collected kerbside are all recycled.
They say milk bottles (type two plastic: High-Density Polyethylene or HDPE) are sent to Comspec in Christchurch for recycling, and clear PET (Polyethylene Terephthalate, type one plastic including fruit punnets and soft drink bottles) is sent to Malaysia. CODC says its PET can also be exported to Taiwan.
Both councils say bales of other mixed plastics are shipped to Malaysia.
Unlike neighbouring QLDC, the CODC relies on sending the contents of its yellow mixed recycling bins outside its district to the material recovery facility at Frankton to be sorted.
However in recent months due to Frankton's capacity, it has had to send recycling to facilities in Timaru and Invercargill.
At its last council meeting, an overspend of up to $278,000 was agreed on to cover the increased cost of processing material in this current Annual Plan year.
The increase in budget allows for both increased charges at Frankton and the worst case scenario of likely costs from continued transportation of recycling further afield.
Central Otago Mayor Tim Cadogan says it's "the price we have to pay to do what's right."
CODC staff have been tasked with investigating options for establishing a recycling processing facility within the Central Otago District and will report back on progress before the end of the year.
When it comes to paper and cardboard, the QLDC says these recyclables are "commodities" that are traded by council contractor Waste Management to various recycling markets in New Zealand and internationally.
Meanwhile, the CODC has confirmed cardboard collected for recycling across the district is destined for Indonesia, while paper goes to India, both to long-standing buyers.
When it comes to glass recycling, the track record across both districts has been dismal, and CODC's remains so.
Since its kerbside recycling revamp, the QLDC says its glass is steering clear of landfill and genuinely being recycled, with the vast majority of it sent to Auckland's O-I NZ, the country's only glass bottle and jar manufacturer.
"Since the start of the service on 1 July 2019, over 800 tonnes of glass has been collected. Of this 85 tonnes had to be disposed of at landfill due to contamination, 419 tonnes has been received into Auckland from the Queenstown Lakes District and the rest is waiting for transportation to Auckland," a spokesperson says.
However, the contamination rates for blue glass bins across the Central Otago District regularly sit at 15 to 20 percent (five is the figure the contractor requires to make recycling viable).
Despite some residents diligently separating and rinsing their glass for recycling, the lazy or misinformed habits of others means most of the district's glass ends up in landfill.
CODC environmental services manager Quinton Penniall says in recent weeks, for the first time in 18 months, glass collected in the district was sent to Parkburn Quarry in Cromwell.
He says council has revved up community education to help get the message out that the blue bin is for "glass and glass only".
"We know that if we all work together as a community we can do this. Let's not slacken off now. Clean glass bottles and jars only. If in doubt, leave it out."
The information supplied to Crux comes on the heels of a post last week on a Facebook campaign page by CODC council candidate Cheryl Laws claiming all mixed recycling collected kerbside by the council is trucked to the Victoria Flats landfill.
Ms Laws comments may have been incorrect, but she's right to ask questions.
The recycling process for used plastics (and glass) can seem as transparent as an unrinsed marmite jar (Tip for recycling novices: Rinse used jars and bottles – contamination can mean otherwise recyclable products get dumped in landfill).
At the start of last year, China, the world's largest market for recycled waste, essentially shut up shop, resulting in a global scramble to find new destinations to offload used plastics to.
Some councils around the country, including in Gisborne, Hastings, Hamilton, Whakatane and Upper and Lower Hutt, have limited themselves to collecting only types one and two plastics in response.
Locally, since the beginning of August, Wastebusters has accepted only types one, two and five plastics for recycling. Type five plastic is polypropylene and examples include ice cream and yoghurt containers.
Spokeswoman Gina Dempster says these plastics can generally be recycled in New Zealand, whereas it can't find anywhere globally to accept plastics three, four, six and seven for recycling.
"Recycling globally is still a relatively new industry, and off-shore recycling supply chains are not transparent. Wastebusters is keen to be part of the shift to a more honest and open recycling chain.
"We are doing as much as we can to be transparent about where our recycling goes, within the constraints of the industry.
"Our decision to accept only plastics one, two and five means that our customers can be confident that nearly all the plastic containers and bottles that go through Wastebusters will be recycled onshore by reprocessors who meet New Zealand's environmental and labour standards."
Crux asked Ms Dempster if people recycling plastics kerbside can also feel confident their waste is being handled in a manner that's environmentally and ethically sound, given the bulk of plastic collected and sent offshore by the CODC and QLDC is destined for Malaysia.
She declined to comment, saying Wastebusters is subcontracted to Waste Management (a council contractor) to help the community use kerbside recycling effectively, and as a subcontractor she can't answer media questions on kerbside recycling.
However, Greenpeace is in a position to be more forthcoming with some uncomfortable details.
Last year, a Greenpeace investigation revealed evidence of plastic waste from around the world was being dumped or burnt at illegal sites.
New Zealand was named as one of the sources of plastic ending up in these illegal sites.
According to Greenpeace's resulting "The Recycling Myth" report, Malaysia is the new dumping site for plastic recycling from richer nations to the detriment of the health of its own environment and people.
Put simply, our plastic has become their problem.
In a statement at the time of the report's release, Greenpeace Malaysia public engagement campaigner Heng Kiah Chun said Malaysia was overwhelmed by waste.
"The international waste trade system itself is broken and based on false assumptions about what really happened with waste."
Around the same time, Radio New Zealand's Nita Blake-Persen reported firsthand on New Zealand's role in the Malaysian plastics dumping ground.
On the ground, she tells of plumes of toxic smoke wafting across what was once an agricultural town, the smell of burning plastic seeping into homes, causing headaches and coughing.
Tracing exactly where New Zealand's plastic goes when it leaves Kiwi ports is incredibly difficult, she says.
"Recyclers and councils here typically sell the plastics to a broker, who then sells it to factories across Asia for processing.
"Waste Management Ltd, one of the largest recyclers in the country, confirmed they sold plastic to Malaysia but did not have details of where it ended up."
A backlash of sorts has begun with both Malaysian and Indonesian authorities in recent months returning container loads of contaminated plastics to global offenders, and associate environment minister Eugenie Sage has said New Zealand will be among them.
She says sending waste overseas is not a long-term solution to the country's waste problem.
The government set up a taskforce last year in response to China's ban on plastic imports.
Part of its focus: reviewing kerbside collection and processing. Specifically: supporting more onshore processing of recyclables and helping New Zealand shift to a circular economy approach where products are better designed so that more materials can be recovered and re-used, Ms Sage says.
Work has begun on a plastic bottle buy back scheme that will see plastic bottles carry a refundable deposit that is redeemed when the container is returned to a collection depot or other drop off point.
The numbers:
QLDC
A new kerbside collection service began at the start of July. QLDC has numbers for the first two months of collections.
Glass July: 159 tonnes, August: 230 tonnes
Mixed recycling July: 106 tonnes, August: 208 tonnes
Rubbish July: 782 tonnes, August: 812 tonnes
CODC
The CODC's three-bin system for kerbside collections started in 2015. They provided Crux with these most recent figures.
Rubbish 2018/2019: 9,989 tonnes to landfill (However, according to the council's Waste Management and Minimisation Plan, a chunk of the waste sent to landfill is recyclable - 12 percent is plastics and 14 percent paper. Basically, people are not sorting these recyclable products themselves and are instead dumping them in their red-lidded rubbish bins).
Recycling 2018/2019: 1,944 tonnes recycled.
Doing your bit - tips from the QLDC and the CODC:
While paper and cardboard might seem like an easy win for recycling, in reality contamination of this material is still a very real concern. It's really important to remind people things like sanitary products, nappies, wipes, coffee cups, greasy pizza boxes, tetra paks cannot be recycled and must be put in the red-lidded rubbish bin.
Only clean glass bottles and jars can go in the blue-lidded glass bin. Lids, drinking glasses, heatproof glass like pot lids or pyrex, lightbulbs and window glass all need to stay out. It may sound like a no-brainer, but the cardboard packaging around beer and other bottles goes into the yellow-lidded recycling bin, not the blue-lidded glass bin. Check out the CODC's nifty how-to guide for glass recycling here.
Contamination is a key concern across all materials. Food, for example, is a contaminant, so give any dirty cans or pottles a rinse or quick scrub before disposing of them. Liquids make paper and cardboard soggy, so empty any liquids before you put them in the yellow-lidded recycling bin.
Main Image (Credited Kim Bowden): The Central Otago and Lakes District Councils both say they have local and offshore markets to send plastics one to seven to for recycling.



---