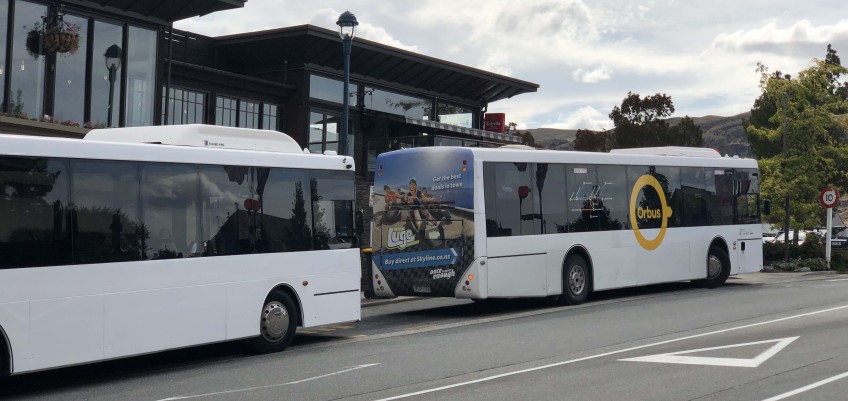 Orbus reduces Queenstown bus services
Mar 11, 2022
---
From the Otago Regional Council:
The ORC has adopted the COVID-19 Reduced Timetable Plan for public transport services in Dunedin and Queenstown.
This will ensure basic continuity of services during the ongoing Omicron outbreak and maintain reliability of both networks.
If COVID cases disrupt bus operations, and the reduced timetable becomes operational, the community will be updated on what this will look like for them and their travel. Details on the reduced services can be found below.
The staged COVID-19 Reduced Timetable Plan focuses on passenger communications and network stability. The reduced timetable will only be put in place should reliability decrease due to illness. To minimise disruption, the option of a reduced timetable will help to prioritise bus services at peak and school hours.
Doug Rodgers, Transport Manager, reiterated ORC's thanks to operators for keeping the buses running.
"We are very grateful to our transport operators, and drivers in particular, for keeping services running and doing their best to minimise disruption during this challenging time. We're grateful also to passengers for their patience and understanding.
"Having the option in place to move to a reduced timetable throughout the week – should the situation become more acute – means our key services and peak timetables can remain operational. The aim is that moving to a reduced service in that scenario would allow us to provide drivers for all routes, minimising cancellations."
Mr Rodgers said that bus operators throughout the country are dealing with illness and isolation requirements impacting their depots and limiting their ability to operate a full timetable.
FAQs
What will the reduced timetables look like?
In Dunedin, the plan would be to move to a modified Saturday service. This means in most cases that the buses run less frequently. For example, number 8 bus drops from every 15 minutes to 30 minutes as per the normal Saturday timetable. In addition to the Saturday timetable, there are modifications to include additional services at peak and school hours, and to allow for routes which usually don't run on the weekend. A full timetable will be published and available to the public for when/if this comes into play.
In Queenstown, the reduced timetable is a modified weekday timetable, where many services remain the same, with the largest reduction in service being for route 1. This same timetable was in place last year in August/September in the previous level 4 lockdown.
What does the change in service mean for me?
You might have to start your journey earlier or later than normal and plan your journeys in advance rather than relying on the more frequent service.
How will it affect my route?
An updated timetable will be published on the website if the move to reduced service is required.
Will there be further cancellations?
The intention is that moving to a reduced service will allow us to provide drivers for all routes to minimise cancellations, however we don't yet know how serious the spread of COVID-19 will become in the community so can't guarantee there won't be additional cancellations. Passengers are advised to check the alerts page on the website when planning travel. Passengers can also phone the ORC for information if they do not have access to the internet.
Large scale changes will be posted on multiple communication platforms to have the broadest reach within the community.
Will there still be extra buses at peak times?
Additional peak services will remain in place where possible, though driver numbers to provide the service may mean these services become limited. We will update if these are no longer able to run.
Will school services still run?
Yes, we will maintain school services to get students to and from school. A number of trips servicing schools are included in the timetable as modifications to the usual Saturday timetable.
Where can I find more information?
Updates are on the ORC website Dunedin buses (orc.govt.nz) and on the free Transit app


---