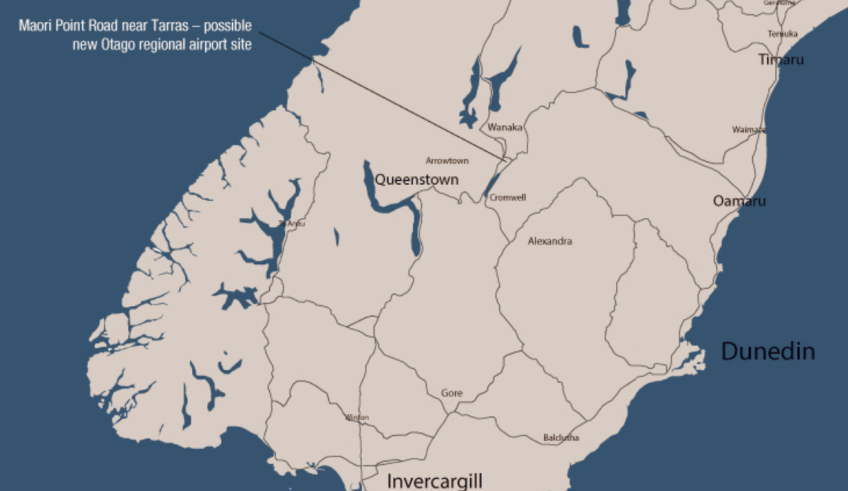 One airport to rule them all
---
This story is published as part of the Crux partnership with the National Business Review.
In September this year the residents of Queenstown sent a clear message to the Queenstown Airport Corporation - "We don't want more flights."
On the surface of it the airport management graciously accepted defeat on their ambitious growth plans that would have seen visitor numbers eventually double and flights arrive or depart every four minutes.
But now the dust has settled on the community feedback, there's a curious lack of peace and quiet around Queenstown airport – in fact it's not just business as usual, but more business than usual. 11% more to be precise.
It is worth considering that the national forecast growth in tourism numbers sits around the 5% per annum mark. The various national tourism agencies and lobby groups reckon that's manageable, even sustainable.
But Queenstown airport's growth has been at least double that number for a long time. For the last few years local journalists have received emails every month that trumpet triumphant double-digit growth for Queenstown airport. The language now is more moderate, but the growth numbers are from modest.
In October this year alone 177,000 passengers moved through the airport, up 11% on the previous October. 46,000 were international arrivals (up 14%) and 131,000 were domestic – including of course international travellers routed to Queenstown via Auckland or other domestic airports.
In the last 12 months a massive 2,201,000 passenger movements have been recorded at the airport with international passengers flying into Queenstown during May this year being 24.7% higher than the previous May, at 29,068.
All of which is raising fears that the ZQN juggernaut might just carry on growing as airlines put pressure on the size-challenged airport for more flights.
Officially the Queenstown Airport Corporation has turned its focus to Wanaka in terms of accommodating further passenger growth, but that planned move looks more uncertain every week. There's a consultation process under way in Wanaka, but the early signs are that the citizens of Wanaka won't be throwing down the welcome mat for large numbers of jet flights into Wanaka airport. Currently the runway there can only take smaller propeller aircraft and helicopters.
Quentin Smith sits on the Wanaka Community Board and is a QLDC councillor. "I think there's significant gaps in our understanding of what the implications for Wanaka are. I'd say that Air New Zealand don't yet have a clear vision of how to manage capacity in the future. Reading between the lines I'd say they are very concerned at the idea of having two different, duplicated ground bases within one reasonably small area."
Smith is referring to the surprise leak of an Air NZ submission to the Queenstown Airport Corporation back in September that indicated the potential need for a completely new regional airport to replace both Queenstown and Wanaka. At a later shareholder AGM in Christchurch the national airline called for a "bigger, bolder, braver conversation" about a new regional airport.
Now a Wanaka based commercial jet pilot who files for Virgin Australia, Terry Hetherington, has told Crux that he thinks that Air NZ will continue to push for a new regional airport and not support the potentially unpopular, possibly inefficient Wanaka option.
Hetherington opposes the idea of Wanaka airport expansion saying it's the wrong project in the wrong place.
"Generally, airports are built in the wrong place. The idea of building a bigger airport at Wanaka has all the hallmarks of a complete repeat of what they've done at Queenstown airport in Frankton."
Hetherington is predicting that Invercargill airport, two and half hours' drive south of Queenstown, will be the best short to medium term growth solution as he predicts Queenstown airport could hit its absolute limit in less than two years – especially now residents have voted against an increase in noise limits.
And of course Air New Zealand has just announced, in the past few days, direct jet flights next year between Invercargill and Auckland, a move that could instantly reduce pressure on Queenstown airport.
"My pick is that there are plenty of good options for a new strong, single regional airport – in particular around the Tarras area and Maori Point Road." This is an area to the east of Wanaka and north of Cromwell, that Hetherington says is favourable from a flying and operational point of view as well as being accessible from most parts of Central Otago. It would be just over an hour's drive to Queenstown through the narrow Kawarau Gorge.
Terry Hetherington might have some insight into Air New Zealand's thinking given that the decision will be driven by operational considerations, not airport politics. In fact, the airline may be keen to escape the sometimes uncomfortable relationship it has with Auckland International Airport – that also happens to own 25% of the Queenstown Airport Corporation.
Air New Zealand is not in the business of building airports, but it has a lot of commercial muscle when it comes to putting pressure on both local and central Government. Nobody is going to be in favour of building what could turn out to be a White Elephant airport at Wanaka if Air New Zealand does not support the idea.
In the meantime, the Queenstown Airport Corporation will need to tread carefully in terms of walking the talk on sustainability and genuine community engagement. If the plan is to keep growing passenger traffic at a very high rate – but staying within existing noise boundaries – they can still expect a lot of community pushback.
Crux approached Queenstown Airport Corporation for comment but we were told that nobody was available.
Queenstown Lakes District Councillor Alexa Forbes lives not far from the airport flight path in Frankton and is well known locally for her green credentials. Her electric bike is pretty much the only form of transport she uses locally, and she chairs the council's Infrastructure Committee.
"In my view we need to work with the surrounding regions – places like Dunedin and Invercargill. We need to find a way to take control of the tourist routes and make those suit our infrastructure, rather than just keep growing our infrastructure to suit the tourists. That's the guts of it."
Forbes speaks for a lot of people in Queenstown and Wanaka, who worry that the tourism tail is wagging the community dog. And the Queenstown Airport Corporation may find that events are now unfolding faster than it can organise complex community engagement programmes that it hopes will support development of a new Wanaka airport.
The former Chief Executive of the Waitaki District Council, Michael Ross, has now moved to Wanaka from Oamaru and is heading a new lobby association – the Wanaka Stakeholder Group. Some see the WSG as being an anti-airport pressure group, but Ross denies that, saying that they just want to see proper consultation by the 75% owners of the Queenstown Airport Corporation, the Queenstown Lakes District Council - with no pre-determined outcomes.
"My belief is I don't think the community wants a big airport here. Is it not the council's job to ensure that it follows the wishes of the community? So, we are hopeful that jet services do not arrive in Wanaka, which is why our group has formed itself. Let's make sure we communicate and consult with our community, so we actually know what their views are."
Whether or not Wanaka opposition to a new airport grows could be academic if Air New Zealand decides to throw its weight behind one, new regional airport to rule them all.
If that does happen it will be a massive project with the power to change the social and economic landscape of New Zealand's fastest growing population centre.


---