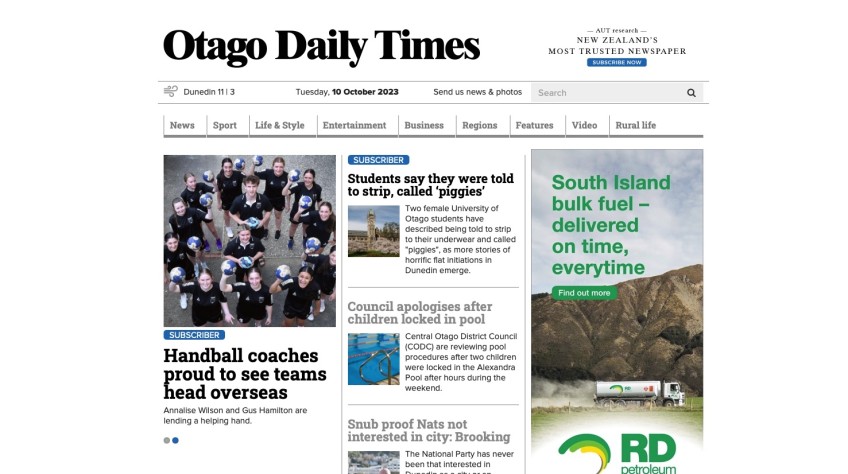 ODT journalists walk off job over 'unliveable' wages
---
More than 40 Allied Press journalists have walked off the job this morning in protest against the latest disappointing pay offer on the table from their employer.
The journalists, members of the E tū union, are striking for 24 hours, beginning from 9am this morning, demanding a pay rise to bring they wages into line with industry rates.
In a statement this morning, ODT journalist and union delegate Rebecca Fox says pay rises for member over the last 15 years have not only fallen behind inflation but also behind others in the media industry.
"We recognise how tough the media industry and the ODT has it at the moment, but it can't be an excuse for unliveable wages.
"Other players in the industry are getting five to six percent pay increases – our last one was two percent."
She says it takes approximately three years for journalists starting out at the ODT to earn even the Living Wage, while those with many years of experience also feel short changed.
"We have people working with 20-plus years of experience who are barely getting the new average salary for Otago, which is around $70,000 (according to a recent Trade Me Jobs report)."
She says for years, journalists at Allied Press have also been struggling with a lack of training and resources, which has added to their feeling of being under-appreciated.
E tū organiser Ann Galloway says negotiations with the company have always been drawn out, and this round of bargaining has been no different.
"Members are fed up with waiting on their employer to give them a decent pay rise."
She says in comparison to other newspaper outlets Allied Press pay rates are very low.
"Members are prepared to keep fighting until they receive an offer that they can accept."
A picket line is planned throughout today outside the Otago Daily Times office in Dunedin, but journalists in Wānaka, Alexandra and Invercargill are also joining the strike.
In November, Stuff journalists also took strike action over a demand for fairer wages and conditions.


---