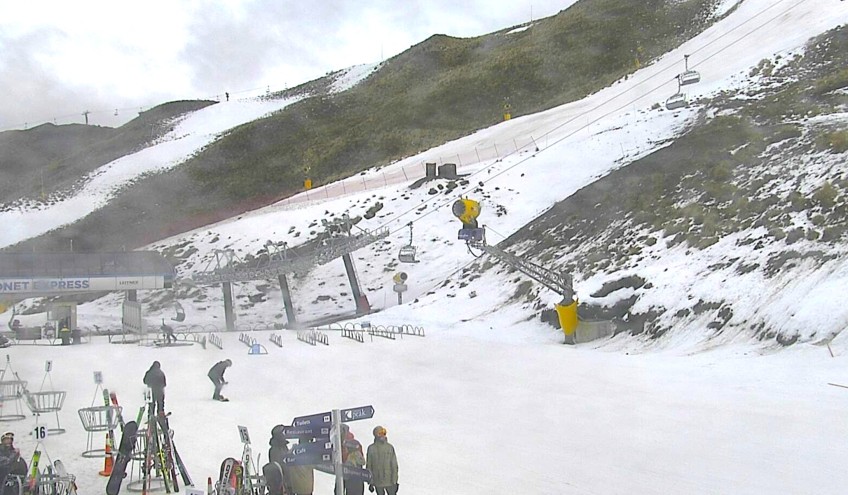 NZ Ski says Q'town snow season can still be rescued
---
As the shortage of snow really starts to bite ski field operator NZ Ski has told Crux that even if this week's forecast snow does not arrive they can get though to the planned season close.
Speaking this morning, Chief Executive Paul Anderson said that the Remarkables ski field was operating at or near its 4,000 skiers per day capacity while Coronet Peak was around 20% - 30% down on forecast numbers. Anderson also dismissed rumours circulating in Queenstown about an early Coronet Peak closure and problems with snow making machines as "small town tittle tattle."
"We have four reservoirs to feed the snow machines and they are sitting at 70% full with ten metres of water in each" said Anderson. "We've got six megawatts of electrical supply, 218 snow machines and just over 200 million litres of water so you really have to question the credibility of anyone saying we have a problem."
Paul Anderson said that the lack of snow had hit locals hard as many season pass holders preferred to ski off piste. Mr Anderson told Crux that he could see that season pass holders weren't using Coronet Peak as much as in previous seasons, but asked if there would by any compensation or additional 2020 discounts he said "I think they come on the journey with us. Part of the reason we put out a really sharp early season pass is that this is a type of membership. We don't charge them any extra for the epic seasons."
Acknowledging that climate change was an issue we asked if NZ Ski would be looking for higher altitude ski field locations.
"We've been ahead of that curve for quite some time. We've invested heavily in snow guns and are skiing top to bottom on all of our main trails in spite of only twenty centimetres of natural snow this season. That's the reason that there is a bit of anxiety around town. Usually there's enough natural snow to fill the gaps between trails, but this year people can see clearly where the snow making is taking place. Most people only ski on the trails but it's our loyal locals who love skiing all over the mountain so they are the ones who are missing it the most."
Mr Anderson said around 100 staff had been moved from Coronet Peak across to the Remarkables but he said that everyone had been paid "what they were expecting." Crux reported on Friday that some Treble Cone staff had missed out on nine days of paid work due to a late start to the season and had been supported with food parcels by community organisations.
Speaking about bookings for the rest of the season, Paul Anderson said that wholesale bookings would not be affected as people were already committed but he admitted that independent ski numbers will be down "because those epic images of snow covered mountains are not out there."
"You've got to be an optimist in this business. This week is looking good for natural snow. It's unusual that we've waited this long for a strong south westerly flow. Numbers will be down this week because it will be cold and snowing. That sets us up for at least a month or six weeks. Whether or not we recover the numbers we've lost at Coronet Peak is another matter. We'll need a good dump to do that."
Main Image: Coronet Peak this morning. NZ Ski webcam.
Read: Wanaka ski workers do it tough.


---