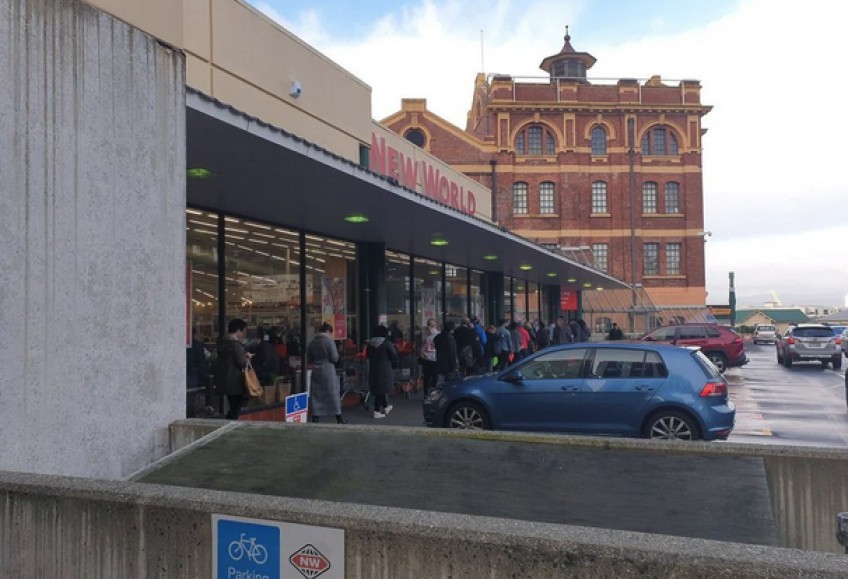 NZ Covid case: Supermarket queues form - briefing at 6.00 pm
Aug 17, 2021
---
There is a new community case of Covid-19 in Auckland, which health officials are now investigating.
In a statement released this afternoon, the Ministry of Health said further updates would be provided once some more information was available.
Ministers are meeting to discuss the government's response and Prime Minister Jacinda Ardern is expected to brief media afterwards, alongside Director-General Ashley Bloomfield.
It is scheduled to begin about 6pm.
This afternoon traffic in the city was busy as queues of people formed outside supermarkets and testing centres.
Foodstuffs NZ head of corporate affairs, Antoinette Laird, assured the public the company's stores had plenty of groceries on shelves.
"Our teams are preparing to move alert levels and we ask customers to be patient as we prepare to roll out the various safety precautions required to keep everyone safe. In the meantime we encourage everyone to scan the COVID tracer app and wear masks to protect themselves and our teams," she added.
The link between the case and the border or managed isolation has not been established.
The Auckland Regional Public Health unit is now undertaking interviews with the case so that it can begin tracing contacts.
Aucklanders are being encouraged to social distance and exercise caution.
"While we collect more specific information all New Zealanders are reminded of the basic public health measures of mask wearing and hand washing," it said.
"In particular anyone in Auckland catching public transport this afternoon or who cannot socially distance in public spaces should wear a mask as a precaution."


---