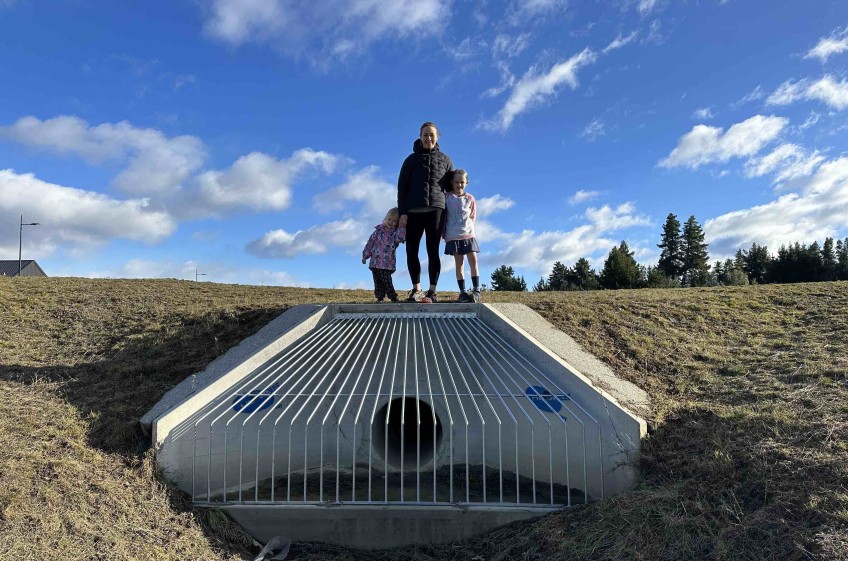 New child-safe drain for Northlake after QLDC U-turn
---
A Northlake mother is claiming a "small win" as a stormwater drain cover is replaced on public land neighbouring her home.
After months of no action, Aleisha Murphy says a council staff member met her on site at the retention pond after her safety concerns were highlighted in a news story published by Crux last month.
Since the meeting, the grill covering the stormwater pipe outlet that she said created a drowning hazard for children has been swapped out.
Its replacement lessens the gap making it impossible for a little person to manoeuvre behind it.
Mrs Murphy realised the risk first hand when her adventurous 12 year old crawled in behind the grill due to a child-size gap between its edge and a concrete surround - a space an adult could not access in the event of a youngster getting into trouble.
When initially questioned on the drain and criteria by which it was signed off, Queenstown Lakes District Council infrastructure operations manager Simon Mason said the design was fit for purpose and the same as others across the district - despite Crux offering up a much more child-safe example on a similar drain in the neighbouring Hikuwai subdivision.
Now, the council has agreed "to modify the grills at this location as a precaution", Mr Mason confirms.
The drain is a council asset, however the cost to replace the grill has been shared between Winton, the Northlake developer, and the ratepayer.
Winton project delivery general manager Duncan Elley says since the resident raised the safety concern the company had been pushing to get the grill replaced.
But he maintains no one made a mistake here.
"The agreed plan between Winton and the council was implemented by Winton and signed-off by council. As the resident highlighted, there are safety concerns now that it is operational and therefore, while we don't have to, we will fix and share the cost with council to get it sorted asap."
Part of the problem appears to be a lack of any national standard guideline for stormwater pipes and covers.
Mr Mason says there is "no one size fits all" when it comes to these sorts of systems.
"Although they share similar components, the dimensions and design of each head or wingwall and grill are specific to the requirements of their purpose and location. Components from different manufacturers are also used.
"Some systems are designed by local councils, some by developers and some by agencies such as NZTA Waka Kotahi."
Mrs Murphy reckons this is something the council could take the initiative and improve on.
"What would be amazing is if they created some safety guidelines going forward."
However, based on her first attempts to instigate change at a local level, she's not holding her breath for a quick response.
"Unless something terrible happens and then it will be written quick smart, I'm sure."
Regardless, her intention is to keep the pressure on with the aim of making sure public infrastructure is designed not just fit for purpose but child-proof for safety too.
And, of course, the two aims are not necessarily mutually exclusive - the replacement grill at Northlake is not only safer for children, it will work better to achieve its very purpose, as explained to Crux by council's Mr Mason, to prevent sticks, logs and other debris from blocking the drain during rain, when water starts moving swiftly through it collecting anything in its path on the way.
Main image: Northlake resident Aleisha Murphy (with two of her children) atop the drain she campaigned to have made safer. A replacement grill was installed after Mrs Murphy flagged safety concerns regarding an earlier design with the Queenstown Lakes District Council.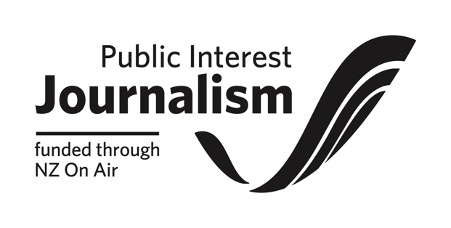 ---