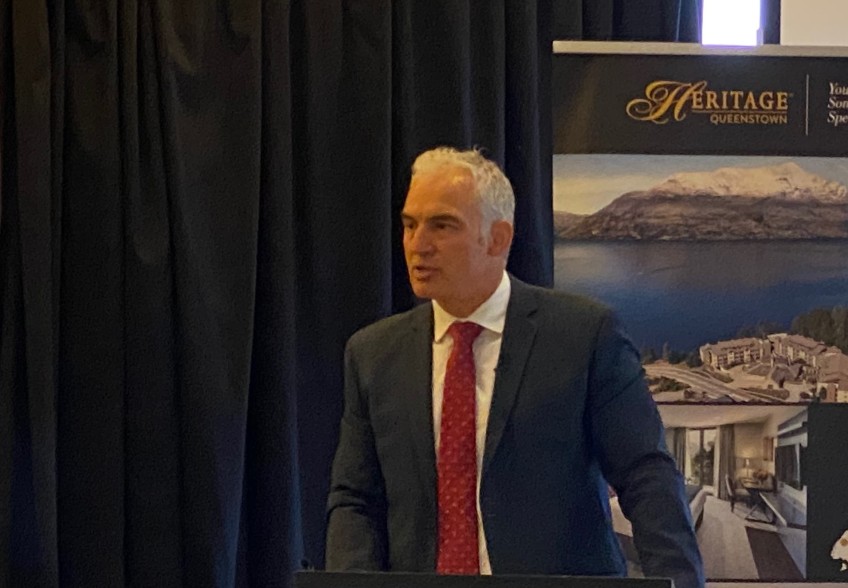 Nash doubles down - "Tourism can't go back to how it was"
---
If the Queenstown tourism industry was hoping for a softening of Tourism Minister Stuart Nash's tough stand on total reform – then they would have been bitterly disappointed. Nash made it 100% clear that "we can't go back."
"Tourism's social licence has been eroded. We are past the tipping point and this is the opportunity to take a long hard look at tourism."
"Previous tourism minister's filing cabinets are full of reports that say tourism needs to change, but rarely were those reports ever acted on" Nash told his audience of tourism leaders attending an Otago University Tourism Policy conference at Queenstown's Heritage Hotel.
"Tourism costs and benefits have not fallen in the same place" the Minister said, emphasising his stance that ratepayers and taxpayers should not subsidise the tourism industry in the future.
He also levelled a critical observation against his own Government's Strategic Tourism Asset Protection Programme (STAPP) which saw companies such as A J Hackett, owned by wealthy Queenstown business interests, receive a mix of grants and loans worth $10 million. "The Auditor General will have the last word on that issue" said Nash to a muted outbreak of restrained laughter from the conference delegates.
Nash attacked the existence of such travel books as "New Zealand on $10 a day" and said his determination to clean up the freedom camping sector was analogous to the Mayor of New York getting hundreds of traffic light ambush windscreen washers off the streets to huge public acclaim.
"Mediocrity is not good enough in the tourism industry. We need to renew the social licence. We need to be one of the world's top three aspirational tourism destinations. We need to push quality and safety, to make New Zealanders proud again of their country and we need to involve iwi more. Our culture is our global competitive advantage."
Nash did have some immediate good news for the industry though saying the Government would put money into Kaikoura and the lower half of the South Island where overseas tourism had formed more than 50% of the market. But he emphasised the need for international visitors to pay for their experience adding that technology needed to be used to avoid people leaving our shores without paying anticipated national park entry fees or fines.
"The status quo is unsustainable, it lacks resilience, we can't go back."
Stuart Nash spoke with Crux and other media after the conference when we asked him whether the Government had trust in existing tourism industry leaders to deliver the extent of change that he is asking for.
Mayor Jim Boult outlines his perspective.
Prior to the Minister's speech QLDC Mayor Jim Boult said that he "appreciates Stuart Nash's honesty – in spite of our disagreements." Boult took a swipe at critics of the pre-Covid Queenstown tourism industry saying he "could not understand those that took pleasure in dancing on the grave of other people's misery." He said that his view was that quality meant more tourism money from less people, describing that scenario as "nirvana" for Queenstown's future, even though his long standing support for local airport expansion seemed somewhat at odds with that statement.
Speaking to Crux after the Minister's speech the new CEO of the Wayfare Group, that Mayor Boult chairs, Stephen England-Hall agreed with some if not all of the Stuart Nash's points. Mr England-Hall was previously CEO of Tourism New Zealand.
"There's no doubt we could and should have done more to engage with the community pre-Covid – but the industry also did some excellent work, and we should not forget those achievements. Sure, hindsight is a great thing, but the industry can't be separate from the community. It's a throwing the baby out with the bathwater situation – let's keep the best of what we did in the past and combine it with the future that Minister Nash has been talking about today."
A rally by small and medium size tourism operators was cancelled yesterday after it became clear that Minister Nash would not attend the event. The group says that urgent financial help is needed and that they have been wrongly grouped with the biggest operators who have, in many cases, made very large amounts of money over the past 20 - 30 years of strong tourism, pre covid.
Group spokesperson Nik Kiddle issued the following statement after Minister Nash's speech this morning.
"One of the four main principles announced by Nash this morning was "More partnership between the government and the tourism industry including with businesses and workers". If this is government aspiration why would he have refused to meet with our group while he is in Queenstown, despite repeated requests for a meeting since December last year? I am the convener/spokesperson for over 180 tourism related SMEs in Queenstown and Wanaka. The Otago University Tourism Policy School seminar was invite only, and we have been told by Otago University their "client" for the seminar would not allow us to attend.
Government partnership with the tourism industry in the lower South Island over Covid 19 and the border closures has been non-existent. In fact we feel abandoned, despite shouldering an overwhelming burden of the government's Covid health policy. Stringing us along with hopeful teasers of border openings followed by non-commitment is not a partnership. Refusing to meet with us is not a partnership.
Our democracy is no longer working properly."
Read full details of today's announcements from Stuart Nash.

---