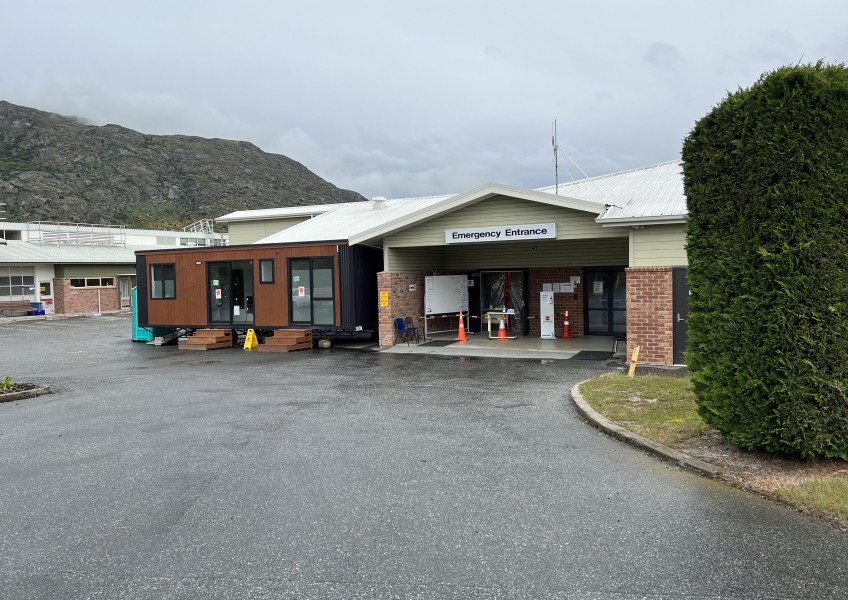 Mother takes Lakes District Hospital complaint to Commissioner
---
A mother in Queenstown is still waiting for answers from health authorities after a traumatic visit to the Lakes District Hospital seven weeks ago.
Sunitha Karunakaran was at the Frankton hospital on the evening of October 25 with her 18-year-old daughter, who was struggling to breathe, wheezing, and had a high temperature.
It's her view the teen received inadequate care at the local hospital, and the emotional toll of what became an emergency helicopter ride to Dunedin and days in ICU is ongoing, she says.
Mrs Karunakaran says she has made a complaint through the Health and Disability Commissioner.
A spokesperson for the commissioner has confirmed this, but says they're unable to comment further as the case is open and in front of the commissioner.
The spokesperson was able to tell Crux between January 1, 2020 and November 23, 2022, it had received 10 complaints about the Lakes District Hospital.
Mrs Karunakaran says she first raised concerns directly with Te Whatu Ora, the health authority, and the Queenstown hospital.
"We got a generic answer. It was like a 'copy-and-paste' email. It didn't look personalised."
A spokesperson for Te Whatu Ora says it's unable to comment on individual patients and their care for privacy reasons.
Mrs Karunakaran says she'd been urgently directed to take her daughter to the hospital by staff at the Queenstown Medical Centre, where they'd been for much of the day.
Someone from the medical centre had rung ahead to let staff at the hospital know the pair were on their way, Mrs Karunakaran says.
But they never made it through the door.
Mrs Karunakaran and her daughter were asked to stay in a portable cabin outside of the main hospital.
Mrs Karunakaran says she was worried about her daughter.
Earlier that day, she'd taken her to the medical centre – her daughter had a fever of 39degress Celsius and needed IV fluids, and blood and urine were taken for testing.
They were sent home from the medical centre but within an hour received a follow-up call – tests results were back and things weren't right and Mrs Karunakaran was told to get her daughter to the hospital.
The tests showed her daughter did not have Covid-19, she says.
The spokesperson says the Lakes District Hospital does not have a dedicated space in its emergency department for patients who turn up with cold and flu symptoms and need to be isolated.
That's why there's the portable building outside.
"Patients who are allocated to this waiting space are checked and assessed regularly. There are lights in the portable building and a recliner chair or a bed with blankets for patients."
But Mrs Karunakaran says that was not her experience.
It was cold – she had to wait at the hospital's door and get the attention of staff to ask for a blanket, she says.
If they needed it, the toilet was a portaloo outside, and it was dark.
She says she felt neglected by staff at the hospital, she was exhausted after a few long days of caring for her sick daughter, and she could see her daughter's condition worsening, and that really scared her.
"She was continuously coughing, she was wheezing, she was shivering with cold, she had a high temperature; but they underestimated it, and that's just unacceptable.
"I was feeling absolutely helpless all night seeing my girl suffering and struggling to breathe.
"I can't even explain to you how bad it was...it was the worst.
"I do understand they're busy. I do understand their shortage of staff.
"But there is no need to be rude.
"I just don't want this to happen to anyone else."
The spokesperson for Te Whatu Ora says all emergency departments are currently very busy.
"We work very hard to prioritise all care appropriately. Patients are triaged by an experienced Emergency Department nurse on arrival, with our sickest patients seen first.
"It is important to understand that triage is a dynamic process, meaning a patient's condition can change over time.
"Patients in the waiting room are monitored while waiting and are encouraged to approach the triage nurse if their condition changes or if they have any questions.
"We apologise to anyone who has to wait an extended time for treatment and appreciate that this can be stressful when you're feeling unwell."
Mrs Karunakaran says after three hours in the portable building, she took her daughter home – she says they were cold and felt they were not receiving care, plus Mrs Karunakaran's younger child was at home alone.
The next day, staff at the Queenstown Medical Centre texted her to ask her to urgently bring her daughter in again.
"I then went there to the walk-in clinic at 9am and (my daughter) was very critical. She only had 20 percent of oxygen in her body."
She was transferred to the Lakes District Hospital by ambulance and admitted to the emergency ward.
The decision was made to transfer her by helicopter to Dunedin.
"I had to let my daughter, who was fighting for life, to go on her own by helicopter to Dunedin as I had to pick up my son from school and arrange for transport and accommodation to travel to Dunedin."
Her daughter stayed in the Dunedin ICU for several days, diagnosed with Bacterial Strep Pneumonia, before moving to a general ward, she says.
Mrs Karunakaran has met with Southland MP Joseph Mooney to talk about her experience.
A spokesperson for Mr Mooney has confirmed the MP is making inquires on Mrs Karunakaran's behalf.
The family's story was first reported by Stuff.
Main image: The portable building outside the emergency entrance to the Lakes District Hospital, where Mrs Karunakaran and her sick daughter were triaged to in October.


---