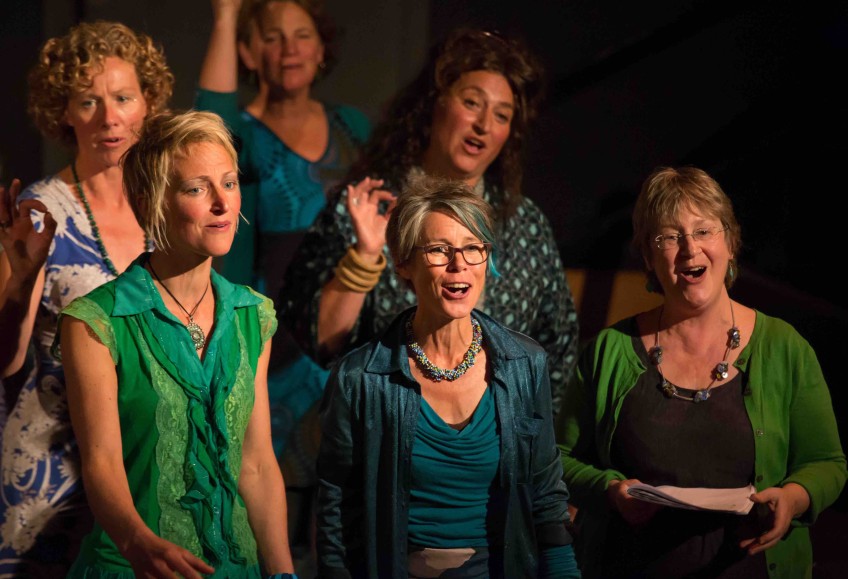 More than a "nice to have": why the arts are ace
by Laura Williamson - Jun 25, 2018
---
Festival of Colour general manager Laura Williamson talks arts and our community...
There's a famous quote attributed to Winston Churchill. Asked to cut funding for the arts during WWII, he replied "then what are we fighting for?".
Actually, he didn't. The quote is a fake, one of those sayings that has circulated so much on the internet that people think it's real.
It's a common phenomenon. Other "famous sayings" that have been tweeted, 'grammed and Pinterested into global consciousness include Abraham Lincoln's "it's not the years in your life that count, it's the life in your years" and Albert Einstein's "everybody is a genius, but if you judge a fish by its ability to climb a tree, it will live its whole life believing that it is stupid." They're both bogus.
Whatever. I'm with fake-Churchill, because he makes a really good point (as do fake-Lincoln and fake-Einstein): the arts matter, a lot, even if sometimes we don't notice that they do.
After the Christchurch earthquakes, the Gap Filler project started utilising otherwise unused, and sometimes heart-breaking, empty lots to host art installations, live music, poetry and public dancing – the idea was to cheer folk up, give everyone something to do and, most importantly, to bring people together.
After visiting a Gap Filler event, one of my sporty friends called me and said "wow, now I actually get what art is for!".
It's sort of like having poetry readings at weddings and funerals – most people don't engage with poetry much, but sooner or later, everyone needs a poem.
This isn't something that needs to be limited to big life events and natural disasters. For example, in the Southern Lakes we talk a lot about growth, about how we're going to deal with sprawling suburbs, clogged roads and busy waterways, and how our infrastructure will cope.
But what the arts create – and I mean all of them: music, theatre, kapa haka, photography, clowning, dance, sculpture, cartoons, film, writing, tattooing, digital design, binge-able Netflix series – is infrastructure for hearts and minds.
The Southern Lakes Arts Festival Trust, which runs both Wanaka's Festival of Colour and the Aspiring Conversations festival of ideas, was started in 2004 by a group of locals who wanted to bring high quality professional arts, like those available in main centres like Wellington and Auckland, to Wanaka.   
I work for them now, but even back then I knew they had done a good thing.
My son was about two weeks old when the first Festival of Colour was held. Lost to those first few weeks of parenthood, I didn't make it to any shows, but I dragged myself down to the Crystal Palace, baby capsule hooked on my arm, just to sit inside for a few minutes and take it in.
Even without the amazing music or performers who graced the Palace that year or in the years since, I was, for a moment, transported. I loved the lake and the mountains and the natural beauty of the place I lived in, but this, I thought, makes Wanaka complete.
Events like the Festival of Colour, as well as music festivals, film festivals and theatre and art exhibitions, create spaces where the whole community can share a collective experience.
They're about more than entertainment. They address wellbeing by bringing us together, challenging thinking, evoking emotions, creating new possibilities, educating, and by provoking thought and memory.
Creative New Zealand has just released its triennial survey, New Zealanders and the Arts: Attitudes, attendance and participation in 2017, which tracks attitudes towards the arts in New Zealand.
The survey found that 80 percent of New Zealanders had attended or participated in an arts event in the previous last year. We're an arty bunch – the arts are part of who we are.
Prime Minster Jacinda Ardern, who is also Minister for Arts, Culture and Heritage, agrees. "Arts and culture are not a 'nice to have'. They are an essential part of our individual, community and national identity," she said in May.
"There is increasing evidence of the many benefits of cultural participation in areas such as health and education, and of its value to social cohesion and community resilience."
So, head along to one of the music, film or arts festivals in our region, try out for a local play, take a painting class, get into kapa haka. You'll feel good, I promise, and you'll meet a few more of your neighbours too.
Or, as Winston Churchill once said, "the arts are ace, get amongst it." It's true - I read it on the internet.
Laura Williamson is the general manager of the Festival of Colour arts festival and the Aspiring Conversations ideas festival. She is also the co-writer of The Blue Moments Project song and spoken word cycle, and her book The Bike and Beyond: Life on Two Wheels in Aotearoa New Zealand is out now as part of the BWB Text series from Bridget Williams Books. 
Feature image: the Sing It To My Face community choir performing at the 2017 Festival of Colour.
The next biennial Festival of Colour will take place from April 2-7 2019.

---