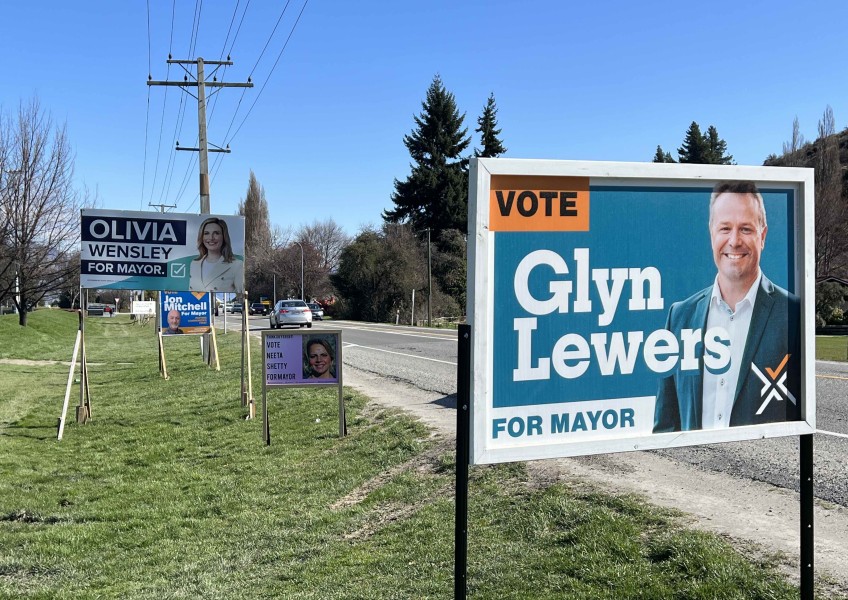 Poll: Mitchell leads mayoral race
---
Jon Mitchell continues to have a clear lead in a Crux poll that is tracking who residents and ratepayers are voting or intending to vote for to replace outgoing Queenstown Lakes District Mayor Jim Boult.
But, five days out from polls closing, only 18 percent of the electorate has officially voted so far. That's according to the latest count available on the website of Electionz, the company running local elections across the country.
Voter turnout has been tracking down over the last two local elections – at this point in the polls in the 2016 election, 32 percent of voting papers had been returned; three years ago, the figure was 24 percent.
For now, voters in the Wānaka-Upper Clutha ward appear slightly more motivated than their peers in the Arrowtown-Kawarau and Queenstown-Whakatipu wards to have their say – 19 percent of voting papers have been returned there, compared to 18 percent in Arrowtown-Kawarau and 17 percent in Queenstown-Whakatipu.
The Wānaka-Upper Clutha ward is also the largest ward, with 11,039 electors, compared with 7,987 in Arrowtown-Kawarau and 9,062 in Queenstown-Whakatipu, so that percentage translates to more actual votes too.
QLDC electoral officer Jane Robertson says the district's not unique in seeing lower voter turnout this time round.
"We're not alone within New Zealand in seeing a decline, or indeed around the world. However, I want to stress the importance of voting in local elections. Councillors and community board members make decisions on behalf of the community, not just now, but into the future too."
There's plenty of places online for voters who haven't made up their minds to go to learn more about the candidates who are standing for election, she says.
"It's easy to learn more about the candidates looking to represent you for the next three years, and where they stand on the issues you care about."
Postal votes need to make it into a post box by tomorrow (Tuesday, October 4) in order to be counted in this local election, she says.
Alternatively, voting papers can be dropped off at ballot boxes at the council's Queenstown and Wānaka offices or at the Frankton and Arrowtown libraries up until noon on Saturday (October 8).
Ms Robertson is encouraging anyone who is not enrolled, or did not receive voting papers in the mail, to make a special vote in person at either of the Queenstown or Wānaka council offices.
"It only takes a few minutes, and our staff are on hand to guide people through the steps to cast a special vote," she says.
Here's the current positions of QLDC's six would-be mayors, based on the Crux survey. It's based on the percentage of 354 respondents making a single choice as to who they have voted for, or who they intend to vote for, in the mayoral race.
Jon Mitchell: 41%
Olivia Wensley: 24%
Glyn Lewers: 18%
Neeta Shetty: 8%
Al Angus: 1%
Daniel Shand: 1%
Not yet decided: 5%
Not voting: 2%
We're inviting our audience to keep taking part in the Crux survey, so we can update these numbers over the days leading up to voting closing. Here's the survey link.


---