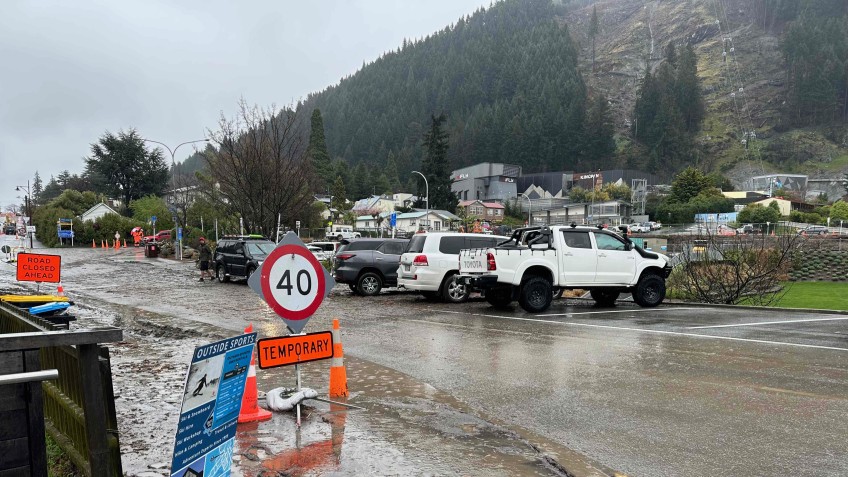 Video: Mess of mud and slash as Queenstown CBD clean up begins
---
A contractor working at the base of the Skyline gondola says water rushing down the hillside overnight has picked up logs and debris on its way, slamming into the historical Queenstown Cemetery and leaving a mess of mud, gravel and vegetation in its wake.
The flow has reached all the way to Shotover Street, where some business owners are in clean-up mode this morning as the Queenstown Lakes council declares a seven-day state of emergency after the town's wettest day in 24 years.
Crux spoke with Johnny Stephenson, busy with a broom on the footpath outside the Quicksilver retail store.
He answered the call for help from his business-owner mate, and has been on the job clearing water and mud in his gumboots since 4am.
He says there has been some damage to stock inside the store.
Council contractors in high viz reckon flooding started pooling on Shotover Street a bit after midnight, peaking at approximately a foot high in places, with water entering the Night 'n Day.
After torrential rain for much of yesterday, the flow of water headed down the left side of the gondola, as viewed from the CBD, and "zig zagged" from the cemetery through lower streets, including Brecon Street, Isle Street, Robins Road, and Duke Street, before collecting down on Shotover Street.
This morning, the Queenstown Lakes District Council reported 68 people were evacuated during the night from the Brecon Street area, with a further 41 evacuated from on and around Reavers Lane behind Gorge Road.
However there appears to have been a significant miscommunication by the council, which this morning publicised evacuations centres open at the St Peter's Church and Queenstown Memorial Hall - both buildings were locked up at 9am this morning when Crux visited.
Over in Fernhill residents have also been dodging floodwaters.
Robbie Street has lived on Dart Place for a year and says he returned home last night at 5pm and by 5.30pm water was seeping inside the house.
A massive pool had collected on his driveway and there was a slight "panic" as water reached up to the front door, and blocked the drain.
The two-storey house is on a sloping section, and water collected at the bottom and "came up through the floor" of the lower level, through the skirting boards.
Another resident on Dart Place says the road was "completely underwater" from a slip and burst stream, with mud and debris still left on the streets this morning.
Emergency services were at the scene last night, with a digger working to clear out the stream until 11pm.
Meanwhile residents attempting to reach Queenstown from the south on State Highway Six were last night also stopped by floodwaters.
The highway was closed and approximately ten people were put up at Garston Lodge for the night.
Despite the state of emergency, many visitors are out and about in the Queenstown CBD, buying food from the cafes and eateries that are open.
Australian visitor Charlotte Fairthorn hadn't let the civil defence emergency deter her, saying her and her travel companion had no food at their hotel, and had come down to Fergbaker for a bite.
Another family from Victoria's Geelong was in town after food, which they found next-door at Fergburger. They're disappointed by the weather and the closure of ski fields - they're due to fly out tomorrow and have been unable to head up the mountains during their stay.
Some ski busses had headed up Coronet Peak this morning, before they were directed back down, and fields closed.
Coronet Peak has now shut up shop early for the season, after weeks ago announcing an extension, saying this morning it has been "a rollercoaster", and they are "sad to end" the season this way, just a day out from the school holidays.
Queenstown Lakes Mayor Glyn Lewers declared a state of emergency a little after 6.30am this morning.
As daylight hours have allowed an assessment of the situation by emergency management responders, the council is reporting affected areas are limited to the streets above the Queenstown town centre including Upper Brecon Street and Reavers Lane, Fryer Street and Hamilton Road.
A geotechnical engineer, supported by a drone operator, is working to get a clearer understanding of the extent of the damage.
While the clean-up operation is underway in affected areas, the town centre is open and accessible, but the council wants people to take extra care and follow all safety signage and instructions.
Some buildings and properties will need to be assessed for any potential damage or safety concerns, and council staff will be directly contacting those who have been evacuated over the course of the day.
In its latest statement to media, the council says, "This is an ongoing situation and we recommend checking the QLDC website for the latest information".
Meanwhile, the council's boil water notice remains in place for all properties serviced by Queenstown's town supply, including Frankton, Quail Rise and Tucker Beach Roadd, Kelvin Heights and Hanley's Farm.
The Otago Regional Council is reporting the rivers feeding Lake Whakatipu have peaked and are steadily receding. The lake is predicted to approach its first alarm level of 310.8 metres later this afternoon before receding.
There is no concern for Lake Wānaka, which is expected to remain below the first alarm level of 279.4 metres.
Main image: Floodwaters moved down Memorial Street overnight, leaving a mess of mud and debris in its wake.
Read more:
State of emergency declared in Queenstown after torrential rain
Rising water ruins rural Cromwell roads


---