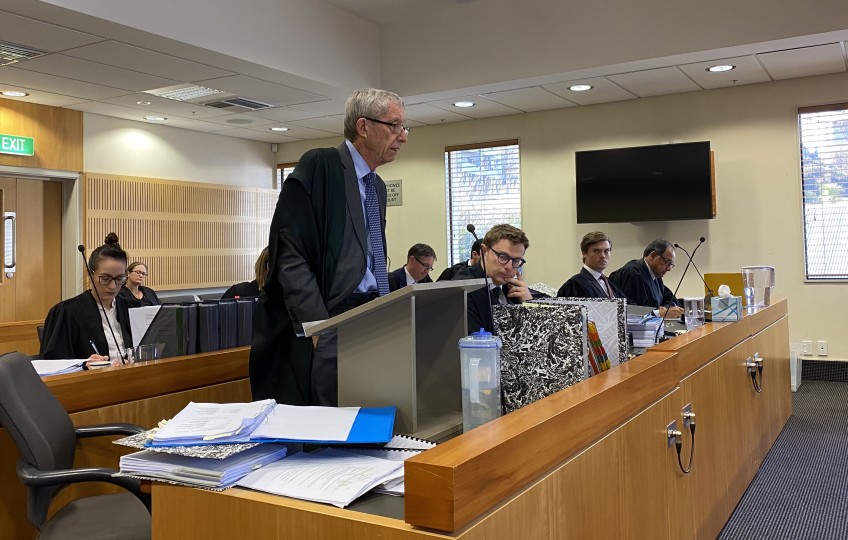 Mayor, QLDC "evasive and misleading" over Wanaka airport expansion
---
A High Court case in Queenstown kicked off today with a blistering attack on Mayor Jim Boult, QLDC managers and the Queenstown Airport Corporation over "extensive secrecy" that a Wanaka residents group says makes airport expansion plans unlawful.
The judicial review has been launched by the Wanaka Stakeholders Group (WSG) that opposes Wanaka airport expansion. The group has almost 3,500 members, 50% of Wanaka's adult population, and is claiming that QLDC and the Queenstown Airport Corporation failed to consult properly over a controversial 100-year lease that allows virtually unlimited airport expansion in Wanaka.
In his opening remarks to High Court Judge Justice Gerard Van Bohemen, Julian Miles QC, acting for the WSG, wasted no time making it clear to the court why the residents group believed the lease should be scrapped and the entire consultation exercise started "from scratch."
"A QLDC document that was more or less a brochure used pretty pictures and comforting words to suggest that Wanaka airport expansion would be modest and not include commercial jet aircraft" Mr Miles told the hearing.
He went on to say that QLDC and QAC documents that were kept secret for years instead forecast a new Wanaka airport as big as the current Queenstown airport with jet aircraft taking off or landing every 10 – 12 minutes.
"Mr Boult and his council clearly held the view that massive tourism was for the benefit of the community as a whole."
"Denials by the QLDC Chief Executive (Mike Theelen) and the Queenstown Airport Corporation Chief Executive (Colin Keel) were disingenuous to the highest degree. It was quite clear what QAC's intentions were and this does not reflect well on the credibility of the two CEO's."
Mr Miles said that that when the terms of the Wanaka lease were finally released under external pressure in 2019 it became clear that the contents were "not commercially sensitive at all, they were politically sensitive."
The WSG's QC then went on to focus on an unpublished Strategic Alliance agreement between QAC (owned 75% by ratepayers via QLDC) and Auckland Airport (AIAL) that owns 25% of Queenstown airport. That means they also own 25% of Wanaka airport via the disputed lease.
"The primary purpose of the alliance was to leverage the partnership by Wanaka airport growth at an unexpectedly high level given that Auckland Airport is a minority shareholder."
Mr Miles claimed that the lease was used to sell Wanaka airport's runway, land and buildings for around $13 million and that the lease was "draconian in ceding both control and assets."
He argued that QLDC and QAC had failed in their duty of candour or truthfulness and that the public needed to be fully informed before being consulted on strategic assets. Mr Miles accused Mayor Jim Boult of doing an about face on the recent Martin Jenkins airport expansion survey, presenting it last year as a crucial piece of consultation and then reducing its status this year to "a mere conversation."
'The horse had bolted; the lease had already been signed. The airport expansion survey was shallow and slanted to what QLDC was arguing for. It was essentially meaningless, irrelevant and deeply flawed."
Part of the evidence to be presented by the WSG in this week-long hearing are global media reports that universally predicted the end of global mass tourism, even pre Covid, due to concerns over the environment, low wages in the tourism industry and pressure on local infrastructure in places like Venice and Barcelona."
Mr Miles accused Mayor Jim Boult of indulging in recent "spin" as he tried to take the purpose of Wanaka airport expansion away from mass tourism towards ease of travel for local residents. He also noted that in all the tens of thousands of pages being considered by the judge, there was nothing from Mayor Boult or the directors of the Queenstown Airport Corporation.
"It's the airport Board and the Council that have made these decisions. Their failure to front up is significant and there are implications that flow from that."
QLDC and QAC will make their arguments to the judge later this week. If the Wanaka lease is judged unlawful then it will effectively spell the end, for the time being at least, of Wanaka airport expansion plans.
Mayor Boult is Chair of one of the district's largest tourism operations, the Wayfare Group, that owns ski fields, jet boat operations, Fiordland tourism operations and the Earnslaw.
QAC has spent over $300,000 so far defending itself over the WSG legal action. Its estimated that the action so far has cost both sides a total of over $1 million - much of that coming from ratepayers – one way or the other. The WSG legal team is working substantially free of charge in support of the resident's group.
WSG's Deputy Chair, Mark Sinclair issued the following statement to Crux:
"Judicial Review is an expensive process, and the costs mount up quickly. Not only do residents have to fund our application, but in effect ratepayers will cover the costs of defending it.
"All of this - plus the huge expense of the Martin Jenkins airport assessments - could have been completely avoided if QLDC and QAC had acted transparently, consulted the community and responded openly to information requests.
It seems that they are intent on holding their ground - leaving the door open for a jet airport at Wānaka - even if it's at the expense of the community."


---