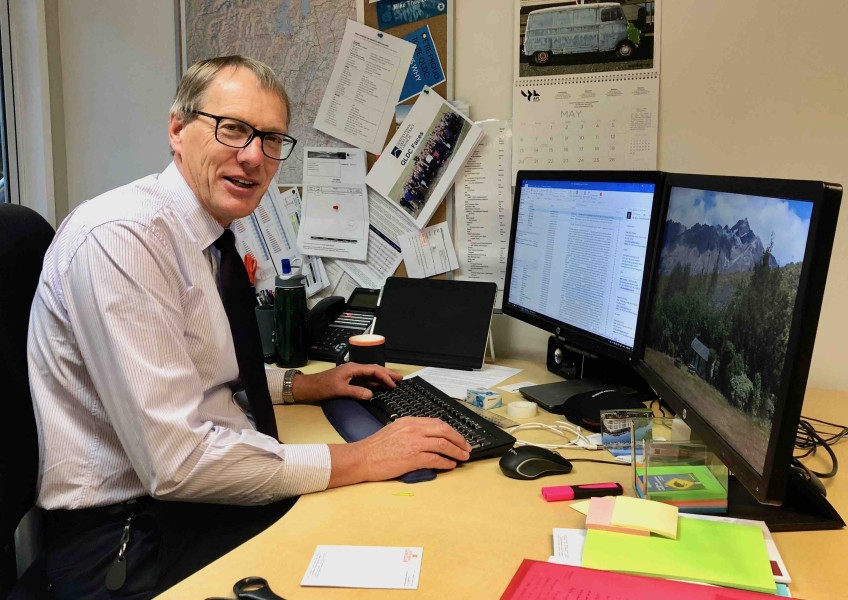 Mayor asks CEO Theelen to investigate himself as ZQN7 scandal grows
---
Mayor Jim Boult has asked QLDC CEO Mike Theelen to investigate himself over claims that QLDC has broken its own financial rules in paying two former council staff $630,000 in consulting fees. Crux published our full coverage of this story last Friday.
The move differs to that suggested last week by the NZ Taxpayers Union who called for QLDC's Audit, Finance and Risk committee to be convened and seems at variance with what committee Chair John MacDonald earlier told Crux, saying the committee would want to take a look at the situation and that "we have a procurement policy and that policy should be adhered to, and not engineered to be got around."
Crux asked Mayor Boult this afternoon if he felt it was appropriate for Mr Theelen to head the ZQN7 investigation. The Mayor made the following reply:
"You have made a number of unsubstantiated claims in this matter. That does not warrant any external input.
The CEO has been asked to look into the matter, and I am satisfied that is appropriate. Councillors will be briefed on his findings. I have had no dialogue with Councillor MacDonald other than an advice to all councillors of my request of the CEO."
Crux has reported that the two consultants, Ruth Stokes and Jendi Paterson, were working through a newly-established company - ZQN7 Ltd. Ms Paterson is a close family friend of Mayor Jim Boult as well as being the former nanny to the Mayor's two children. Mayor Boult denies any connection to the appointment of ZQN7 by QLDC.
Mr Theelen has issued numerous statements to Crux claiming that the $630,000 was in line with official procurement policies. However, evidence released to Crux by QLDC under official information legislation shows that the council consistently failed to follow its own rules in respect of ZQN7 Ltd.
Councillor John MacDonald, who chairs QLDC's Audit, Finance and Risk Committee, told Crux yesterday (January 20) that he would not be convening a special session of the committee, in spite of indicating last week that the committee would want to "take a look" at the procurement situation reported by Crux.
"The Mayor has asked Mike (Theelen - CEO) to carry out an investigation into the matters raised and he will share that with councillors and I will then decide (on any further course of action.) The committee is meeting in seven weeks." said Councillor MacDonald.
The investigation will centre on how $630,000 could have been paid out without a formal procurement plan approved at either General Manager or CEO level. QLDC did not offer the work to any other consultants in a bid process and did not formally establish that QLDC staff could not do the work themselves, according to documents released by QLDC under LGOIMA official information requests from Crux.
QLDC CEO Mike Theelen says all of the money was in line with the council's procurement policy and guidelines. Specifically Mr Theelen says the various stages of the work carried out by ZQN7 were all under $50,000 and therefore exempt from the Procurement Rules. The actual rules appear to state the opposite (see below), with no reference to a $50,000 "exemption". Also QLDC failed to produce a detailed procurement plan (as required by the QLDC procurement guidelines) at the start of the ZQN7 contract and failed to get such a plan approved by CEO Mike Theelen or the appropriate General Manager, Peter Hansby.
Here are the relevant parts of the Procurement Policy and Guidelines documents:
(From QLDC's Procurement Policy Document) Principles of Procurement
QLDC has identified four key principles of procurement:
1. Quality and Value for Money
2. Transparency and Fairness
3. Accountability and Integrity
4. Sustainability
(From QLDC's Procurement Guidelines)
"In determining the category of procurement that is required for any purchase, the estimated whole of contract value must be used. Contracts may not be split into component parts and procured using a lesser standard than the whole of contract value would demand.
Where an officer assesses that there are insufficient qualified suppliers available to undertake a tender pursuant to the Policy or the matter involves proprietary products that are not amenable to tender, then a procurement plan will be prepared outlining the approach proposed to obtain the best overall result for QLDC.
This plan must be submitted to the relevant General Manager for approval where the estimated cost of the procurement is within the financial delegation of the General Manager. All plans for procurement which exceed the financial delegation of the General Manager must be submitted to the Chief Executive for approval.
A procurement plan is an approach that enables a facilitated negotiation of the purchase of goods and/or services with one or a small number of specifically qualified invited parties. It differs from a tender process in that there is no public price discovery mechanism. "
Crux published the results of a reader survey yesterday afternoon that shows 89.35% of ratepayers who completed the survey believe QLDC failed to comply with its own procurement policy. The same survey shows 88% of respondents are either "not so confident" or "not at all confident" in QLDC's current Management as a result of this and other situations reported recently by Crux.
Councillor Nikki Gladding posted the following information on social media earlier this week in response to the Crux ZQN7 revelations:
"In July (2020) the Audit Finance and Risk Committee voted in favour of a recommendation from Pete Hansby (General Manager - Property and Infrastructure) and Geoff Mayman (QLDC's Procurement Manager) to "Approve the transfer of the Procurement Guidelines from Governance to Management accountability." That means staff can now change the Procurement Guidelines without elected member approval. The Procurement Policy remains in control of full council but the financial thresholds for the different procurement categories sits within the Guidelines and are now solely controlled by staff."
Crux has asked the Ombudsman's Office to investigate QLDC over this matter and the NZ Taxpayers Union is calling on the Office of the Auditor General to carry out a separate investigation.


---