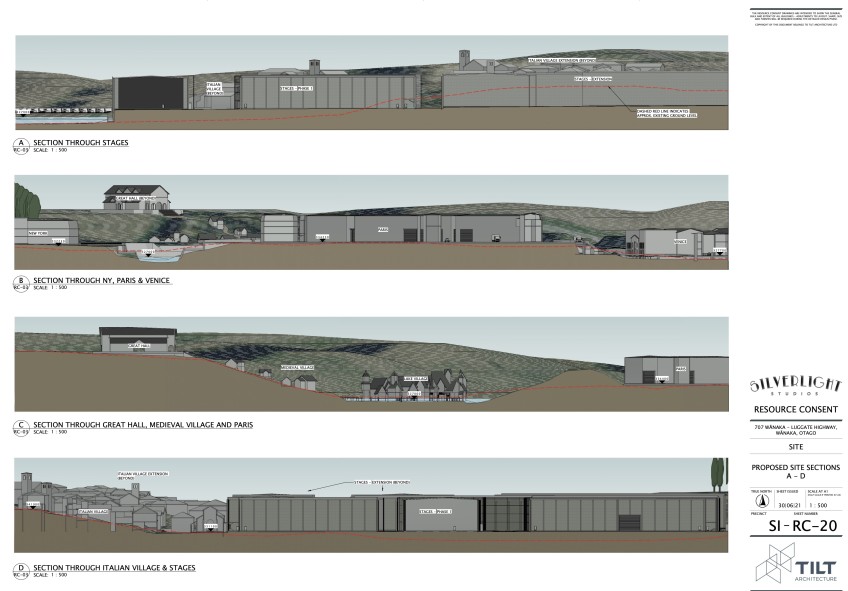 Massive Wanaka "film city" plans revealed
---
Documents released by the Environmental Protection Authority show the huge scale of the Silverlight film studio complex planned to be built next to Wanaka airport.
20,000 square metres of buildings include recreations of Paris and New York (complete with a Central Park bridge) with Italian and Medieval villages also being part of the plan. An economic development report that forms part of the Silverlight fast track consent application says the studios will contribute $1.7 billion to the NZ economy over 11 years, around $1 billion of that staying in the Queenstown Lakes district. It is forecast that the project will create 2,300 new jobs.
The complex also plans to be a tourist attraction and film school. The application documents paint a picture of tourists visiting alongside actual productions in progress.
Not everyone though is happy about the project. Brett Mills, a key figure in the Queenstown production industry, contacted Crux only a few days ago to complain that there was not enough accommodation to support the size of the planned studio as well as noting that local council and economic development sources, including deputy mayor Calum MacLeod, were refusing to discuss details of the project but instead taking the position of "get used to it – it's going to happen" according to Mr Mills.
Crux understands that members of the Wanaka TV and film production industry feel similarly left out of details about the project.
One of the documents included in the hundreds of pages that makes up the application is a letter from the Queenstown Airport Corporation offering limited support "in principle" for the project but expressing concerns over how the studio complex can coexist with Wanaka airport that is virtually the immediate neighbour of Silverlight.
The plans detail over 1,500 car parks for studio crews and tourists. Most of the buildings are relatively low rise but some of the structures reach a height of 17 metres. It is proposed the entire complex is surrounded by a wall.
Crux attempted unsuccesfully to contact the Mike Wallis today – the man behind the project who has a background of working with Sir Peter Jackson.
Earlier this year the project became controversial due to QLDC managers releasing information about the application to a number of parties who should not have been included. This attracted criticism from the owner of land that will be used for the studio project, Peter Marshall.
Marshall said the incident raises questions over the impartiality of deputy mayor Calum MacLeod, who supported his planned golf resort, while also pushing for the film studio to go ahead, and also sat as a commissioner on the Proposed District Plan panel charged with determining the land's future use.
"He should not have stayed on that hearing panel," Marshall says.
"He should have advised the chair of his conflict and he should have recused himself."

---