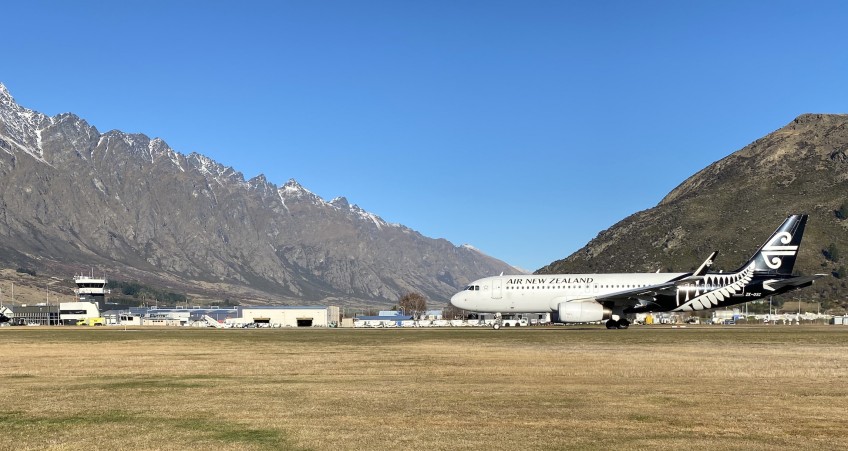 Major safety changes on the way for Qtown airport
---
Two major projects are planned for Queenstown airport that will lift safety standards and reduce the risk of an aircraft overshooting the runway.
The most significant change is the introduction of an EMAS (engineered materials arrestor system) feature that has the ability to prevent an aircraft overshooting the runway and ending up in houses, the Shotover River or even Lake Whakatipu.
EMAS involves a shallow pit of material that can dramatically slow an aircraft down, covered with a thin crust of concrete that breaks in a carefully engineered sequence.
It's a relatively new technology that the Queenstown Airport Corporation says its been studying for a couple of years. QAC CEO Glen Sowry has told Crux that he expects the system to cost around $15 million.
Chief Operating Officer Todd Grace says the technology has been successfully implemented in North America and Europe.
"It is particularly well suited to operational environments like ours. We are now confident that this is the right runway safety solution for Queenstown Airport. Queenstown Airport will be the first in Australasia to install EMAS."
Concerns have been expressed over the relatively short length of Queenstown's airport's runway that already includes runway end safety areas (RESA's). The runway only meets the minimum overall length allowed by the Civil Aviation Authority. A public meeting in Queenstown two years ago heard from urban designer David Jerram that he believed from an NZ Airline Pilots Association member that an aircraft going off the end of the runway was a case of "not if, but when."
Another major improvement being considered for Queenstown is the construction of a parallel taxiway. This would avoid the need for aircraft to use the main runway to reach their take off positions
Mr Grace told Crux that "a parallel taxiway will enhance safety and sustainability. It will reduce the number of airborne holds required as well as ground delays. A parallel taxi way also introduces the potential for an additional runway for light aircraft to land and take off in the event that an emergency response is required."
QAC has told Crux that the cost of these additional safety measures would be initially covered from their own budget but recovered through aeronautical charges paid by the airlines.
The EMAS project will go to tender early in 2023 with construction planned for early 2024.


---