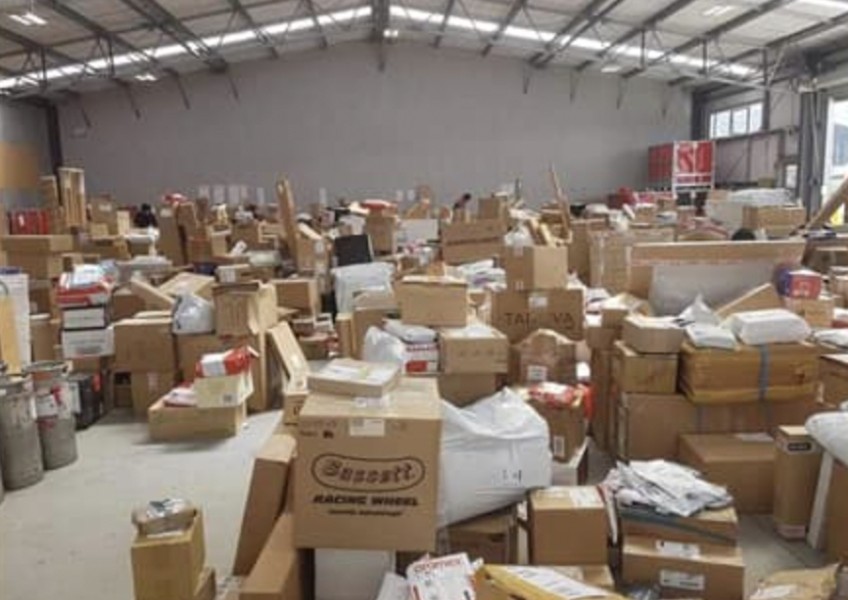 Local Aramex couriers on the brink of collapse?
---
Crux is aware of multiple reports of delayed and lost courier deliveries connected with the local Aramex franchise based in Cromwell.
Images have emerged of the Cromwell depot piled high with undelivered packages (main image above - posted on social media this Christmas). The owners of the local franchise have not replied to messages from Crux.
Aramex claims to be one of the world's top five global logistics companies and purchased Fastway Couriers in 2016 for $NZ 125 million. Aramex is headquartered in Dubai.
Attempts by Crux to contact Aramex NZ were handled by an offhsore call centre in the Philippines who said they did not represent the Central Otago/Queenstown/Wanaka franchise. A phone call to the Cromwell depot was answered on Friday by an employee who said the company had "bitten off more than they could chew."
Newshub carried reports last year from a former Aramex employee who made claims of mishandled packages, bungled deliveries and poor health/safety practices.
Videos have also been posted on social media of an Aramex driver tossing a package carelessly towards the front door of a house.
Many local customers who commented on social media this weekend suggested a trip to Cromwell to collect missing, lost or delayed deliveries.
"I had a parcel take 3 weeks from Auckland, made it to Arrowtown overnight, then just sat there..."
"Took over 3 weeks for mine to be delivered after they received it at the Cromwell depot. Customer service is shocking, can never get through to them and when you do they don't have a clue where your parcel even is.."
"My parcel took 3 weeks to come from Christchurch. Worst delivery company EVER."
"Just go down to their Cromwell depot and get the parcel, much quicker than waiting for them to deliver."
"Aramex is the most ******* horrible shipping company. worked for them in Christchurch. Funny to see how much stuff gets broken each night and they dont care."
"They are ****** - shouldn't be able to trade, use them at your peril- I've lost or delivered to wrong address 3 of 5 parcels in last year. The customer service call centre a joke if you manage to get thru they have no idea where your parcel is - "being handled by 3rd party courier"
I had plants that I knew were in transit 7 days. Went in there to get them myself from Cromwell. Thankfully still alive. Don't ring as they don't answer. Go into the depot and get them to find it. Unfortunately for someone else there were boxes of dead plants opened up outside the door. Allow a bit of time as the poor guy at the front desk is getting a bit of a hard time.
Crux wil contact the current owners of Aramex NZ on Monday via their lawyers in Auckland, Russell McVeagh.
The NZ directors of Aramex are lsited as follows, but with no contact phone numbers.
Scott Michael JENYNS
C/- Unit 207, Shed 5, 1 Lever Street, Ahuriri, Napier, 4110 , New Zealand
Mark Anderson MCLINTOCK
C/- Unit 201, Shed 5, 1 Lever St, Ahuriri, Napier, 4110 , New Zealand
Mr Jenyns and Mr McClintock appear to be the former owners of Fastway as well as many other similar courier and delivery operations throughout New Zealand.


---