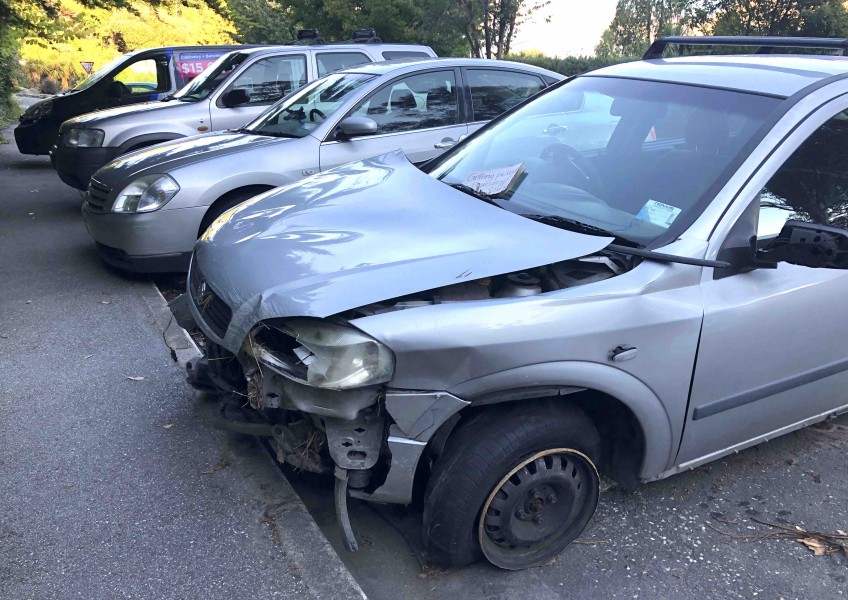 JunkTown - multiple wrecks abandoned with no QLDC action
---
A Crux reader complained to the QLDC last September about a wrecked vehicle that had been dumped near the Remarkables Primary School. It was removed yesterday after a delay of almost six months.
The vehicles have usually been abandoned by tourists or temporary residents when they leave New Zealand and their car is either of little value, or badly damaged, meaning it can't be sold.
Similar car wrecks are scattered all over Queenstown with little sign of action from the council. And yet the QLDC abandoned vehicle yard in Gorge Road is half empty.
As part of a long string of communications with the QLDC our reader who tried to get the wreck removed from the primary school was told by the council "Thanks for your patience with us on this one. We've going to be able to open a new space for abandoned vehicles in the next week or two which will allow us more space to tow these vehicles to, and help us get through the backlog around town pretty quickly. We're really sorry for this delay and we believe this vehicle should be gone within the next few weeks."
Finally the wrecked van was shifted by a contractor yesterday afternoon.
Crux has found multiple vehicles dumped in streets all over Queenstown, all showing no sign of being collected.
And of course, we'll just include this boat wreck for good measure. It's still there.
Main Image: Abandoned vehicle in Sunshine Bay.


---