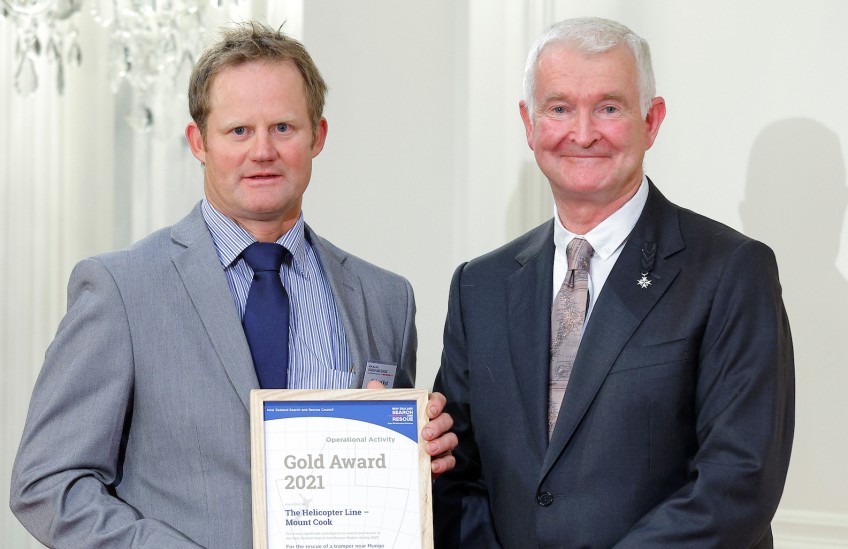 'It's just a cool part of our job': award winning rescue pilot
---
Helicopter pilot Richard Kyd is used to taking tourists on epic flights above the Southern Alps, but this week he's part of a crew that's been acknowledged for the hard work they do to bring people back from those same mountains when things go wrong.
Mr Kyd flies helicopters out of The Helicopter Line's Mount Cook base.
Alongside playing aerial host to sightseeing visitors, The Helicopter Line's chopper pilots are on call to join search and rescue missions into the mountains to rescue climbers or trampers in trouble.
He shrugs off any suggestion that he and his flying mates are heroes.
"I just really enjoy the challenge. All the guys up there that do that, we all love flying in the mountains. It's just a cool part of our job – when you do a service like that, you're just doing what you do for the good of the community."
Every summer climbing season, they can have "half-a-dozen to a dozen" alpine rescues, although it's been quieter in Covid years, he says.
Some can involve some gnarly flying, in tough conditions.
"People tend to get into trouble in bad weather, so we definitely have some weather complications."
But every operation is different – sometimes it may require technical flying to get to a particular spot, while other times it's the drop-off crew who'll be trying to navigate themselves into tight crevasses or other hard-to-reach spots to extract someone, he says.
This week, Mr Kyd and the team have received the Gold Award for Operational Activity at the New Zealand Search and Rescue Awards.
The awards are presented annually in recognition of outstanding achievements within New Zealand's search and rescue region, which covers 30 million square kilometres.⁠
New Zealand Search and Rescue secretariat director Duncan Ferner says the individuals whose skills, dedication and experience has been acknowledged in this year's awards are typical of the search and rescue professionals that serve throughout the country.
"Every one of them has sacrificed time with their whānau, friends and communities to reunite families, and bring loved ones home."
Mr Kyd has some words of advice for anyone headed off on a wilderness adventure, because as much as he loves his job, he'd rather not need to fly to rescue at all.
"The biggest one is carrying a beacon. We've finally got technology, which is there to look after people.
"There's a lot of people getting out into the mountains in New Zealand, and that's fantastic. But do your homework."
Know what you're getting yourself in for, push yourself but know your capabilities, and check the weather, he says.
Main image: Richard Kyd (left) receives his award from His Excellency Dr Richard Davies.


---