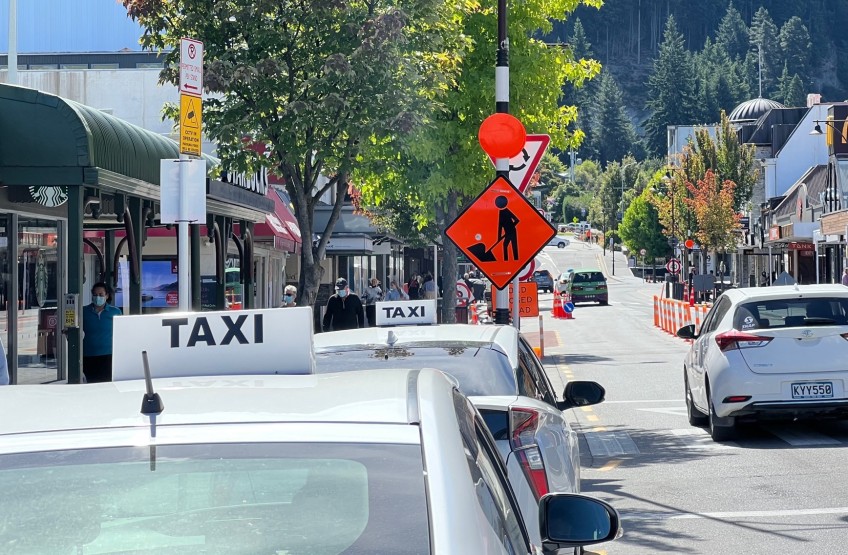 Industry 'absolute mayhem': former driver
---
Southern Lakes residents are losing patience with high fares, poor service and a lack of regulation in the taxi and ride-sharing industry.
There's the 60-year-old Queenstown woman left stranded on the side of Frankton Road in the early hours of the morning after she questioned a $50 fare for a less than four-kilometre trip to Marina Drive.
Another Queenstown resident, returning from dropping mates at Rhythm and Alps madly gesturing out her window to deter a taxi driver from overtaking her on a blind corner when she could see oncoming traffic.
Plus, on top of the exorbitant fare requests and dangerous driving, there's mobile phones disappearing and credit cards overcharged.
They're all stories Crux heard after inviting readers to share their dodgy dealings with taxi and other share-ride operators in Queenstown.
Over the hill in Wānaka, police tell us investigations are ongoing into complaints over the festive season of taxi drivers agreeing to a fixed price and then charging customers a higher price when putting an EFTPOS transaction through.
Queenstown Taxis manager Grant Scannell says the biggest issue for the industry is there is no law on meters, so a taxi fare is up for negotiation.
"Now, when I say negotiate, if you're pissed at 2 o'clock in the morning, and the driver says 'that's going to cost you 50 bucks to Fernhill' and you've been standing in the rain, you're going to go 'yeah, yeah, yeah'…but that is where the issues are."
Queenstown's big three operators all choose to use a meter to determine the price of a taxi fare, he says.
But, over the holiday season, Queenstown attracts out-of-town independent taxi drivers, keen to make a quick buck, he says.
"Even during lockdown we had four or five of these independents turning up from Auckland, because they're essential services."
Alongside representatives from Green Cabs and Corporate Cabs, Queenstown Taxis is working closely with Queenstown Lakes District Council to see what further action can be taken to tighten up the local industry, Mr Scannell says.
He reckons taxi drivers around the country are watching to see the result after successful lobbying locally several years ago resulted in Council creating a system where drivers need a permit (and a top light) to use Council taxi ranks, he says.
However, they're working in an industry in chaos thanks to deregulation in 2017, he says.
When asked what the root of the problem is, former Queenstown Airport Shuttle operator and district councillor Hudson Turnbull also points to the national rejig of the taxi industry to enable global ride share companies like Uber to enter the Kiwi market.
"They loosened and changed the rules so much that it's just laughable the situation we have today.
"There's no doubt the taxi industry could have done with a bit of a clean-up but what we've got instead is absolute mayhem, and it's really sad."
The business model for ride-share companies in Queenstown is different to that of the bigger taxi players in town that use a meter – there's no fixed tariff per kilometre, he says.
"They have surge pricing. A lot of them won't come out until they know surge pricing is on. So, if the Gibbston concert's on you can find a zillion of these ride-share guys running around."
He's also concerned about independent taxi and ride share operators juggling multiple driving jobs and being behind the wheel for too many hours in a day.
Log books are a requirement, and hours should be logged for all driving across all jobs, but whether that book keeping's done to a tee is anyone's guess, he says.
"That's critical, and the taxi industry have dealt with it for years. The ride-share guys, and this is all anecdotal, they're not behaving themselves.
"They're not getting checked on as much as they should be."
A police media spokesperson was unable to provide any specific data on the number of complaints received on taxi or ride-share drivers across the district, other than to reference the ongoing investigations in Wānaka.
The police directed Crux enquiries to Waka Kotahi NZ Transport Agency (NZTA).
Kelvin Lloyd, the compliance manager for NZTA in the south says it receives "very few" complaints in general.
Last year, for example, NZTA received only five complaints in the Southern Lakes.
Most of these involved drivers breaching work hours.
All complaints it receives are investigated and acted on, he says.
Keen to get your head around how the industry is regulated or make a complaint? NZTA directed us here and here.
Want to share a story with Crux? Drop us a line.


---