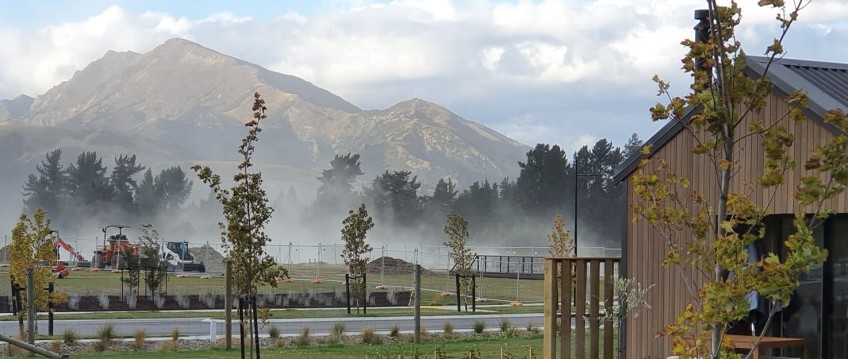 "I can feel it between my teeth" - Wanaka residents fight Northlake dust
---
Wanaka residents say they feel frustrated and powerless against the "giant dust clouds" blowing off the Northlake development, but the developer says it's doing everything it can to prevent it.
Tiffany Firth, who owns catering company Tiritiri Kitchen, lives about 400m from the site of the exposed earthworks and says the "choking" dust is a daily occurence.
"What's happening is giant dust clouds are coming over the hill and descending on the town and filling our houses with dust, I can feel it between my teeth," she says.
Firth's sliding doors are clogged with dust, she's constantly breathing it in and her work equipment has to be repeatedly cleaned after sitting outside, despite being wrapped in plastic.
"Although we'd washed and polished and prepared everything, it was all covered in dust so of course it had to be done again and rewashed so it's taking a few extra hours of our time," Firth says.
She wishes the company behind the development, Winton, would put adequate measures in place to limit the spread of dust.
"I don't want to be the world's biggest complainer, I'd just like them to be a bit more responsible."
In a written response a Winton spokesperson says "Northlake is doing everything possible to mitigate dust moving throughout the community; if there were anything more we could do, we would do it."
The spokesperson says there are eight sprinkler lines as well as several water carts spraying thousands of litres on the construction and earthworks areas, as well as access routes on the site.
Construction was halted at midday Thursday as winds increased, and a "dust suppression polymer" has been applied in addition to the water.
As part of its Queenstown Lakes District Council resource consent, Northlake is required to put in place "suitable control measures to mitigate dust nuisance from wind borne erosion."
Owner of nearby luxury accommodation the Tin Tub Lodge, Barry Andrews, says he's seen the water carts in action, but they seem ineffective.
"The truck was driving along the road but the wind was so strong all it was doing was spraying the water all over the truck.
"It's only one truck, it's farting against thunder, they'd need about six of these trucks."
Andrews' lodge is also about 400m from the exposed earthworks and says the dust clouds are "horrendous".
"You clean the house one day and the next day you walk around the floor and feel the grit on your feet. You're constantly cleaning the house."
The Northlake spokesperson says a member of the public had entered the site on Thursday to take video, and said it urged people against doing this, saying they put themselves at risk.
Metservice reported strong and gusty northerlies on Tuesday and the forecast for Wednesday is for gale northwesterlies gusting 90km/h, changing southwest in the afternoon.





---