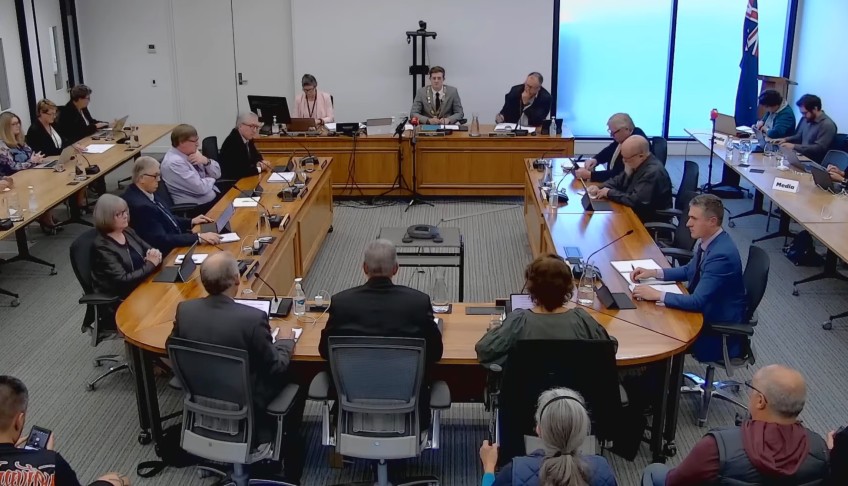 Gore ditches 'no confidence' vote in 24-year-old mayor
---
To rapturous applause from members of the public in attendance, a motion that the Gore District Council pass a vote of no confidence in its 24-year-old mayor Ben Bell lapsed at an extraordinary meeting of the council this afternoon.
In other words, no councillor was prepared to move or second the motion.
Also on the table and going nowhere - a motion for the mayor to be removed from all council committees.
However councillors have unanimously voted to ask for external help from Local Government New Zealand and Taituarā (the national membership organisation for local government professionals) in what's become a dysfunctional situation.
The mayor and council chief executive Stephen Parry are not speaking and the fractured relationship is calling into question the council's ability to service ratepayers.
Last month, councillor Richard McPhail was appointed as a go-between for the mayor and chief executive, so they didn't have to meet directly.
The pair's relationship broke down not long after Mr Bell became the country's youngest mayor in October, taking the role from six-term mayor Tracy Hicks Bell by just eight votes.
Eight councillors of 11 signed a letter to the 60-year-old chief executive on Thursday (May 11) requesting today's extraordinary meeting.
At the meeting Mr Bell did agree to remove himself from the chief executive's appraisal committee, after Dunedin lawyers Anderson Lloyd advised it was an option, and he was supported by councillors in doing so.
This afternoon's decisions follow Mr McPhail and deputy mayor Keith Hovell meeting with Mr Bell on Wednesday to ask him to resign.
Then, on Friday, a majority of councillors, organised by Mr McPhail and Mr Hovell met with the Department of Internal Affairs but Mr Bell and one of his closest allies, councillor Robert McKenzie, were not invited.
Councillors have previously declined requests from media for an explanation of what they had been basing their views to de-seat the mayor on.
Media reports preceding today's extraordinary meeting had presented more questions than answers, providing little clarity for members of the public on the root cause of the ruction.
Speaking at today's meeting Mr Bell has called the events of the last week some of his "darkest days".
"We're at the point now where we need some desperate help...to manoeuvre through this."
He says he is "not perfect" but nor are other councillors.
Deputy mayor Keith Hovell says there's been a "loss of trust around the table" and disagrees with community sentiment that councillors need to let the mayor just "get on with" the job he has been elected to do.
"What do you want us to do? Pretend all is well and carry on?"
He says he has witnessed some bad behaviour in recent months, the issues need to be addressed, and having intervention from experts is the best way to do that for the mayor, councillors, the chief executive and staff.
Councillor Paul McPhail says he hopes the resolution will provide a "reset" for the council, while Councillor McKenzie used some choice words to give the council his approval moving forward, saying "I can see the potential here to build a bloody good team of people to do a bloody good job".
Meanwhile, the chief executive himself was not at the meeting as he is on leave.
A petition calling for Mr Parry to resign has gained more than 4,300 signatures in three days.
Gore resident Sean Burke, who started the petition, says "the people of Gore are fed up with the circus surrounding our local council and the efforts being made by a select few to oust our newly elected mayor".
It is Mr Burke's view the movement to oust the mayor is being driven by "a select few of the old guard".
He also accuses the chief executive of presiding over a council with a "toxic, bullying culture".
A Newsroom investigation published last week documents nearly two decades of alleged bullying at the council after talking to more than a dozen staff departees, including the former finance chief.
Further complicating matters, Mr Bell's mother Rebecca Taylor used to work for the council - her employment ended last year with a legal dispute that cost the council more than $300,000 in legal fees.
In a 24-hour poll run by Crux, it was the view of 373 of 419 respondents that the council chief executive step down.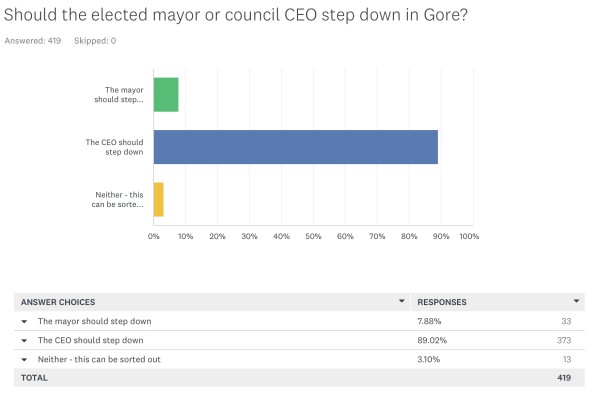 Main image (Screenshot): Gore District Council Mayor Ben Bell chairs an extraordinary meeting of his council today, May 16 - on the agenda, a note of no confidence in his leadership.
Note: This story was originally published with information on an outdated motion to ask for intervention from the local government minister. The new motion involves intervention from LGNZ and Taituarā.


---