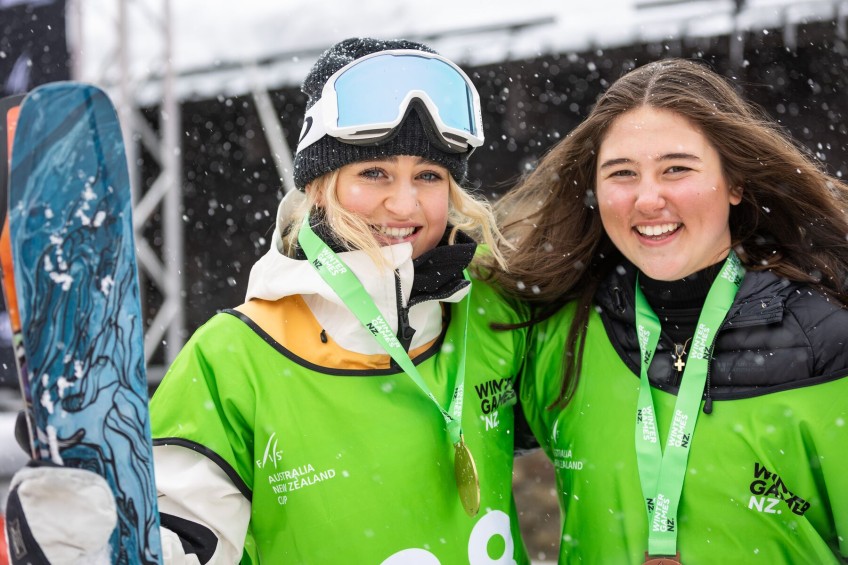 Funding boost for snow sports future female stars
---
More money is coming from a national sporting fund to support women and girls in snow sports.
The Maunga Wāhine project is the brainchild of Snow Sports New Zealand, and it's been successful in an application to Sport New Zealand's Strength and Adapt fund.
Snow Sports NZ chief executive Nic Cavanagh says critical to the project's success will be working with young women and girls to target initiatives that provide both "a better performance environment and an environment that fosters a lifelong love of snow sports, built on fun and belonging".
Exactly how many taxpayer dollars the winter sports organisation will receive is under wraps at this point, but it will be channeled to support what's traditionally been a neglected demographic.
The organisation has spent a lot of time talking to stakeholders and its community, and there's been a clear message back: There is no specific focus or development for female athletes, coaches and leaders in the competitive pathway.
"The impact and importance of building on current initiatives in snow sports for females is undeniable. This strengthen and adapt project will be a game changer in increasing opportunities and enable accelerated benefits to women, girls and the snow sports community that come from increasing the quality and collaboration of current and new programmes and tools within the snow sports competitive pathway and the wider community," Mr Cavanagh says.
Thanks to the successes of talented Kiwi athletes like Zoi Zoi Sadowski-Synnott, Alice Robinson, Cool Wakushima, Ruby Star Andrews, and Jess Hotter, "women's snow sports are at the forefront of many people's minds", Snow Sport NZ's media manager Britt Hawes says.
While this fund isn't for high-performance competitors like them, it will bolster the sports strength among younger girls who may one day follow in their footsteps or women who may coach them to success, she says.
Ms Hawes says she can speak to personal experience about the challenge of being a young female competitor in snow sports.
"I competed at the Olympics, but I ended up without Snow Sport funding or high performance sport funding. I also previously had been a free ski coach, and stopped working in that space because it was just very challenging as a woman.
"There was just no support - like you literally were a one-man band, trying to figure out the logistics, the training, how to get from A to B, how to enter a competition. If you were lucky you could afford a coach - if not, you're competing on the World Cup circuit, at the highest tier of the sport, with nobody else there with you.
"We've got a lot of female athletes in that space in New Zealand."
She's quick to point out she personally doesn't harbour any bad feelings about the set-up at the time, saying "it's just the way it was".
But she's excited to see how this training will have impact for females in the sport, and wants to hear people's ideas on where money can be spent.
Exactly how the money will be spent is still up for discussion, and Snow Sports NZ wants the women and girls who'll benefit from it to be part of the conversation too.
"We'll be going out to them and asking them 'what do they need, what do they want, what will help them, and what are they missing and how can we work around that?'."
There's some female specific things that may form part of the conversation, she says.
"It could be things like access to psychologists or nutritionists, or women's health professionals that can tell them how to best manage their menstrual cycle or competing on your period - those are the things that we need to talk to them about and find out what they want, and then think what we can provide that will benefit as many young women and girls as possible."
The project is set to be ongoing over the next three years.
The Sport New Zealand Strengthen and Adapt programme assists national bodies to ensure they are best positioned to meet the needs of participants and athletes into the future.
Sport New Zealand's diversity, equity and inclusion manager commends Snow Sports New Zealand for its commitment to "improving and enhancing the opportunities and experiences for women and girls in the snow sports environment".
"It is so important that women and girls have equitable opportunities to pursue their dreams, whether it be as athletes, coaches or leaders, and we look forward to seeing what the snow sports community can achieve with this project."
Main image (Supplied/Neil Kerr): Young Kiwi athletes Ruby Star Andrews, 18, (left) and Madeleine Disbrowe, 15, at the 2022 Winter Games NZ.

---