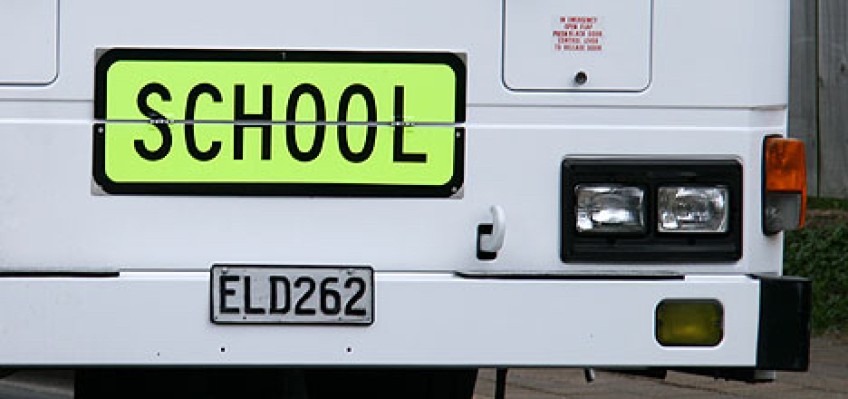 Fears for children forced to stand on school buses
---
Young children are standing in school bus aisles because there aren't enough seats – a dangerous situation Wanaka Primary School is calling on the Government to fix.
Board chairman, Andrew Howard, says it would cost very little to resolve the problem, through the Ministry of Education (MoE) adopting a "one-seat-per-child" funding formula.
"The MoE's own study found that the estimated cost of providing a seat for all children would only (be) $1.4 million. This seems like a small price to pay for dramatically improving the safety of our children."
The school's Board of Trustees has the support of Queenstown Lakes District Mayor Jim Boult and Waitaki MP Jacqui Dean.
"We don't for one minute condone adults riding in motor cars without seatbelts, yet we are prepared to allow the most precious part of our community – our children – to stand up unrestrained on the open road. The situation does seem ludicrous," Boult says in a letter to the MoE.
Howard says the Ministry of Transport could also step in and make a legislative change, to prevent passengers from being allowed to stand on buses when they're travelling on the open road.
He believes the "fundamentally flawed" way school buses are funded needs to be reviewed urgently, saying the New Zealand Transport Agency uses a "certificate of loading" system which allows school buses to carry children in such numbers that some need to stand.
And the MoE funds the service "in full knowledge that standing will occur", he says.
"I was very surprised to hear that standing is not only allowed but positively encouraged under the current system. We consider children of any age having to stand in the aisles of school buses to be extremely unsafe and potentially life threatening.
"These are large vehicles travelling at 80km/h on the open road in all weathers."
The Queenstown Lakes District's heightened risks of icy roads and often "inexperienced tourist drivers not used to New Zealand roads" also needed to be taken into account, Howard says.
"Studies suggest that pedestrian survival rates in an accident with a vehicle travelling at 80km/h are zero. The same could be said for standing passengers in a moving bus."
Howard says the board is waiting for a response to its concerns from the MoE.
It's not only Wanaka's school buses which are bulging. Wanaka Primary School has swelled to more than 720 children. The school's roll was not anticipated to exceed 650 when it moved to its current site in 2010.
The area also has three other primary schools – at Hawea Flat, Tarras and the Holy Family Catholic School in Wanaka. Plans are underway for a fifth primary school in the Wanaka's new Three Parks subdivision.


---