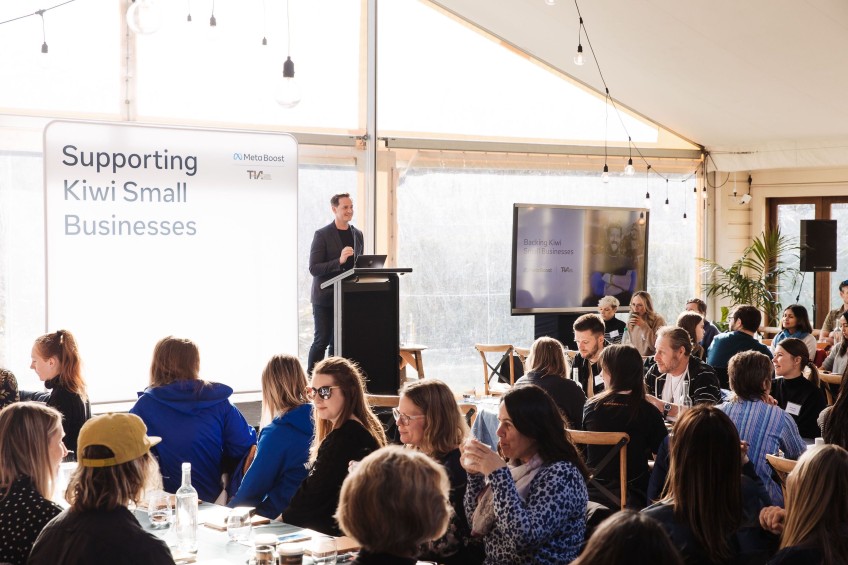 Facebook launches new support for Q'town tourism operators
---
More than 100 tourism businesses have taken part in a Queenstown seminar aimed at taking their online presence to the next level.
Local tourism operators have always been keen to share their patch of paradise with visitors, but now social media provides opportunities to connect with potential customers even before they arrive in this neck of the woods.
Meta, the parent company of Facebook and Instagram, teamed up with Tourism Industry Aotearoa to present the workshop to help upskill smaller players in the industry to reach new customers in a changing market as borders reopen.
"It's been really tough for all these businesses for the last couple of years," Tourism Industry Aotearoa's Ann-Marie Johnson says.
"I think the timing for this is just right. They're starting to be able to look up and out again and just know there's going to be some visitors – both from New Zealand and further afield as well."
Learning the "latest tips and tricks" for how to reach them via social media can be really effective, she says.
Meta's head of policy for New Zealand and Pacific Islands Nick McDonnell says the programme Meta's developed with the tourism industry group is aimed at helping the sector thrive online.
"Our services really enable small businesses to access audiences that they would never have done in the traditional market. So, it really lowers that barrier to entry for them - scale's no longer the requirement to be able to reach people on the other side of the world."
It's about "empowering" businesses to create their own economic opportunities, he says.
Because when they do, it helps everyone.
"We know many tourism businesses have been hard hit by the pandemic and are excited to welcome back visitors.
"When small businesses succeed, the wider economy benefits and this is critical to New Zealand's economic Covid recovery and will help tell New Zealand's story globally again."
Ms Johnson says there's still a place for the bigger players – Tourism New Zealand and Destination Queenstown, among them – to market New Zealand and the Southern Lakes to the world, but social media can be a tool any small tourism business can add to its belt to tell its own stories and attract new customers.
Mr McDonnell says he's seen a "rapid digitalisation" of businesses, and investing in learning how to make the most of the online platforms on offer pays off.
It makes sense that digital native 19-year-old Emma Rogers, who's behind the savvy online marketing done by Queenstown's Black Sheep Backpackers, spoke as something of a local expert at the event during a Q&A session.
She says her social media content allows her almost unimaginable reach – she's connecting with would-be customers on the other side of the world, in a different time zone, and that's "sick" (which is a good thing).
Her top tip for newbies: Be consistent with posting.
"You've got to continue to put yourself out there.
"More content…more engagement - it's a no-brainer."
Staff at the backpackers are encouraged to be online when they're out and about in Queenstown, sharing short videos and photos to give visitors an insider's view of what to experience in town.
And they're being incentivised to do it.
"The staff member that posts the most stories gets paid a $50 voucher," she says.
Claire Brack of Ziptrek says it can be smart to "let your customers help make content".
Ziptrek has a "win the cost of your tour back" competition to tempt visitors to provide "user generated content".
Plus, she mines feedback provided by happy customers to inspire her own posts.
The beauty of that, she says, is what she puts up is in the voice of people who have already enjoyed what it is her business offers, so it sounds authentic and will resonate with "lookalike customers" she pushes the content out to.
Liene Krastina does the online marketing for Shotover Canyon Swing. She says a strong social media presence allows the business to "grab" customers directly.
And that's a two-way street - more and more customers are after a connection with a product and the people that deliver it, especially in light of the hit delivered by the pandemic, she reckons.
Customers want to better support small businesses – they're seeking to cut out a middleman, and social media helps facilitate that, she says.
Meta had a team of "trainers" at the half-day workshop to talk businesses through how to establish a presence on Facebook and Instagram, and how to make the most of new and existing tools within the platforms to grow and engage audiences.
It's the first of its kind to be held in the district, and there'll be a similar one in Rotorua later this week.
Main image: Nick McDonnell, the head of public policy, New Zealand and Pacific Islands, Meta.


---