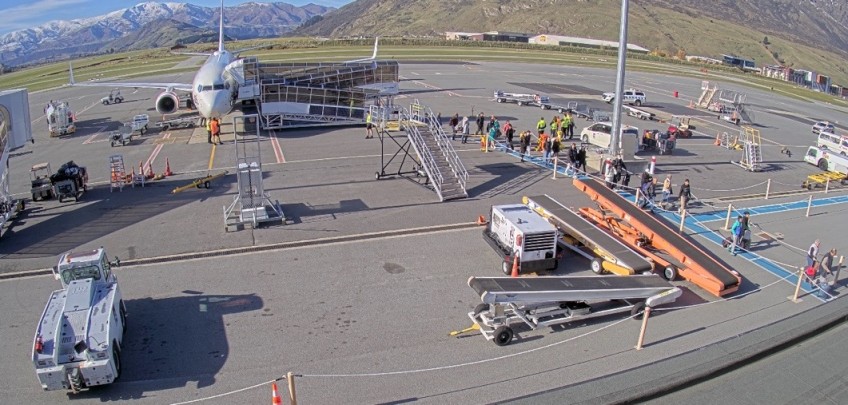 Enclosed ramps replacing stairs at Queenstown Airport
---
Queenstown Airport is hoping extra check-in kiosks and places to drop off bags plus ramps rather than stairs off planes will help lessen the time travellers spend moving through the airport.
There are nine new self-service screens for checking in on Jetstar, Qantas and Virgin Australia flights as well as six more automated bag-drop units at the terminal, and queues for departing travellers have reduced be cause of them, according to the airport.
In a statement issued today by the airport ahead of the July school holiday rush, chief operating officer Todd Grace says, "Nobody likes waiting in line to check in or drop bags".
"This technology speeds up the process and is easy for passengers and airline staff to use."
Meanwhile, while airport chief executive Glen Sowry has committed to keeping Queenstown's iconic cross-tarmac walk on arrival and departure, a change in how people board and disembark the planes themselves is winging its way to the site.
Four innovative boarding ramps, imported from the United Kingdom and assembled on the airfield, will be put into service as airline ground handlers are trained in their use.
They are fully enclosed, have a low gradient and anti-slip flooring, and are thought to be safer to use than the stairs they are replacing. Fewer people will need help to board, and the airport picks this will make it quicker to get passengers on and off planes.

The ramps are electric and solar-powered – a first for New Zealand.

Mr Grace says, "The ramps are another significant investment in operational efficiency, as well as safety, accessibility and sustainability".

The airport says it has 379 flights scheduled to arrive over the first two weeks of July, not far off the 413 it handled during the corresponding period in 2019 - the last pre-Covid comparison.

"The terminal will be busy, but we're well-prepared," Mr Grace says.
The terminal upgrade programme is on schedule, with the Patagonia cafe open again after being repositioned to make space for a fourth security screening lane.
Also in the works, a new cafe to provide a replacement food and beverage option for when the Airspresso cafe become gate-side when the domestic departures area is extended.

Bathrooms in the departures area are also being upgraded as part of the upgrade project, which is due to be completed by spring.
Meanwhile, a new integrated operations centre is up and running that positions airport duty managers alongside airline representatives and aviation security managers, to enable collaboration and quick decision-making when problems arise, the statement says.
Main image: New aviation ramps will replace stairs on and off planes at Queenstown Airport.


---