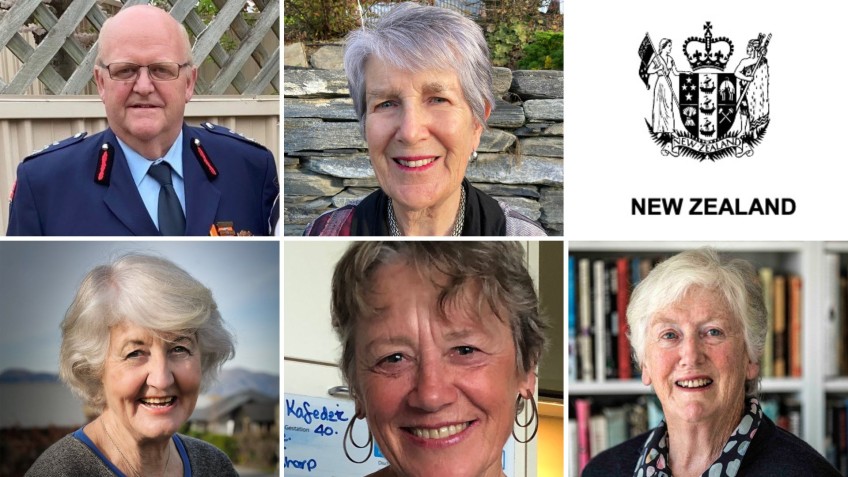 Eight locals recognised in King's Birthday Honours
---
Eight Southern Lakes and Central Otago locals who have given back to their communities with decades of service are among the 182 New Zealanders to have made the King's Birthday and Coronation Honours List.
Among them, a volunteer fire fighter, a champion for young musicians, an outdoor education enthusiast, a community organiser from Lake Hāwea, a Wānaka artist and crafter, an Omakau chaplain, Alexandra's advocate for adult education, and a former QLDC councillor.
Prime Minister Chris Hipkins says each of today's recipients "has contributed individually to our country", and "viewed collectively, their efforts reflect an overwhelming commitment to service".
"On behalf of all New Zealanders, I thank the 182 Kiwis recognised today. I thank them for their service, and I'm delighted to congratulate them all."
Lyn Milne, of Wānaka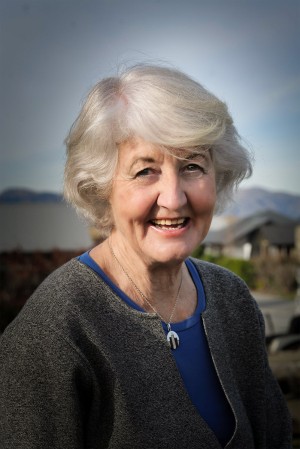 Has been made a Member of the New Zealand Order of Merit for services to the arts
Lyn Milne has spent more than 20 years supporting young musicians and contributing to the arts in New Zealand.
Mrs Milne organised concerts during the Commonwealth Heads of Government Meeting in Auckland in 1995, bringing together young New Zealand students to perform.
She was the New Zealand Director of the Royal Over-Seas League (ROSL) for 23 years, managing all the local ROSL branches around New Zealand.
She was instrumental in the establishment of the Pettman National Junior Academy of Music as well as the ROSL-Pettman Chamber Music Scholarship in 2005, both providing opportunities for many young musicians nationally, with the Junior Academy providing 45 scholarships valued at $4,000 each.
In 2021, she established the Artist in Residence programme at the Aspiring Lifestyle Village, providing youth to present a series of concerts, masterclasses and workshops for the community in Wānaka.
She organised national concert tours for young musicians between 2006 and 2017.
She co-founded and is chair of the Magic Carpet Music Trust in 2022, a charitable trust which has provided 23 concerts all around New Zealand since its launch.
Mrs Milne is a committee member of the Wānaka Concert Society.
Arthur Sutherland, of Wānaka
Has been made a Member of the New Zealand Order of Merit for services to outdoor education
Arthur Sutherland has dedicated 45 years to outdoor education in New Zealand, having been involved with the Ministry of Education since 1978.

Mr Sutherland helped establish the Boyle River Outdoor Education Centre in 1978, and has served on its governing trust, the North Canterbury Alpine Trust since.
He was a teacher at Kaiapoi High school for 25 years and held the position of Director of Adventure School during this time.
The school was the recipient of the outstanding Outdoor Education programme award in 2003.
He was integral in the development of the Risk Management and Training Assessment Scheme for teachers and the then Department of Education's draft booklet for the Risk Management Scheme for education outside the classroom (EOTC).
He was a member of the Ministry of Education's steering group which produced the EOTC guidelines 'Bringing the Curriculum Alive' in 2009.
He was an executive member of Education Outdoor New Zealand between 2004 and 2010, received the Supreme Award for contribution to outdoor recreation and was made Life Member in 2003.
Mr Sutherland received the Outdoor New Zealand's Special Executive Award in 2016 for his service and the Peter Allen Award from the Boyle Outdoor Education Centre in 2018.
Colleen Carr, of Lake Hāwea
Has received the Queen's Service Medal for services to the community
Colleen Carr has been active in the Lake Hāwea community for 24 years with community organisations, fundraising and events.
Mrs Carr has been involved with the Lake Hāwea Community Centre committee since 2010 and during that time has held the positions of chairperson, deputy chairperson, and secretary.
She has been a member of the Foreshore Management Group since 2010, working to enhance the lakefront reserve, has organised clean-ups around the town, and has undertaken gardening on a voluntary basis around the Community Centre, Hāwea Bowling Club and other areas.
She has organised quiz nights, village dinners at the Community Centre to celebrate volunteers and at mid-winter, as well as Christmas picnics.
She set up a Friday evening group for families in Hāwea, with a monthly barbeque and activities for children.
She established the monthly village meet and greet, particularly encouraging new residents to get involved in the community.
She set up the Haere Mai group for people from various cultures who have settled in Hāwea, including social events and ESOL lessons.
She has organised the annual Town versus Country Waitangi Day sports contest between Hāwea Flat and Lake Hāwea.
Mrs Carr founded the Wise Ones social group for over 65s and organises a range of activities, classes and outings, as well as support during the Covid-19 pandemic.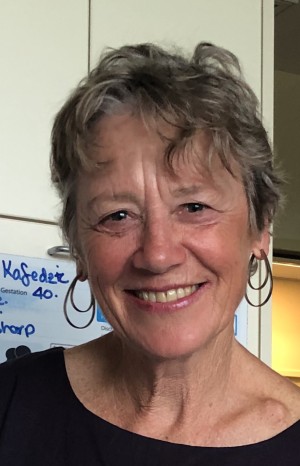 Bernice (Bernie) Lepper, of Alexandra
Has received the Queen's Service Medal for services to the community and education
Bernie Lepper has contributed to rural education and community initiatives in Alexandra for many years.
Mrs Lepper has been involved with the Alexandra Community House since its inception in 2007.
She was the establishment chair then chair of the board until 2022.
She played a pivotal role in the design and construction of the venue, which is a community hub housing 16 social services agencies, local arts and crafts and used by 150 community groups.
She has been the manager of the Central Otago Rural Education Activities Programme (REAP) since 1998, implementing a variety of social and education initiatives to support vulnerable people in the community.
She led REAP's facilitation of Strengthening Families, an Oranga Tamariki project designed to support families and whānau at risk.
During the Covid-19 pandemic, she led REAP on a number of initiatives, in particular, the establishment of the Ministry of Social Development Community Connector Role, supporting community cohesion and wellbeing, partnered with Otago Polytechnic and Community House to provide a Learning Hub for residents without internet access plus digital courses.
She has served for six years on REAP Aotearoa, helping grow the organisation, mentoring education leaders throughout New Zealand.
Mrs Lepper was a trustee of Central Lake Trust from 2010 to 2019.
She says today's recognition is only possible because of the support and encouragement of those she's worked with in the past and present, and she is looking forward to celebrating with them.
"I've always been passionate about education and I really believe that education can make a difference in a person's life.
"So, for me, it's been easy to do because it's just what I believe in."
Ms Lepper accepted Crux's call from Seoul where she has "biked the length of South Korea" on a holiday with her husband, saying it has been an amazing country to explore.
Kirsty Sharpe, of Queenstown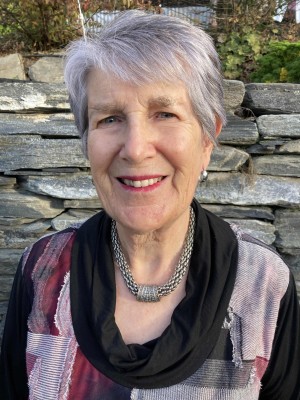 Has received the Queen's Service Medal for services to the community
Kirsty Sharpe has contributed to community initiatives in Queenstown and the Wakatipu Basin for more than 30 years.
Mrs Sharpe served three terms as a Queenstown Lakes District City Councillor from 1986 to 1995.
She was a founding member of the Citizens Advice Bureau (CAB), holding several roles over 17 years including president.
Under her leadership, she helped develop the CAB into a community hub which assists 4,000 clients annually.
She has been a lay minister with the Anglican Parish of Wakatipu for 30 years, preparing and leading worship services in Arrowtown and Queenstown and was previously a workplace chaplain and marriage celebrant.
She was recognised as a Lay Minister Emeritus in 2022.
She was involved with the Margaret Templeton Educational Trust from 2008 to 2021, a charitable trust which provides financial assistance to young people to gain tertiary qualifications. As a trustee, she helped 50 students begin further study in the Wakatipu Basin.
She has been on the committee of Queenstown Grey Power Inc. since 2016, initially as treasurer for four years and as president for five years.
Mrs Sharpe has been involved with the Kelvin Peninsula and Frankton Community Associations since 2012 and has been a Justice of the Peace since 1996.
She says it is "pleasing and very humbling" to receive this recognition.
"There's been a lot of people on this journey with me.
"I've been here since '75, so I've been part of the community for a long time really...I've been involved in trying to make the area better."
She says it is good to see organisation she has been involved in grow and continue to play a vital role.
"It's great to see, for example, the Citizens Advice Bureau. I was a founding member on the organisation in 1989...It's branched out and improved its services to the community. And of course, we need more that sort of thing, we have so many young people here."
In terms of celebrating, Ms Sharpe says she has some family staying and she's sharing the news with them, but she's also counting down the days for an "action-packed" overseas trip.
Along with partner Jim Salinger she is heading off on Wednesday for almost three months, visiting California, Germany, the United Kingdom and Israel.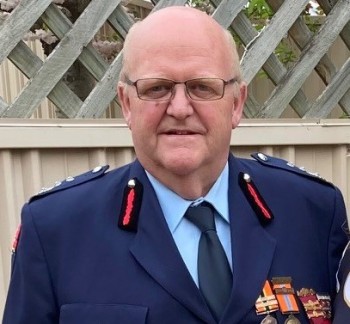 Stephen Shaw, of Cromwell
Has received the Queen's Service Medal for services to Fire and Emergency New Zealand and hockey
Stephen Shaw (Ngāi Tahu) has volunteered as an urban firefighter for more than 35 years.
Mr Shaw's involvement with the Gore Volunteer Fire Brigade spanned 1987 to 1997, at which point he transferred to the Cromwell Volunteer Fire Brigade.
He served as the Cromwell Brigade's Chief Fire Officer between 2007 and 2021, when he stepped down to join its Operational Support Unit.
In his leadership roles in the brigade, he influenced significant changes, transforming it by implementing a training and progression system and an operational skills maintenance scheme.
He developed inclusive brigades and worked to ensure they trained diligently to respond as effective units.
Since 2017 he has led the Fire and Emergency Central Otago-Lakes Peer Support Team, which conducts defusing sessions following traumatic events and provides one-on-one support to firefighters experiencing personal psychological issues and trauma.
He also held leadership roles in the Central Otago Hockey Association between 2006 and 2013, refreshing the organisation with a community focus, and was instrumental as board chairperson in the formation of Southern Region Hockey Inc. in 2010.
Mr Shaw has been made a Life Honorary Member of the Cromwell Volunteer Fire Brigade, and a Life Member of the Central Otago Hockey Association.
He tells Crux, he feels very "overwhelmed and humbled" to be receiving the award - it hasn't sunk in yet.
"It's pretty cool to have someone on the brigade receive it, but there's so many people through the brigades that I think are worthy."
Mr Shaw says his 35-plus years as a firefighter have not actually felt like that long as "time goes by pretty quick".
He has a regular meeting with the Cromwell Fire Bridgade scheduled for tomorrow, and he's not sure how the group will take the news, but says "they're a pretty tight bunch".
His daughters, who live up in Canterbury haven't heard the news yet, so he's excited to share it with them, and says they'll probably all go out for a meal to celebrate – Mr Shaw will foot the bill of course.
Reverend Margaret (Penny) Sinnamon, of Omakau
Has received the Queen's Service Medal for services to the community
Reverend Penny Sinnamon has supported the Central Otago and Omakau communities as a vicar and through community organisations.
Reverend Sinnamon obtained a qualification by correspondence to become ordained as a volunteer vicar for the Anglican Church.
She has performed her duties as a vicar with Dunstan Parish across most of Central Otago, volunteering for many years, receiving 25 percent of a vicar's salary for five years, and carrying on her duties after formally retiring.
She is well regarded for connecting personally with people in her community, assisting them in small and impactful ways, from social visits, support through grief, to financial assistance or food in times of hardship.
She supports seniors and the vulnerable, visiting them while sick, arranging support, providing social visits and outings.
She volunteered as chaplain at Omakau School, where she worked with children struggling in the classroom or feeling left out, also providing support to the children's families where needed.
She organised the school's ANZAC Day commemorations, leading services and involving students.
Within the wider community Reverend Sinnamon has been Club Captain of Omakau Golf Club, held all offices with Valley Hockey Club and her local Rural Women branch, been a member and performer with Omakau Musical Society, and has been president of Omakau Citizens Association.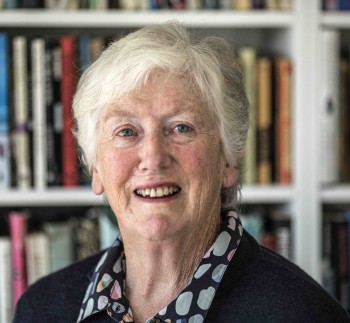 Robyn van Reenen, of Wānaka
Has received the Queen's Service Medal for services to the arts
Robyn van Reenen has been prominent in the Otago art community since 1982.
Mrs van Reenen is known for her involvement in coordinating and managing the Wanaka Autumn Art School since 1992.
The school, established in 1990, is held annually at the Mt Aspiring College campus and offers some 16 courses in visual, performing, craft and writing arts.
It has attracted upwards of 200 students each year, with notable artists from throughout New Zealand and Australia attending to teach.
Her other arts involvement has included serving as the secretary of the Wanaka Arts Society between 1982 and 1985 and being a founding member of the Wanaka Patchwork Club from 1982.
She was chair of the Upper Clutha Community Arts Council between 1997 and 2022, instrumental in awarding financial assistance for arts projects.
She is a member of COOTS (Central Otago Outside the Square), a group of textile artists exhibiting biennially and promoting textiles in the art world.
She has taught courses on quilting and book binding.
She served on the National Association of New Zealand Quilters' Committee between 1996 and 1998 and the National Quilt Symposium Committee between 1997 and 1999.
Mrs van Reenen was a committee member of the Queenstown Lakes Creative Communities Grants between 2018 and 2021.
"It feels very exciting and I feel very honoured," Mrs van Rennin says.
She says the Autumn Art School is where her passion lies.
"It's really exciting to see people coming in and spending a week indulging their passions and seeing them at the end of five days and thrilled with what they've accomplished."


---