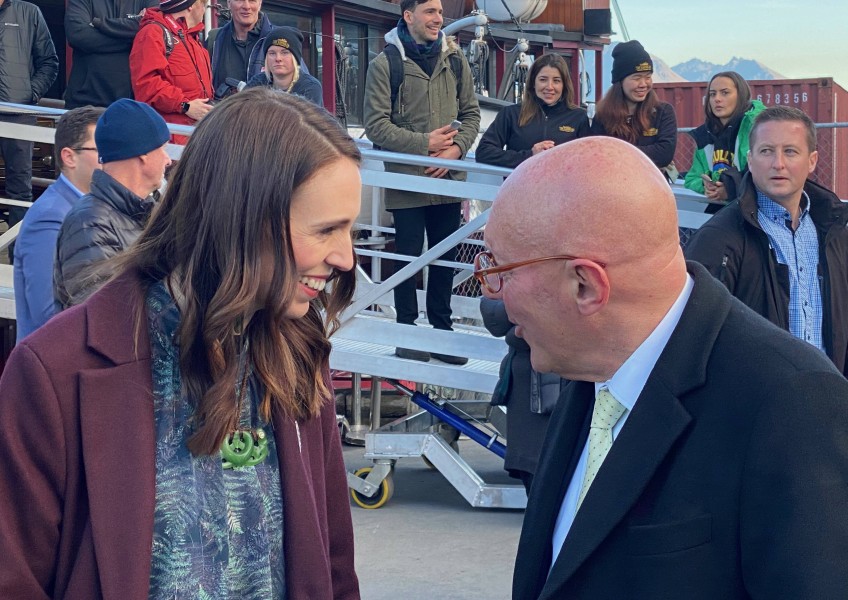 Editorial. Did Labour just lose Queenstown?
---
Editorial.
Could the Labour Party have won this year's election in the Southern Lakes? The signs were all there, but did they just blow it by giving the owners of A J Hackett a mix of grants and loans worth over $10 million?
The reason that Labour could have won is that for the last decade the residents here have become poorer and poorer, while the rich elite have become even more wealthy. Our current Mayor, Jim Boult, is one of those people.
Many of the locals were gradually becoming Labour voters. Life was too hard – the social/economic price of living here was too high and for too little reward. Shane Jones's Provincial Growth Fund was preserved for Northland – in fact anywhere other than Queenstown.
So, the A J Hackett Government money is puzzling in more ways than one.
Not only is every single name on the A J Hackett share register linked to other sources of local wealth, much of it in mass tourism, but other recent Government grants have also favoured this same Queenstown Rich Man's Club.
Sir John Davies, a former QLDC Mayor, runs NZ Ski through his company Trojan Holdings.
Trojan owns 40% of A J Hackett. The Labour Government on Friday waived most of the fees that Davies' companies were paying to the Department of Conservation for Coronet Peak, the Milford/Routeburn Tracks and the Remarkables ski fields, often using publicly owned DOC land.
On top of that NZ Ski has made The Remarkables ski field access into a Toll Road and warns off non-paying ski field "trespassers" for "safety reasons."
One of the directors of Trojan Holdings is Dunedin accountant Murray Valentine, who is linked to the controversial "industrialised" dairy farming of the Mackenzie Basin in the shadow of Aoraki Mount Cook.
The Sir John Davies purchase of a $23 million private jet for his son is also enigmatic as the businesses Sir John and his family own include The Hermitage Hotel at Aoraki Mount Cook and Ultimate Hikes (Milford/Routeburn Tracks) – all better accessed by road from Queenstown.
Apart from A J Hackett's founders (Hackett and Van Asch) and Sir John Davies, the company is linked to Andrew Brinsley who has multiple interests locally including Millbrook and the Lakes Weekly Bulletin, The Queenstown News App and numerous restaurants that are part of the Good Group. His directorships fill three pages on the Companies Office Website, but he also likes to keep a low media profile.
Add to all of that the fact the Jacinda Ardern's Friday visit was virtually hijacked (or should that be hosted?) on Friday by Mayor Jim Boult (and Wayfare Chairman) and his new Wayfare Group CEO Ian Jackson. Add Wayfare (owners of Cardrona/Treble Cone/TSS Earnslaw/Walter Peak/Milford-Doubtful Sounds via Real Journeys) to Trojan Holdings/Hackett and you have a virtual clean sweep of the Labour Government's support for the rich and secretive elite of Queenstown. $85 million was also given on Friday to Mayor Boult's "shovel ready" Queenstown CBD upgrade plan that many locals now see as surplus to requirements and not the best use of a large amount of Government cash.
Wayfare's new CEO Ian Jackson is friends with Mayoress Karen Boult and partner to Queenstown Airport Corporation CEO Colin Keel. Keel's grand expansion plans for Queenstown airport have caused considerable community angst and left many locals scratching their heads wondering what the real game plan might actually be. Jackson's CEO role at Wayfare happened swiftly and ahead of a previously indicated schedule. Wayfare Chair Jim Boult must have played a role in that decision.
Whoever within the Labour Government came up with this strategy of courting the Mayoral and tourism elites in Queenstown may need to take the full blame for Labour, once again, not having an MP in the Southern Lakes.
Queenstown in now part of the newly adjusted, vast Southland electorate – held by National backbencher Hamish Walker in the context that this is/was a safe National seat. That "safety" has historically come from the farmers and conservatives of the hinterland towards Gore and Winton. But now the Queenstown population has grown dramatically, made up predominantly of voters who are neither rich nor naturally classified as hard core National Party supporters.
The myth that everyone in Queenstown works in Tourism was exposed by Covid 19. The pandemic has revealed a tourism structure made up of some well-paid executives with over 7,000 now redundant migrant workers on very low pay. Even former National Party MP Todd Barclay said that workers could not manage to live in Queenstown on the minimum wage. Tourism does not pay well.

Polling data from the last general election showed an almost 50/50 National/Labour split in central Queenstown polling booths. Since then a combination of more low wages, more mass tourism and more question marks over council spending and transparency – all have led to an electorate much more naturally inclined to Labour's social values than National's Big Business playbook.
But now that's in the past tense. Hopefully whatever Labour hoped to gain from giving the mega wealthy more money was worth it – it's hard to imagine.
The current Labour machinery can be summarised in one simple story. Crux has been asking for an interview with Jacinda Ardern for over two years. Her media minders said no – just No.
On Friday, in the glittering snow at Cardrona, we finally got to ask the Prime Minister herself. "Can we have an interview?" "Sure "she said. "But you will have to clear it with Ms X."
Ms X, part of the vast media and PR machine that now seems to run NZ, said no. Again.
What a pity. We could have helped the PM understand what people here really think. The people that pay the bills, pay the rates, pay the taxes, vote – and fund the politicians. Now also, via those taxes, the same people who are funding A J Hackett without the burden of owning shares or getting a cut of future profits.
Mark Rose, who runs the Rees Hotel in Queenstown has today written a letter to the Prime Minister and her PR/Comms team. He's agreed to us publishing part of that letter.
Hi Jacinda/Comms person,
We have always put money aside for a softening in tourism and once Covid 19 became "a thing" we recapitalised our business and used the wage subsidy to give us space to down size . Most businesses in tourism have made sizeable profits (including ours) over the last eight years or so and we have to take the good years with the bad.
Isn't that what capitalism is about?
I supported Labour at the last election in the hope that we would get a fairer government – I preached this to my children. The ongoing conversations with them are quite soul destroying.
Mark Rose,
CE, The Rees Hotel, Queenstown.
Note: Crux has lodged an Official Information Act request with the office of Tourism Minister Kelvin Davis for the full documentation that supported the Government loan and grant to A J Hackett.


---