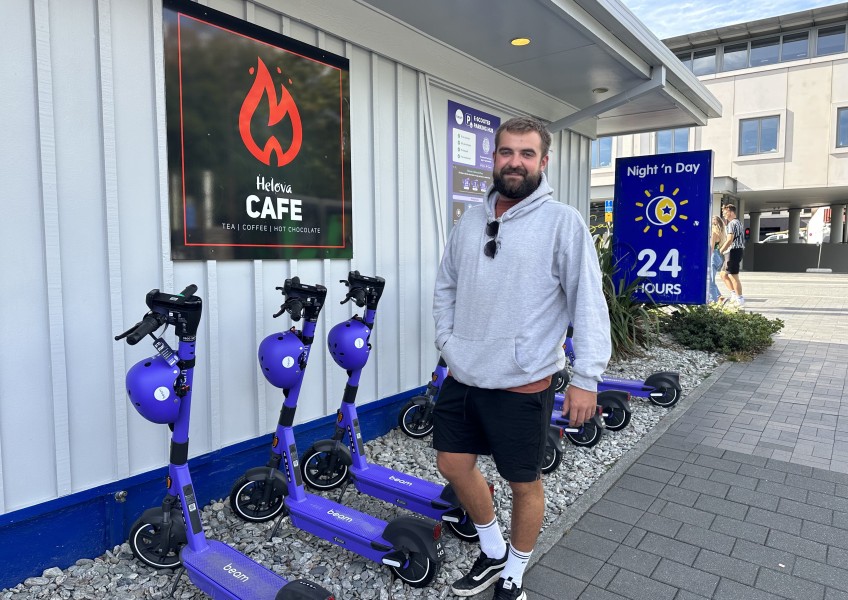 E-scooters arrive but largely stay put on day one of trial
---
Beam's purple e-scooters for hire have been delivered to partner businesses in Queenstown today, but few appear to have left their virtual docking bays.
Crux reporter Lauren Pattemore has taken to the streets this afternoon in an attempt to talk to users and the pedestrians they'll compete with on day one of what's to be a two-year trial of the alternative transport option.
But it appears the trial's off to a slow start for now.
Dom Brady was at a parking spot outside the Night 'n Day trying to sort his ride.
He's in town on a working holiday visa and says he's used similar scooters in lots of places as it "saves walking".
But he warns that at home, in Sheffield in the United Kingdom, plenty of for-hire bikes and scooters have ended up "in the river".
Beam has announced it will roll out up to 300 of its scooters this week, saying there's safeguards to stop any being ditched in Lake Wakatipu or anywhere other than designated drop-off spots linked to private businesses.
One of them is Alpine Lodge on Gorge Road, where the lodge owner says there hasn't been much action yet at the parking space outside his accommodation, but it's day one, so he hadn't been expecting any different.
Down the road at Franks Corner Artisans, manager Alison Yoes says she's watched two punters scoot off from outside her shop.
She says she's expecting use to build over time.
One rider was spotted speeding through the CBD, but on foot Ms Pattemore failed to keep up and flag her down for comment, despite her best efforts to do so.
Crux has also approached Beam for comment, asking for details of how many scooters have been parked up today as well as any early data on their usage.
The company initially pitched to partner with 50 local businesses for a trial in both Queenstown and Wānaka, given green light by the Queenstown Lakes District Council in December.
To begin, it's secured the support of 15 businesses in Queenstown.
Main image: Dom Brady says he spotted the new scooters today and was keen to give one a whirl after using them in other locations.

---