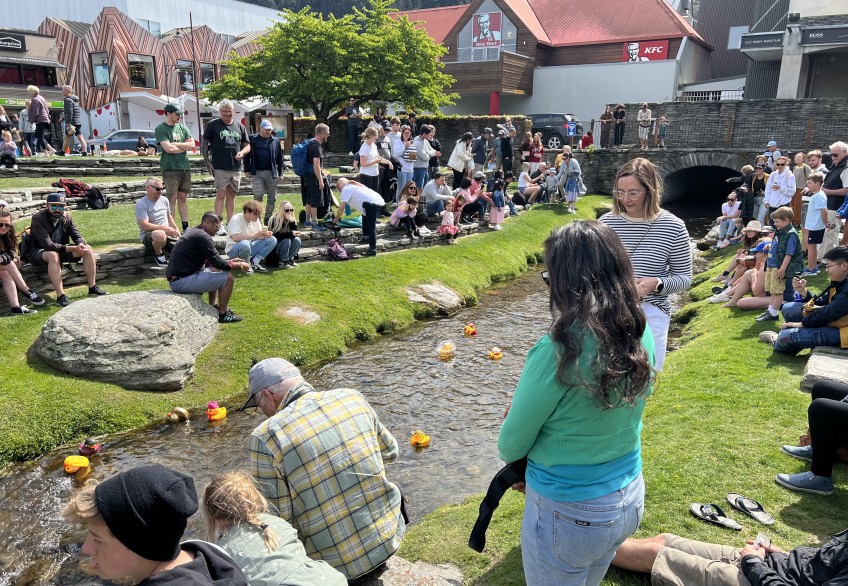 Duck race brings in over $7,000 for air rescue trust
---
A bright yellow brigade of highly decorated corporate ducks made a dash through central Queenstown today in support of the Lakes District Air Rescue Trust (LDART).
Sponsors had paid $250 each for over 40 entries while spectators had a chance to buy a smaller racing duck for the second of two races from the Village Green to the lake.
Battling fierce headwinds, the ducks had a tough journey ahead of them but after around 20 minutes of (slow speed) racing the winning duck crossed the finish line ataround 3.30 pm.
The winning duck belonged to the local branch of law firm Wynn Williams who had proudly decorated their entry as a majestic Queen duck representing their all-female office.
Crux the Duck managed to finish a respectable sixth and a good 15 minutes before the final stragglers made it to the lake shore.
Jules Tapper, Chairman of the Lakes District Air Rescue Trust, said he was thrilled with the race and the amount raised, adding that the trust needs $500,000 a year in public support to keep our local medical choppers in the air.
"Its tough raising that amount of money every year" Mr Tapper told Crux at the event. "But we have pleasant surprise from time to time, such as when someone from Balclutha recently left us over $100,000 in their will. It's easy to do, so if anyone locally wants to support us via a donation or a bequest – please get in touch."
Rotary race organiser Tim Wilshire said he was pleased to see the iconic charity event back in Queenstown after Covid disruption. The top place getters all received vouchers worth up to $550 from local services and retailers.


---