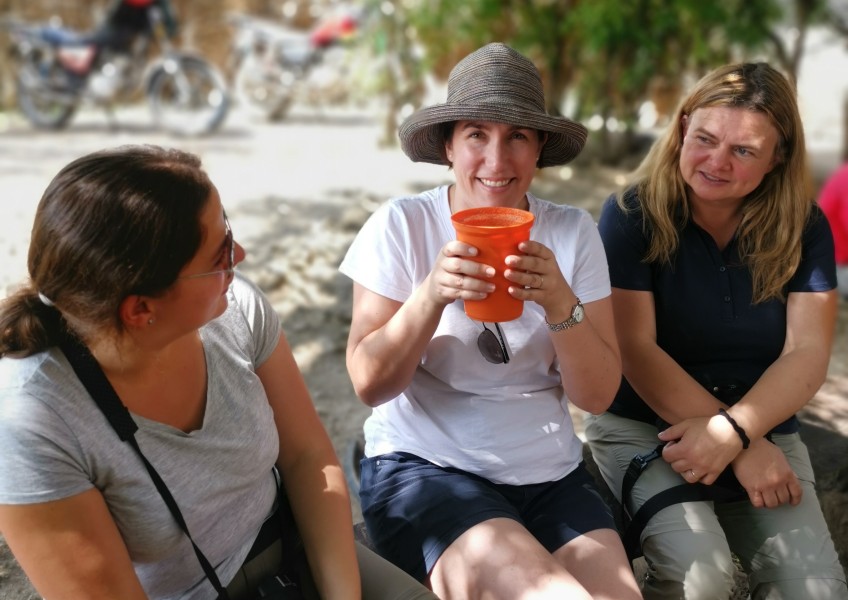 Cromwell intrepid travel guide converts Global to Local
---
A Cromwell woman used to taking travellers to intrepid parts of the globe is set to host tours in her own patch of paradise as Covid's border closures have forced her to rethink her business or sink.
For Natasha Sinclair, overseas travel has been a lifeblood.
From a desk in her family lounge in Central Otago, the mother of two has grown a business offering unique and immersive trips to Kiwis keen to discover two of the world's most epic destinations - Africa and India.
The global pandemic then brought her business to a grinding halt.
"I felt really devastated, and part of it was obviously all the hard work I had put into the business."
But her grief goes far beyond her own personal circumstances.
"So many people I work with, I know they don't have really any other options in terms of having an income to fall back on or government support in the countries I work in."
The income generated by the work of some of her local guides and hosts often supports a larger family group or community, she says.
"The longer this goes on, the harder it will be."
In other destinations she visits, tourism is vital for conservation and the setback Covid has created is disheartening, she says.
There's the project that reintroduced rhinoceros to Botswana's Okavango Delta: "Three years ago, they finally had rhino back in the delta. Now, they've had to take them back out again."
Without tourist dollars entering the economy and the incentive to protect the impressive wild animal, poachers are a very real threat, she says.
"As people see there's value in their natural environment, they're willing to protect it.
"It's taken that conservation project back by years.
"That's really weighing on my mind."
Although she can't bring in tourists and the cash that comes with them, Natasha is being creative with ways she can help.
During Kiwi lockdown version one, she guided a virtual African safari to raise funds and awareness of conservation projects on the continent.
She's put a small bit aside to help contacts in Africa buy Christmas presents this year for children that otherwise may have missed out.
In the run-up to Christmas, she's bought and imported a bulk of handmade Christmas ornaments from a family from Kashmir she's become friends with after bumping into them over the years at an artisan market she takes travellers to in Delhi, and handprinted fabrics from a village near Jaipur that offers her groups block print workshops.
"The idea is, while we can't travel, I'm going to have a small curated collection of things I buy from artisans I have a relationship with."
She's making an effort to stay in touch with overseas contacts, who over the years and tours have become much more than business acquaintances – video chats with girlfriends in Mumbai and Delhi; WhatsApp messages back and forth with local guides and suppliers in Southern and Eastern Africa.
And she's hoping she manages to keep her Hindi conversational with only Bollywood movies to practise on for now.
But, these labours of love don't necessarily help with her family's bills.
Or allow her to flex the entrepreneurial muscle that's enabled her to turn a passion into a healthy business.
As the world's borders began shutting earlier this year, Natasha was in Mumbai, India's financial capital, at the tail-end of one of her popular escorted tours.
Travel routes and ways home were rapidly disappearing, and Natasha had not just the eight passengers in her immediate care to think about but passengers booked on overland Africa trips she has a responsibility for selling in New Zealand.
"I had people who were in the back of beyond in Zimbabwe and others in Tanzania and South Africa.
"I was trying to coordinate ground operators and agents.
"I didn't sleep until that was sorted."
And, when she finally woke up, it was to the realisation that so much of what she had worked tirelessly and passionately to build Covid had pulled out from underneath her.
In a bid to help, friends started asking: 'Why don't you run tours here?'
The idea niggled.
"I'm passionate about Africa, I'm passionate about India, and I'm passionate about where I live.
"My tours are very immersive, very hands on, very personal. I knew that was something I could deliver in Central Otago."
So, a Crafted Journeys Central Otago tour was born, with three departures scheduled for the coming summer.
The itinerary has been put together in the same manner as Natasha's much-anticipated India tours, connecting travellers with locals and giving them hands-on experiences with local artists and food producers that are not usually accessible.
The tour includes a day with Victoria Claire Dawes, a studio potter recently returned from the United Kingdom and a tasting with Zoe Wood of Forage & Gold honey - two more Cromwell locals doing great things.
"People often say they've been to Central Otago and actually they went to Queenstown.
"A lot of this trip is focusing on what we have right here (in Cromwell) – great food, great wine, an arts scene, these great trails.
"In part, I think Cromwell gets a bit of flack, but Cromwell is an amazing place to live and I suppose it's about showing people that.
"In Queenstown, you can open your window and see The Remarkables. Here, there's just as much beautiful scenery, you sometimes just have to be shown it."
Her regulars are generally over 50, with time and money to travel, she says.
"They're people who are curious, lifelong learners, they're well-read, they're keen to look at things a little more closely, not rush, they're wanting to have real conversations with real people."
Covid, with all its devastation, has provided opportunity for the tourism industry to have something of a reset – in this neck of the woods, some places have struggled with over-tourism, and there's movement towards a more sustainable approach, she says.
It's a feeling evident in the Government's most recent policy statements on the future of tourism, for example.
However, the district should be cautious about focussing too completely on upper-end travellers - Many catch the travel bug young on a first venture abroad, encouraging a life-time love of adventuring that continues into stages of life where there' more money to burn, she says.
"There needs to be some sort of balance."
Read more about Natasha and her tours on her website.
Main image (supplied): Tour operator Natasha Sinclair (centre) samples banana beer in Rundugai Village, Tanzania during a planning trip for a craft, culture and wildlife tour she had planned for 2021.


---