Cromwell newcomer stars in local Shortland Street - The Musical
---
Sam Ngaue (main image above) is more comfortable on a rugby field or in a boxing ring than on the stage.
Yet the Cromwell newcomer is set to play the role of Dr Hone Ropata in the Fine Thyme Theatre Company's upcoming season of Shortland Street - The Musical.
A few months back, casting was well underway for the ambitious production (only theatre companies in Auckland and Wellington have staged it to date, making the Fine Thyme's showing a South Island debut) but there'd been no success finding a Dr Ropata, played onscreen in the TV soap opera by Temuera Morrison.
Word got around there was a new bouncer at the Vic who may just fit the bill.
The story goes, Mr Ngaue was heading onto the field at a midweek rugby practise when he was stopped and asked if he could sing.
Well, can he?
"The shower reckons I'm really good," he says.
Mr Ngaue is tough – alongside the pub security gig, he's a boxing trainer, and rugby is the closest contact sport he could find in town to substitute American football, his real love.
But he says being roped in to play Dr Ropata is one of the scarier things he's done.
"I had no idea what they were asking of me.
"I've never been to a theatre in my life and never, ever thought of being on stage."
Theatre is exposing, and you're forced to be vulnerable, he says.
"Having to act, and sing especially, it shows a lot of emotion. It is a challenge."
But it's a challenge he's rising to, having fun and making connections in his new hometown in the process.
For Fine Thyme Theatre Company committee member Brigitte Tait, who'll play Nurse Carrie Burton (famous for telling Dr Ropata that he's not in Guatamala now – creating an iconic Kiwi screen moment), that's part of the beauty of regional theatre.
It provides opportunity for people to step outside their comfort zone and try something new and challenging, or something they've perhaps always secretly aspired to.
While for others – the thespians, singers, dancers and theatre-goers - local theatre provides the creative outlet they crave, whether it be on stage performing or in an audience, no trip to the big smoke required.
Ms Tait's half of the PR-duo volunteering to get the town talking about the show.
With a limited advertising budget, they've been getting creative.
Last week, a billboard appeared on Barry Avenue, outside the liquor shop: "Hello Chris. I know all about your new love – Jill. You were caught with your 'pager' off again. Your soon-to-be-ex, Alison #ChrisIsACheat."
It created a localised media storm - Users on community Facebook groups were sharing photos of the sign, tagging mates to try and identity the mystery couple; the DJ on Radio Central chastised Chris on drivetime, urging Alison to kick him to the curb.
As the penny dropped, the desired buzz had been achieved (and a few Cromwellians educated on how to handle a hashtag in the process).
"Now, we just want it to translate to tickets sales."
The show's being performed at the Cromwell College Auditorium – 300 seats to fill, across six evening performances and one matinee. In a town the size of Cromwell, they'll need almost one in two to come along to sell out.
Show director Lisa Clough says without a purpose-built performance space (or even a functioning community hall of size) the theatre company relies on the support of other groups in the community to pull off a show like this.
Rehearsals are being held at The Cromwell Bowling Club, the venue for last year's production of Scandal at the Speakeasy, then there's the school auditorium for show nights and practises in the week leading up to them.
The group's resourceful and resilient, and grateful for what they've been offered, but operating without a home-base theatre is challenging, Ms Clough says.
"Our committee, and a lot of people behind the scenes, work really hard to create magic out of nothing, really."
Costumes and props belonging to the theatre company are in haphazard storage, often difficult to access.
Her husband's put his hand up to largely build the set, and he's working on it in winter in a shipping container in the industrial estate.
The couple travel from Luggate, for now at least four times a week, to be involved in the production. Joining them with a commute are actors, dancers, singers and musicians from Alexandra, Clyde, Wanaka, Queenstown and Arrowtown.
"That says to me that people want to perform and they are willing to travel to do so.
"They're passionate about it.
"How cool is it that Cromwell is a central place that these people can come to?"
Last month Ms Clough spoke to her submission on the Central Otago District Council's Long-term Plan at a public hearing in Cromwell.
There's money in the bucket for some type of events centre in Cromwell, and Ms Clough is one pushing for it to include theatre space.
"(Across the district) there's a real need for the performing arts to be more supported in that way."
"Cromwell has a chance to be a leader in this.
"It's such a cool way to make the fabric of the community more vibrant."
But for now, Ms Clough's sights are firmly set on bringing the characters of Ferndale to Cromwell, theatre or no theatre.
Characters and storylines have been picked from the earliest years of the popular Kiwi drama, and include Chris Warner, Rachel McKenna, Nick Harrison, Alison Raynor and Jaki Manu, alongside Hone Ropata and Carrie Burton.
"It's a really, really good show – the music is super catchy, the storyline is hilarious and action-packed, and even if you don't like Shortland Street, you'll really like this show."
The homegrown soap opera does seem to be beloved and bemoaned in equal measure.
Mrs Tait also hopes those who do find the TV version "cringey" won't be put off seeing the musical.
"It's one of the biggest shows the Fine Thyme Theatre Company has put on."
Meanwhile Mr Ngaue, aka Dr Ropata, says he has been a regular Shortland Street watcher.
He's too young to remember the show's beginnings, but it was a 7pm fixture in his household growing up, like it or not.
"Unfortunately, that was the only TV in the house...You had to watch that or go watch a wall."
Fine Thyme Theatre Company is presenting 'Shortland Street – The Musical' from July 16 to 24 at Cromwell College. Tickets at fttc.co.nz
Keen for a wee sneak peek of the show? The cast and director from 'Shortland Street - The Musical' are going to be at Forage Café in Cromwell Sunday, June 20, at 11am to perform some musical numbers from the show.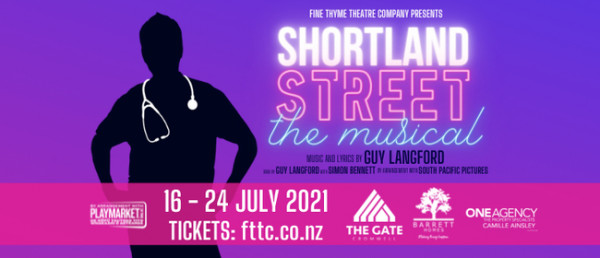 ---