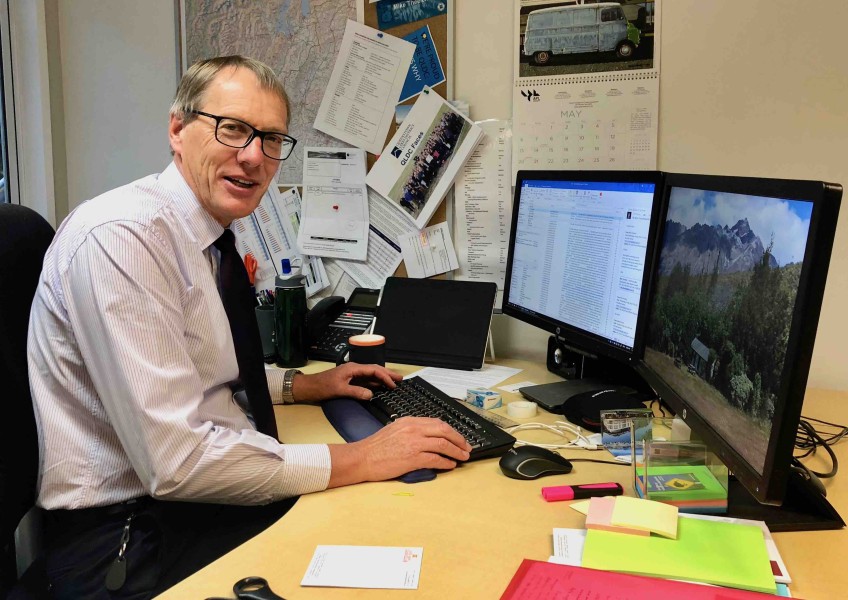 Council emails reveal intimate relationship with Airport Corporation
---
An official information request initiated by QLDC candidate Niki Gladding has revealed an unusually close relationship between QLDC managers and the Airport Corporation, with QLDC CEO Mike Theelen even accusing anti-growth campaigners of "happily dwelling in the fake news continuum."
The QLDC comms and marketing boss, Naell Crosby-Roe also offers his team's services to the embattled Queenstown Airport Corporation. Mr Crosby-Roe says on April 4th in an email to QLDC CEO that Mr Theelen should make contact with QAC boss Colin Keel to "emphasise the importance and urgency of tackling this misinformation in the absence of anything coming out from QAC." Mr Crosby-Roe then goes on to offer to help with these conversations and he highlights the (evidently disturbing) support being received by the Wanaka lobby groups.
The emails revealed under the Local Government Official Information and Meetings Act (LGOIMA) also show elected councillors trying to find out more about what was happening between QLDC and QAC, with limited success.
Mr Theelen's involvement in writing Mayor Jim Boult's major "expansion freeze" speech delivered in Wanaka to a full QLDC meeting also shows that the Queenstown Airport Corporation was consulted in some detail on the speech contents. Mr Theelen also reveals that he was worried about Mayor Jim Boult "burning too much political capital on airport matters".
The following email from Mike Theelen to airport CEO Colin Keel shows his direct involvement in the "airport expansion freeze" speech delivered by Mayor Jim Boult.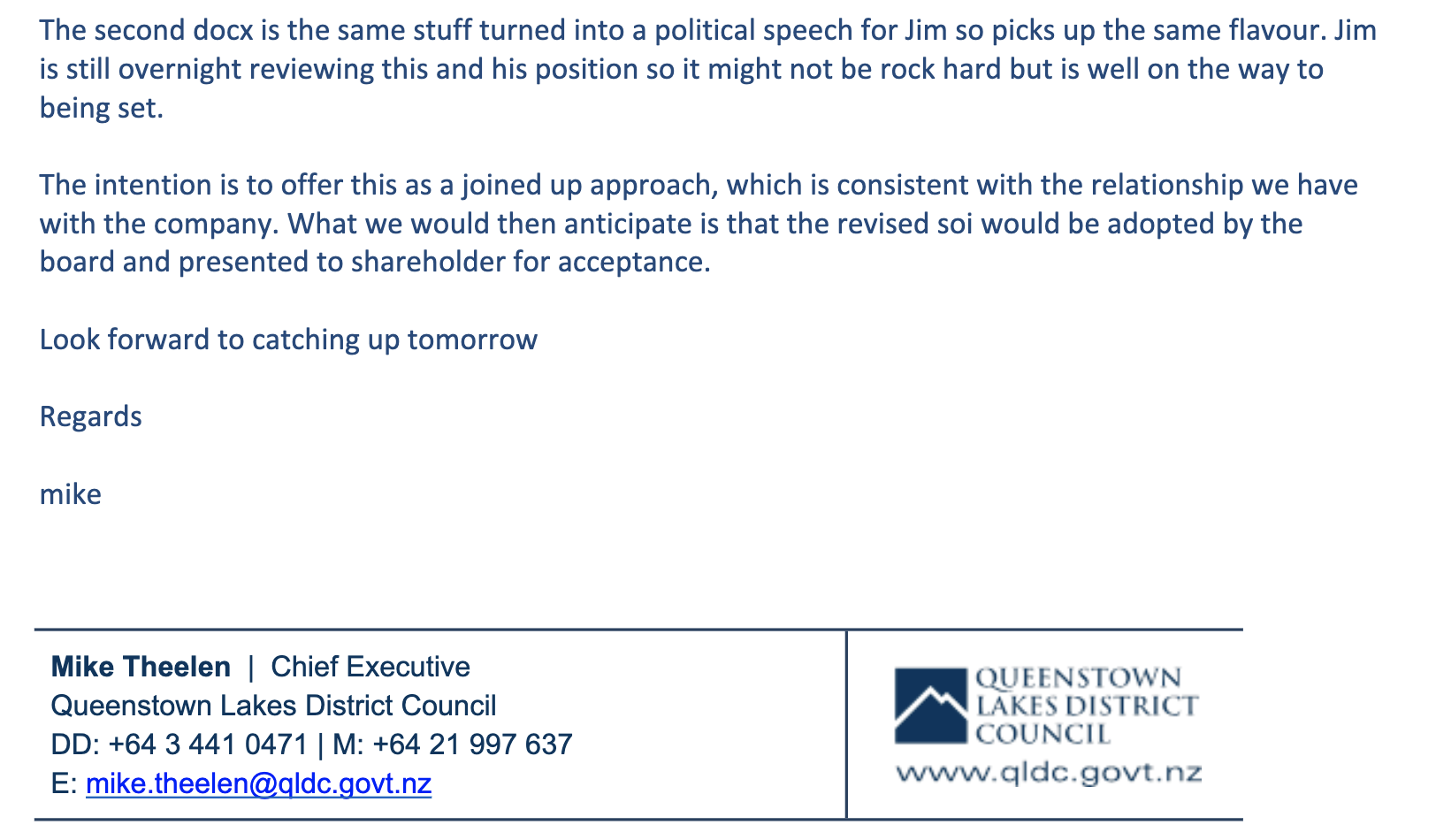 The large number of emails revealed in Ms Galdding's LGOIMA request highlight a rapidly developing crisis in terms of the QAC's governance. Former QAC Chairman John Gilks wrote an opinion piece that the Otago Daily Times published on September 16th. Part of that article included the following statement from Mr Gilks.
In the context of the QLDC needing to keep its separation from the QAC for legal governance reasons, further emails show quite a deep level of collaboration over the Airport Corporation's controversial Statement of Intent (SOI). A workshop was held where the QLDC met with the QAC to discuss the SOI but it appears full minutes of that meeting were either not kept or not published, a point raised by councillor Alexa Forbes at a recent council meeting.
This email from QAC boss Colin Keel to QLDC CEO Mike Theelan reveals not only collaboration between QLDC and QAC on the Statement of Intent, but the declared omission at that stage from the SOI of two key elements - forecast passenger numbers and capital expenditure. The "Sara" referred to in Colin Keel's email is Sara Irvine - the Airport Corporation's head of public relations and marketing. It is not clear why Ms Irvine is involved in drafting the Statement of Intent.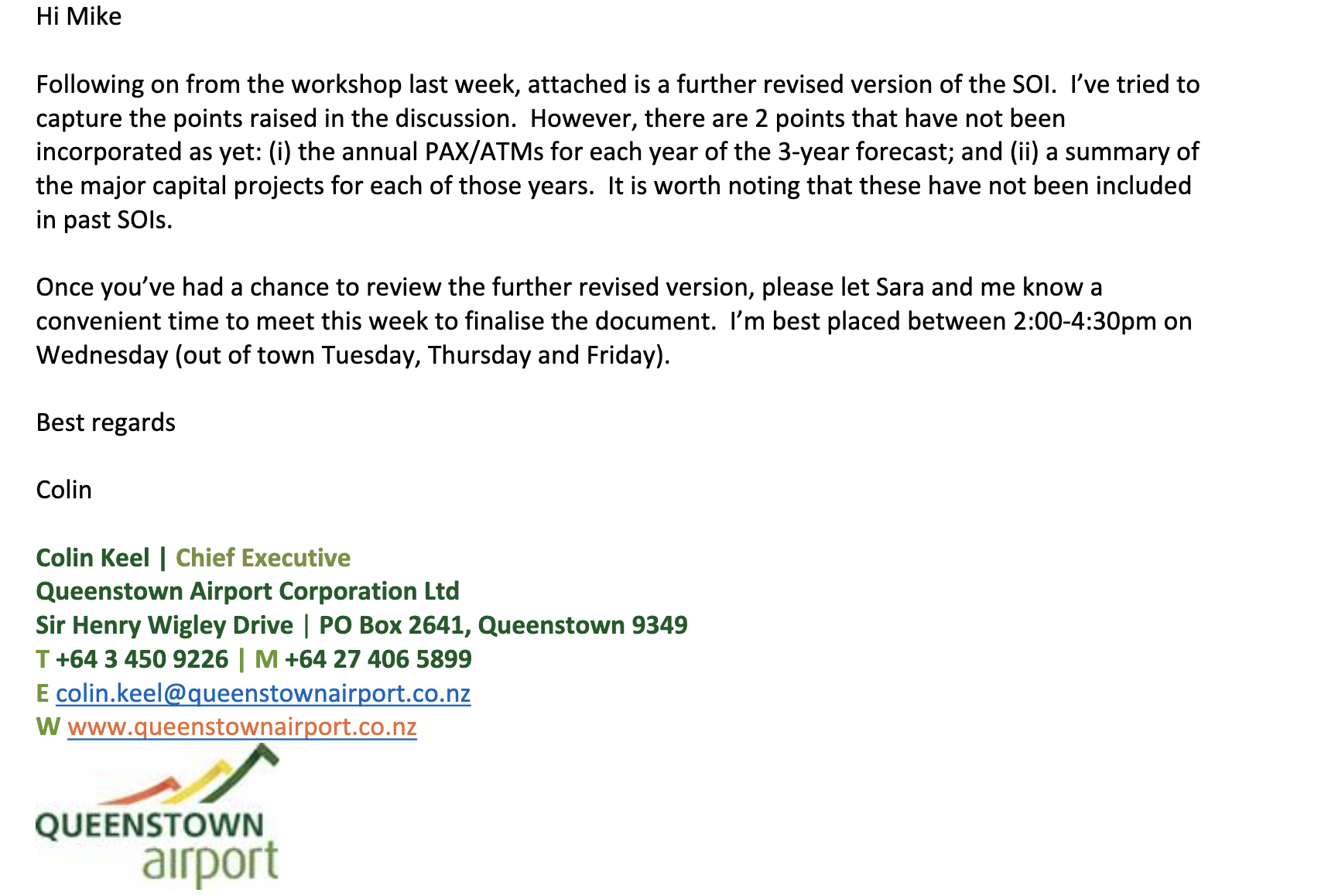 Two councillors in particular are revealed in the LGOIMA emails as pushing hard for more information on the airport relationship with council from QLDC CEO Mike Theelen. After some delays Craig "Ferg" Ferguson gets this reply from Mike Theelen. Crux has shortened this email but the full version is available here.
Hi Ferg,
David (Mayhew – Flightpath 2050 – Q'town lobby group) is correct that there is always remains the option of the shareholders , by a shareholder resolution to direct the its company to do its bidding. It can also take the step firing the board if it considers that the board is not acting in accordance with the SOI or within the law. Equally the Board is a semi-autonomous body and can challenge the actions of its shareholders.
Alexa's comments are correct, the Council technically accepts the board's final SOI, because it's the company's SOI. The expectation is that the board having received now three lots of feedback from the shareholder should have the SOI in good shape, but that still does not stop the council from requesting change even at that late stage.
While all these legal steps do exist we do need to reflect on the final advice that Jonathon Slater gave to council which was that received from the auditor general, which is that the most effective relationship is where there is a strong alignment of values and direction and open two way dialogue between the shareholders and the company; the legal steps are there but are less likely to be the most effective tools in getting the best out of the CCO. Hope this helps - Mike Theelen
From: Craig Ferguson Sent: Friday, 26 April 2019 2:51 PMTo: Mike Theelen <[email protected]>Subject: Fwd: QAC's draft SOIHi Mike - Any chance of a definitive stand on Davids question please ? Been a bit of back and fwd around what community is entitled to see from our feedback to QAC
The emails released under Ms Gladding's LGOIMA request will be of potential relevance to the judicial review over QLDC's airport management being sought by Protect Wanaka. Read full details here.
In a statement issued to Crux this morning, Niki Gladding expressed concern over the information revealed in the emails.
"So the Mayor's Wanaka speech, presented on behalf of the full council, was written by the CEO without any input from the councillors. This is sloppy governance and something councillors should have pulled them up on immediately"
"We need to ask why the Mayor and Mr Theelen have been so reluctant to direct the CCTO and why they've been so willing to accept a vague, waffly SOI when what the councillors have clearly asked for is clarity and specifics"
"QLDC staff and Mr Keel are clearly disparaging of Wanaka Stakeholders Group and that's a real concern going forward. We need to think about whether we have the right people in charge of the process."
"Where are the Mayors emails in all this? Are they in the bunch that's been withheld, and if so why? We need some transparency around this."
The council explained in response to Ms Gladding that a number of emails had been withheld because of "confidentiality" and "free and frank" communications - here's the QLDC explanation on that point.

Crux has raised with the Ombudsman's office whether it is appropriate for QLDC's LGOIMA public information and governance functions to be managed by the council marketing and comms team, headed by Meaghan Miller and Naell Crosby-Roe. Ms Miller successfully introduced a policy in January 2018 that laid out substantial financial charges for public information supplied by the council. Crux has refused to pay these charges and has made a number of complaints to the Ombudsman about the difficulty in obtaining public information from QLDC.
Main Image: QLDC CEO Mke Theelen.


---