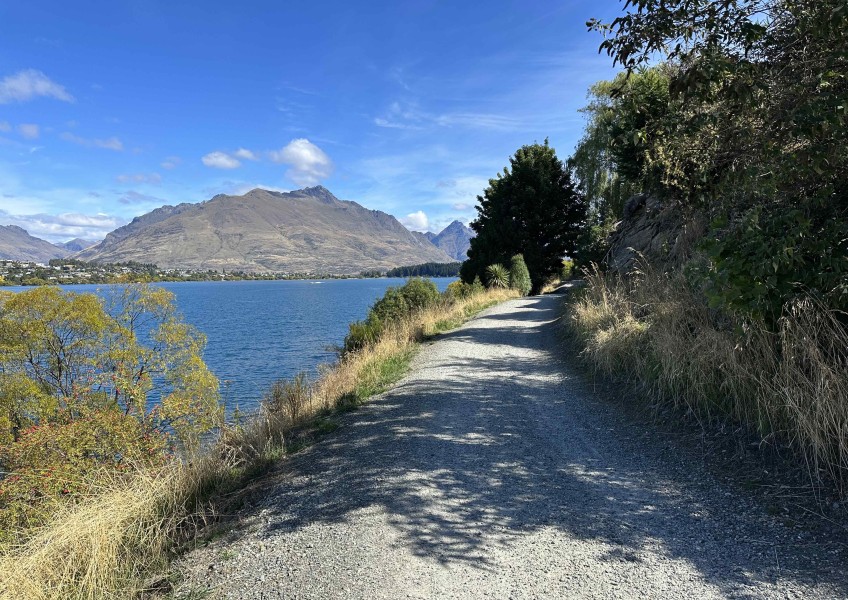 Controversial plan to seal Frankton Track looks set to be shelved
---
A controversial suggestion to seal the popular Frankton Track appears set to be taken off the council's agenda.
In a report to councillors ahead of a meeting of the infrastructure committee on Thursday Queenstown Lakes District staff recommend sticking with crushed gravel and crusher dust for the lakeside trail used by pedestrians and cyclists.
The council is considering upgrading the track surface to coincide with civil construction work along the track's length to install a new wastewater rising main.
But after a resounding 96 percent of public submissions on the proposal said to leave it as is, council staff are recommending decision makers do just that.
Reinstating the unsealed track surface still comes with a $600,000 price tag, but the report says that is cheaper than the other options on the table, which include a range of chipseals.
This money is already budgeted for, while any sealed option would require more money be found.
Staff have included one small variation for elected members to ponder: opting to seal just a very short section of the track, close to the Perkins Road intersection, at a cost of $35,000, where the track plays the role of footpath along State Highway 6A, or Frankton Road.
The question of whether to seal or not to seal the entirety of the track was put to the community earlier this year, and some trial sections of the track were prepared with the different options to allow walkers, runner and bikers a feel of each.
The report says, "The track's potential surfacing treatment has been extensively consulted on".
"The recommended surfacing treatment gives regard to the community's feedback on the matter without precluding the decision to seal by a future council.
"It also reflects the lowest cost reinstatement option, reflecting the broader cost pressures presently being experienced by council and within the community."
Some 1,232 people made submissions during the consultation period, with 1,179 of them stating an unsealed surface was their preference.
The council's thinking had been that a sealed track would be a more viable active transport route, potentially enticing more commuters out of private vehicles along Frankton Road. And, if the plan was to seal it, it made sense to do that as part of the planned three waters work.
Ultimately, the decision is now one for elected members.


---