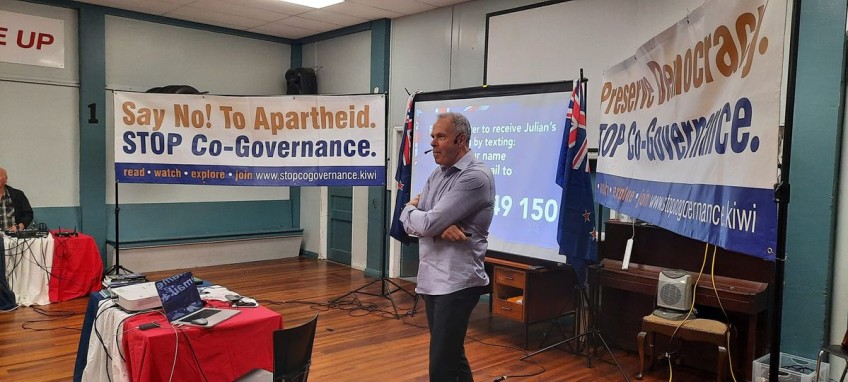 'Contentious' anti co-governance tour coming to Cromwell, Wānaka
---
Controversial anti co-governance campaigner Julian Batchelor is scheduled to address public meetings in Cromwell and Wānaka this week, with venue operators defending their decisions to host him.
Mr Batchelor has been travelling down the country on his Stop Co-Governance Tour. Tonight, he will be at the Lowburn Hall; on Thursday, at The Venue in Wānaka.
Police have confirmed they "will be in the vicinity for the events, to help ensure a safe environment for all".
Across the country, there have been protests both outside and inside venues, with claims some people have been denied entry.
Last week, the Clutha District Council cancelled a booking Mr Batchelor had for a venue for a meeting the night before it was set to take place – the latest in a string of venue hosts to distance themselves from the speaker and his content.
However, despite numerous requests for them to do the same, the Central Otago venues have both opted to honour their bookings.
Lowburn Hall Society secretary Laurie McAuley says he's received complaints from "seven or eight" people asking the hall group to rethink the meeting.
"It's the first time I've had to deal with anything like this.
"We had a meeting and we decided that, for us, the first principle of freedom of speech was what we would go with.
"If there's any people that don't want us to put it on, our reaction was 'Well, you book the hall to do what you want to do', and if people want to hear this guy, okay, they'll go and hear him and make up their own opinion."
It is a sentiment echoed by David Reid of The Venue, in Wānaka.
"I took the booking based on my belief in democracy and free speech. I have no opinion on whether the content is right or wrong, just that he has the right to say it.
"This is particularly relevant now as since we have taken the booking we have been targeted with bullying behaviour.
"If I relent and cancel the booking I strongly believe our democracy is failing."
Mr McAuley says people have the right to protest, but it comes with a caveat: "Protest is perfectly legitimate, but if they're interrupters, it doesn't matter who they are or what ethnicity they are, if they're interrupting it we don't want them to do that."
The Lowburn community took over ownership of the hall in recent years from the Central Otago District Council in a cheap-as-chips property deal, although the land the hall sits on is leased for a peppercorn rental.
After being approached by Crux, both the mayor and the council's acting chief executive have declined to comment on the local event.
But, speaking to a Facebook Live audience last night, Mayor Tim Cadogan said Mr Batchelor's meetings are "quite contentious, to say the least".
Despite requests from constituents to step in and veto the tour's Lowburn stop, his council has no jurisdiction to do so.
"I just want to make it clear…the hall it is scheduled to be in is not a council hall. I've had a number of people ring up and say 'Well why are you letting that happen?' Well, it's not our hall - as simple as that."
While his brother, the mayor in neighbouring Clutha District, has voiced his concerns about the content of the Stop Co-Governance meetings, reportedly asking what message it would send to "every young Māori person and in fact the young people of every ethnicity in our district" if he welcomed the tour, Central Otago's Cadogan has been less overt with his take on it.
"I'm not going to get into the co-governance thing because you probably know my position on it - Council doesn't have a position, by the way, not an official one," he told his online audience.
"The committee has made the decision to allow this anti co-governance group to speak. And I'm going to stop there. I think people can make up their own minds about this stuff, but it is not our hall."
Speaking with Crux, Mr Batchelor says his meetings are "private", despite an invitation to attend being put out to members of the public.
"We have advertised everywhere that the final decision about who comes in and who doesn't come in is ours."
He says he expects people who come to be "respectful, like you would on a marae".
"If anybody wants to come in to disrupt it, no, you can't come in, because I'm protecting the right of the people inside to come and hear what I've got to say."
Households in Cromwell and Wānaka have received letterbox drops this week of flyers that include strong views on Te Tiriti o Waitangi as well as anti co-governance statements.
Mr Batchelor says he was invited to Cromwell by "a group of people inside" the town.
"That's how it works...this is locals who are really fired up."
Main image (Facebook/Daniel Tither): Stop Co-Governance Tour leader Julian Batchelor at a meeting in Timaru.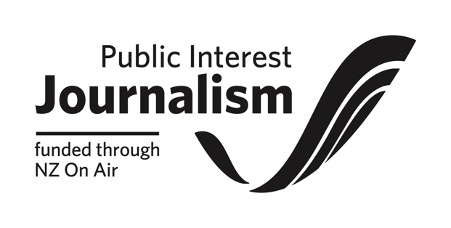 ---