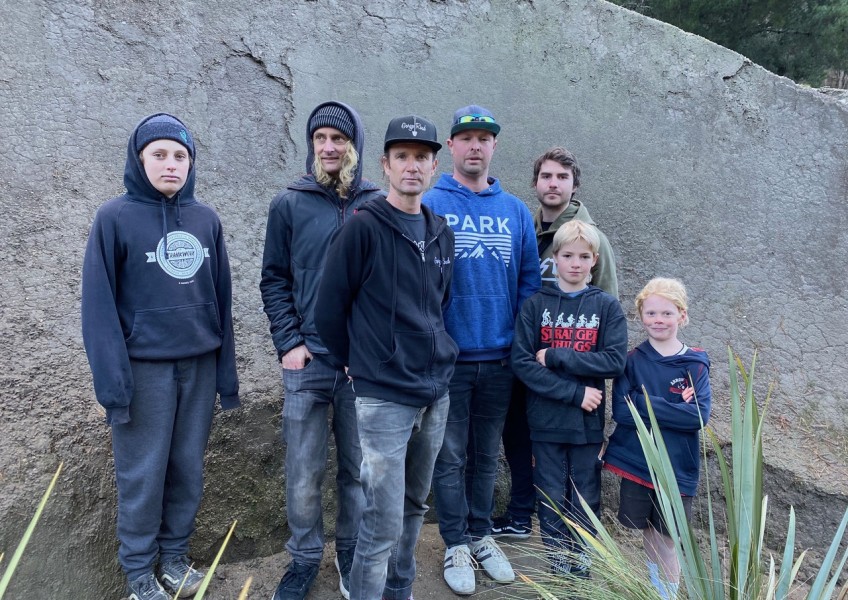 Community fights QLDC demolition of world class bike park
---
Plans to demolish a world class Queenstown bike park have been halted as the community fights a council decision to turn it into a temporary storage area for CBD construction materials.
Gorge Road Jump Park has been built by locals over the past decade - an estimated more than 100,000 volunteer hours - and is touted by Destination Queenstown as one of the best bike parks in the world.
QLDC planned to begin bulldozing the park next Monday (July 12) after the Queenstown Mountain Bike Club's lease expired on July 7.
But on Tuesday night (July 6), following pressure from the park's founder and the community, QLDC announced the park would be permitted to stay open until the start of August but with no guarantees beyond that point.
The founder and driving force behind Gorge Road Jump Park, Nathan Greenwood, is devastated at the prospect of losing the park.
"This thing has been built and provided by its community and predominantly me as the heart of it, I've designed, built and maintained it," he said.
He said he's "not a political person" but when it became clear the QLDC was going ahead with plans to demolish, he had to "step up for what's right".
He rallied the support of the region's heavyweights like AJ Hackett Bungy co-founder Henry van Asch, Xero founder Rod Drury and Queenstown Trails Trust CE Mark Williams to back his cause.
"We're not trying to wind anybody up, you know? It's about the greater good of the community," Greenwood said.
When asked how he felt about bulldozers moving in on the park, Greenwood was quiet for several seconds.
"Sad," he replied finally, his voice quavering.
In a statement, QLDC said it delayed plans to demolish the bike park to ensure Ka Hua a Tahuna (Whakatipu Transport Project Alliance) has "considered all available options for a storage area for construction materials in the town centre."
"This is challenging given the scale of construction soon to get underway and the constrained nature of the town centre, but at this stage nothing is off the table and the team is exhausting all efforts to find an alternative location to store the equipment," the statement read.
Over the years Greenwood has mentored kids at all levels and trained world champions for free at the Gorge Road Jump Park, including former world champ Scarlett Hagen.
It has potential to be a bigger and better area, he said.
"I have a vision for it turning into Queenstown's biking hub with a skills park for kids, pump tracks and green space and fruit trees, and we need half a dozen of these all around our community."
Greenwood moved to Queenstown in 1996 as a "passionate skateboarder, snowboarder and mountain biker".
He built the first mountain bike jump in Queenstown, and spent ten years devoting his time and own money to creating a world class facility in Gorge Road Jump Park.
"I knew that if you wanted facilities and cool places to play, you had to actually step up and build them.
"I just wanted anybody that had spare time, like five minutes to a half an hour, to be able to go out and play, to be fit, active and healthy, you know?
"I could have focused on work and bought a house and done all those things in that time but I didn't, I put my hand in my pocket every time I could to keep building."
Xero founder and keen mountain biker Rod Drury is throwing his weight behind saving Gorge Road.
Drury has been investing significantly in biking infrastructure recently, including an upgrade of Skyline bike park and other support for trail building.
As his involvement with the Queenstown Mountain Bike Club increased, he began to grasp how precious a resource the Gorge Road bike park is not only to Queenstown bikers, but to attract pros from around the world.
"It's one of the reasons they come here over summer, because it's such a great park and it's been developed over 10 years and it's rock hard and all the jumps are perfect."
He says it would be a shame to lose such an asset, and hopes "common sense will prevail".
"It's really sad to think we could lose something that's so important for our biking strategy just to store pipes," Drury said.
He's offered to buy the piece of land from QLDC and donate it back as a reserve.
"If you don't understand biking, you think you can just go and build something somewhere else and it will be the same, but really it's 10 years of hard work, just getting it right."
In its statement, QLDC said it "recognises the important role the Queenstown Mountain Bike Club plays in our community and the incredible work that has gone into creating the park."
It said work on a new facility on Kerry Drive is well underway, with a toilet and car park to be finished by the end of July.
It'll include jumps for beginner and advanced riders, a pump track and other trail options.
QLDC said it's given a $100,000 grant to the club to contribute towards the jumps and just over $300,000 for the toilet and car park.
Nathan Greenwood said the site has potential, but it's not really suitable for another Gorge Road Jump Park as it's exposed to the prevailing wind.
He was concerned that council did not appreciate the cost of building a jump park to the level of Gorge Road, which would take more than $100,000.
The first stage of the Kerry Drive bike park is expected to be open early next year.
Main Image: Nathan Greenwood with some of his bike park support team.

---