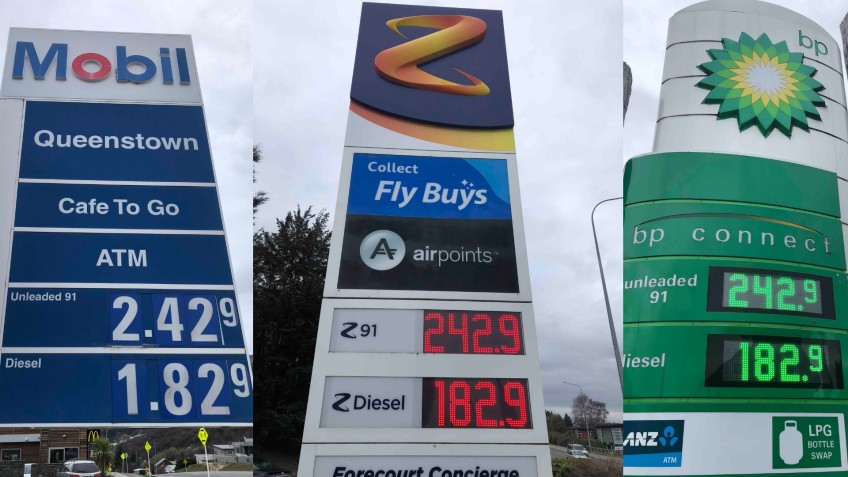 Commission will consider Qtown fuel price fixing investigation
---
After strong online reaction to our review of local fuel prices Crux has a response from Energy Minister Megan Woods and the Commerce Commission.
Crux detailed to the Minister that every single petrol station in Queenstown was charging exactly the same price for both 91 octane petrol and diesel.
In a visit to each of the petrol stations in Queenstown this morning all were charging exactly $2.429 and $1.829 for 91 octane petrol and diesel.
The Commerce Commission told Crux in a statement this afternoon that it was prepared to look at any evidence of price fixing in Queenstown and potentially open an investigation. The statement defined what is, and what is not allowed.
"The Commission is able to assess pricing behaviour if it relates to cartel conduct, parties enter into agreements that are anti-competitive, or a firm with substantial market power takes advantage of that power.
Price matching or price following, which is the practice of a firm altering its pricing to match that of its competitor, is not prohibited under the Commerce Act. Fuel retailers appear able to engage in price matching because fuel prices are widely published and available to competing fuel retailers.
We have not previously prosecuted a petrol retailer/ oil company for price fixing. However, if we received evidence of collusive behaviour among retailers agreeing on prices, the Commission would assess the information and decide whether to open an investigation."
The last point is important. If evidence is found in Queenstown of collusion then an investigation seems likely. In fact the Government is turning up the heat on the oil companies saying the market is broken and new legislation is being pushed through to give the Commerce Commission greater powers. Here's the full statement from the Energy Minister Megan Woods to Crux this afternoon.
"The Minister is of the view that the evidence suggests the Fuel market is broken. A study into this by MBIE found there was reason to believe prices were not equitable and people especially in the South Island were paying over the odds at the pump. MBIE said that the rise in margins over the last few years represented a transfer of wealth from consumers to the producers of hundreds of millions of dollars a year. That MBIE study though did not have access to all the data it needed because some fuel companies refused to co-operate.
"That's not good enough and this Government is taking action. That's why, we're progressing legislation that empowers the Commerce Commission the ability to conduct market studies and examine important information on how a market is functioning.
"That would let us get to the bottom of what is happening in markets like this and ensure Kiwis are paying a fair price. That piece of legislation is making its way through the house as we speak."
Crux plans to stick with this story. The price at RDP Arrowtown last Friday was reported as being $2.399 before any discounts - but today the price was reported as, you guessed it, $2.429. Allied Glenorchy was $2.429 but Allied Lake Hawea was down to $2.319.
In Auckland today the cheapest 91 octane petrol was in the centre of the city at Mobil Quay Street at $2.299 - even with the Auckland regional fuel tax in place. BP and Caltex Wanaka were both charging $2.509 with Allied Wanaka at $2.319. In Cromwell Allied was charging $2.249 with BP and Z both at $2.389.
In Wellington virtually all petrol stations were charging $2.359 with the exception of Mobil Karori at $2.319
Main Image: Mobil, Z and BP were all charging exactly the same prices in Queenstown this morning, as were NPD, Caltex and Pak'nSave.


---