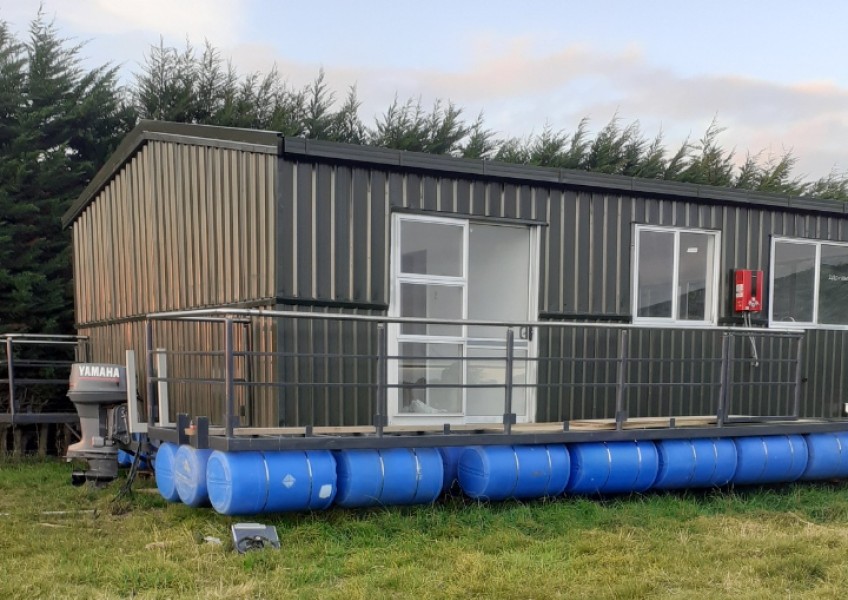 CODC: It's a house, not a boat
---
An Invercargill man's dream to float a house at a quiet mooring on Lake Dunstan has encountered a regulatory hurdle one week out from launch date.
Ian Horsham was set to tow his houseboat to Cromwell on Friday and float it just offshore from the New Zealand Motorhome Caravan Association camping ground, between Pisa Moorings and Lowburn.
The moorings are in place – Mr Horsham says he sunk them on Labour Weekend, last year.
But a phone call from Central Otago District Council late last week has left him blindsided and his plans up-in-the-air, he says.
The local authority has deemed Mr Horsham's houseboat to be a structure and not a vessel, which means he hasn't got the correct permissions to continue with his project.
In July 2021, CODC granted Mr Horsham land use consent for the moorings on the lakebed to which the floating house will be attached.
He says he's been clear from the get-go about what he plans to use the moorings for – a parking spot for a floating home.
In his view, he's ticked all the necessary regulatory boxes.
"It's cost me nearly 10 grand to get consent."
However, CODC regulatory services manager Lee Webster says last week concerns about Mr Horsham's project were raised with council by a member of the public.
The crux of it: CODC has approved a mooring for a vessel, and Mr Horsham clearly plans to float a house.
As such, it needs a building consent or, if it's been built without a building consent (which is the case with Mr Horsham's floating holiday home), a certificate of acceptance, Mr Webster says.
So, when does a vessel become a structure? At what point did Mr Horsham's houseboat become more house than boat?
There's technical guidance from government departments, but you can ask a few simple questions, Mr Webster says.
"Can it navigate, first and foremost - can it go from A to B to C, and what's the frequency of that?"
Mr Horsham's worked on his floating house for nearly four years.
It's just under 86 square meters, it has two bedrooms and a bathroom, and there's a 150 horsepower outboard on the back.
More than 100 plastic drums attached underneath will keep it afloat.
The project's relied on some Kiwi number-eight-wire problem solving and box-of-beers trading, he says.
Mr Horsham has salvaged an old Skyline garage and two milking sheds off Southland dairy farms for the build.
Covid-19's been a tough ride for Mr Horsham, and the project has been something good to focus on, he says.
"This thing's really kept me going."
Mr Horsham and his family have holidayed for approximately a month every Christmas in Cromwell for years – but the closure of the town's holiday park put paid to that.
The floating home is his unconventional way of being able to afford to continue his Central summer tradition, dreamt up over a few drinks with mates during one of those final camping trips.
"We haven't been there for three years now.
"It's just the heat, the relaxing, sitting back and enjoying life."
The plan has always been to park up the floating house and have it as a place to holiday to from Invercargill – it won't be dragged in and out of the water and towed home after each visit, he says.
He reckons he'll also tiki-tour the floating house around the lake, but generally it will be coming back to the moorings to rest, he says.
Mr Horsham says his plans haven't evolved since he applied for the initial land use consent from CODC and he'd been clear from the start about what he wanted to float.
The council is seeking legal advice, but Mr Webster says the moorings it granted permission for last year are for a vessel, and that's not what Mr Horsham was planning to tow to Central on Friday.
"This is a very different picture.
"This is a permanent floating structure.
"If you and I were to look at the lake, you know, and see a vessel floating tied to a mooring, we'd think nothing of it, and neither would the rest of the community. However, if we saw a house tied in the middle of the lake, that would be a different matter."
Toitū Te Whenua Land Information New Zealand (LINZ), the landowner of the lakebed, says Mr Horsham has jumped the gun with his moorings.
He put them in place before gaining a mooring licence application – an application LINZ says it is still considering (CODC may have given greenlight to the activity, but there's another regulatory hoop to jump through to actually put the moorings in place).
Deciding whether to grant permission for a mooring is decided on a case-by-case basis, LINZ says.
On Lake Dunstan, LINZ has given thumbs-up to just two other types of moorings – those used by CODC's swimming pontoons and the Kiwi Waterpark, which operates during the summer months.
The Lake Dunstan Charitable Trust, which advocates for a shared community-vision for the management of the lake, thinks it's a good thing the council's pressed pause on the project.
Chair Duncan Faulkner has concerns permission given to one floating house will set a precedent for more, and there should be appropriate planning processes, including community consultation, before that happens, he says.
"This again highlights the need for a robust lake management plan and proper representation and management by CODC before we see more inflatable water parks or houses popping up without input from the local community."
Main image: Ian Horsham's 86-square-meter, two-bedroom, floating home with a 150 horsepower outboard on the back.


---