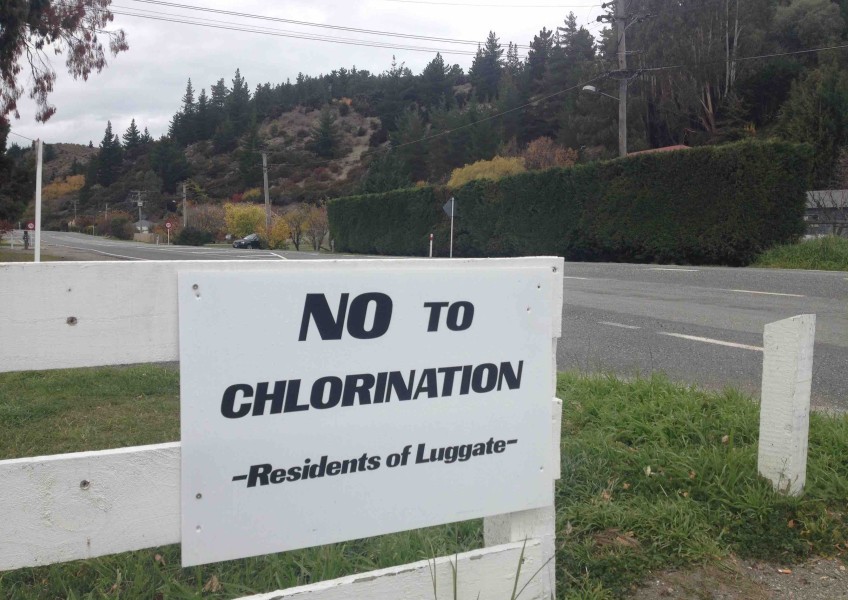 Chlorinating water: "100-year-old technology"
by Eileen Goodwin - May 17, 2018
---
Adding chlorine to Hawea and other small water supplies left a bitter taste for opponents who continue to fight it, but the upcoming drinking water overhaul will make it harder to opt out.
In March, the Queenstown Lakes District Council (QLDC) voted to chlorinate the Hawea, Luggate, Arrowtown, Glendhu Bay, Arthur's Point and Glenorchy supplies, after adding it as a temporary measure last year in response to the 2016 Havelock North water contamination crisis.
The Government is yet to deliver its final response to the crisis, but sector group Water New Zealand anticipates a near-mandating of chlorine.
Late last year Attorney-general David Parker directed councils to take necessary measures immediately.
Opposition is particularly strong in Hawea, where the bore-derived drinking supply is treated with ultraviolet light. Residents funded UV as an alternative to chlorination three decades ago.
Queenstown and Wanaka residents have had the chemical added to their supplies since the 1980s.
Wanaka Community Board member Rachel Brown sympathises with residents. She says the problem with QLDC's position was saying it had no choice because of Havelock North while calling the process consultation. This led to confusion and disaffected residents. It felt like the longstanding determination of Hawea residents to avoid chlorination was ignored, she says.
Havelock North ''put the wind up" local government but the need to run a good process remains, she says.
Brown, who stepped down as chairperson of the community board last month, says her resignation was unrelated to the chlorine issue but admits it is difficult to be the voice of both the community and the council. Managing competing demands is easier as an ordinary board member.
"It definitely was challenging representing a community voice that was very strong but [also] the company voice. I definitely got challenged."
Brown suggests she may have more to say about her resignation in time. Her key concern is getting ''everybody to listen to each other'' whether it's about chlorine or the proposed special housing area in Hawea.
In a time of rapid growth it is vital the council listens to people, she says.
Hawea Stand for Pure Water spokeswoman Jennifer Rumore believes Brown's position was effectively untenable because of her advocacy for residents.
"I'm deeply sad that the most effective champion for the people was so disempowered that she had to step down from a steering position on the Wanaka Community Board.''
She believes the "100-year-old" technology is harmful to residents' health; whether absorbed in the gut by drinking, showering under it, or killing soil nutrients. The effects are cumulative and are ignored by people in power, she says, as was a petition with more than 570 signatures.
While the council left the door open for a future alternative, its unwillingness to do the work on alternatives was unacceptable.
"It's incredibly poor because the work they are paid to do is find that solution . . . it's poor form.''
All the more, she says, because chlorine does not kill protozoa like cryptosporidium.
Chlorination is akin to a ''green wash'' solution that does not deal with the essential problem, she says.
Rumore has a theory about why Hawea residents are so exercised.
"A lot of folks in Hawea don't watch television; what they do with their time and the way they are oriented is a bit different."
Another opponent, Luggate resident Cec Anderson, says the council is ignoring the community.
"What annoyed me was the fact it was their plan all along and why they just couldn't have been upfront and honest about it instead of dragging it all out with all the meetings."
Mrs Anderson, who has lived in the township for 46 years, says the council refused to consider alternatives and did not answer residents' questions.
Water New Zealand chief executive John Pfahlert, whose organisation represents councils and industry, has a dismissive view to opponents, whom he sees as unwilling to face a public health problem.
Pfahlert says the revised drinking water standards will likely introduce quasi-compulsory chlorination with high-bar exemptions. Those will be hard to meet, even in centres like Christchurch where there is strong resistance.
Stuff reported last week three-quarters of Christchurch City Council tests of its newly-chlorinated drinking water supply showed either under-chlorination or over-chlorination, with only a quarter showing the planned level of chlorination. More than 10 percent recorded a chlorine level in the same range as a public swimming pool, the website said, while two-thirds showed an ineffective level.
UV systems treated water at source with no residual effect in the reticulation system, whereas chlorine's effects continue to the point of use.
"It's going to require a law change . . . the current law says you've got to take three years to consult on them and then once they're adopted, you've wait for two years to implement them . . . which is all a bit hopeless really.
"We killed four people in Havelock North and made 5000 of them sick (with campylobacter) and I guess what we're saying is, in a first world country, there's a reasonable expectation that when you turn your tap on at home you're not going to be killed by the water that comes out.''
He believes opposition to chlorine is based on ''aesthetics'' - meaning taste - and that it is a minor consideration. He rejects concerns about health effects and says opponents are "making noise because they don't want change".
"It's the same arguments that you get with people opposing fluoride. There are a group of people who don't like it.
"All I can say is that change is coming."
A QLDC spokesperson says the council held public meetings and listened to concerns.
"Council is always looking at ways to better engage with communities across the district and welcome any suggestions from Hawea residents as to how we can improve this."

A QLDC decision background paper quotes Attorney-general David Parker's December 2017 directive accompanying the release of the second stage of the inquiry into the Havelock North contamination.
"The report highlights the quality of drinking water in New Zealand is often inadequate, and that regulation and enforcement have been poor.
"There is nothing in law preventing councils immediately moving to improve the treatment of water," Mr Parker said.


---