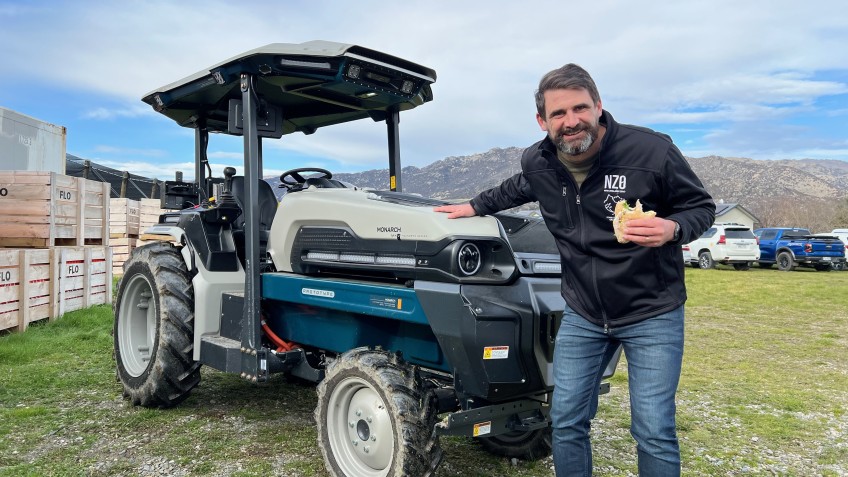 Cherry grower brings one of country's first electric tractors to Cromwell
---
This week Cromwell cherry grower Mike Casey has been using his new tractor to power an espresso machine and a toasted sandwich maker for smoko.
He is behind the wheel of the country's first purpose-built, fully-electric tractor (although, it is autonomous, so being behind the wheel is actually optional), purchased in part by $46,000 of Government money through the Energy Efficiency Conservation Authority's Technology Demonstration Fund.
But, the hot kai on a cold Central Otago day is just a minor selling point for the new farm machine sourced from the United States.
Mr Casey, the owner of Forest Lodge Orchard, says the arrival of his Californian MK-V Monarch tractor means his horticultural business is now offering an entirely fossil-fuel-free product – proving the potential for fossil-free farming.
"It shows what's possible in a rural setting with off-road electrification and how well New Zealand is positioned to make the most of this."
He says New Zealand's highly renewable grid means the tractor has a big impact right away because the energy used is already low emissions.
"We have a huge agricultural industry and technology like this helps us be better farmers and contribute to the electrification of New Zealand – that's what makes the whole thing so much more exciting."
On the invite list for the official first ride of the farm machine at the Pisa orchard today were Agricultural Minister Damien O'Conner, Climate Change Minister James Shaw, and local MPs, plus the makers of the Monarch itself, down from the US to watch their first tractor to work a foreign farm.
The tractor comes with a NZ$142,000 price tag, and Kiwi farmers need to add shipping costs on top.
Mr Casey admits it is "super pricey".
"Energy savings alone will take well over a decade to pay back the additional costs."
But there is the driverless functionality to add to the equation too.
"Removing a driver for all mundane tasks means payback could be within a couple of years.
"We can also increase tractor hours to do more tasks as energy is cheap...It could lead to higher yields, better data collection."
According to Monarch's online specs, it operates at 40 to 70 horsepower, depending on what it is doing. Charge it up and it has a run time of up to 14 hours - however that will drop the harder it is made to work, so add an undervine weeder on the back and that run time may drop to eight to ten hours, for example.
But Mr Casey says, "Truth is, we don't know the true run times yet".
Generally implements pulled behind farm tractors are powered from a connection to the tractor - swap in electric implements and that "makes for huge energy savings, which means increased range and way lower horsepower needed, if that makes sense", Mr Casey says.
His plan, to be something of a test case and share what he discovers publicly as he puts the tractor to work, so everyone in the industry is kept in the loop of what's possible and, perhaps more importantly, what's not.
Also at the orchard today - Cromwell locals, plus farmers and orchardists, keen to have a nosey at exactly what Mr Casey and his team have going on.
"We have had hundreds of farmers visit in the last year, but we have also had feedback that we have not been accessible yet to locals outside the industry, so we thought this would be the best way to show everyone what we have been up to," Mr Casey said, as he extended an invite to anyone keen to know more about electrification, electric vehicles, electric tractors, solar panels, batteries - the works.
Mr Casey, a tech entrepreneur turned orchardist, runs his six-hectare cherry orchard, home to just shy of 10,000 cherry trees, with zero emissions.
Shed-top solar panels, installed by Infinite Energy, of Cromwell, harness the sun's rays to power everything from pruners to an irrigation system to a ride-on mower to, now, a tractor.
When the weather doesn't play ball, the orchard switches to the main grid, but this is a two-way relationship involving some give as well as take.
Mr Casey custom built software allowing him to buy extra power when it is needed, as well as sell it when he has surplus.
Speaking at the orchard today, the agricultural minister said Kiwi farmers are good at embracing new technologies.
"This is one example of that."
He acknowledges some "definite challenges" for electrification in rural industries, but sees potential for Kiwi producers to leverage off the brand story that goes with a move in that direction.
"I see this as a glimpse into the future. And, in a world full of disruption, a glimpse into the future can be quite exciting."
The climate change minister said he often hears people write off initiatives like Mr Casey's, saying things like, "It's just one orchard, it's just one tractor".
But Mr Shaw has a response to it: Just a few years ago, one percent of cars bought in New Zealand were electric; in June, 47 percent of all new cars bought were fully electric.
"Sometimes these things look a little fringe and they take a while to get going...and then you wake up one day and they are everywhere."
Richard Briggs, EECA's transport general manager, says, "Collectively, diesel-fueled tractors are a major source of on farm energy related carbon emissions, so electrifying them is a key opportunity.
"There are about 1,000 similar sized tractors sold each year in New Zealand – this is just the first cab off the rank and there are many other transport technologies which also have potential."
But before every farmer and their dog pipes in with 'this tractor won't go where I need it to', he says in the future, there will likely be opportunity for more and bigger electric tractors.
Neither Mr Casey nor Mr Briggs is trying to convince anyone this tractor will do everything for every farmer - the industry is still young.
However Mr Casey says he has already noted considerable interest in electric tractors from the horticulture and viticulture sectors, and battery-powered, electric off-road vehicles could be a game-changer for farmers in more ways than one.
For example, the Monarch tractor is bi-directional, so when it is not in use it can act as a back-up battery, creating resilience benefits for farming.
"You can think of the tractor like a generator on wheels – it has got a battery significantly larger than a typical EV to run irrigation pumps, charge vehicles and continue frost fighting, and to run the farm for hours if there's a power cut or natural disaster.
"We can charge the tractor with a normal EV charger and using solar, which means we are able to charge it without putting any burden on the grid.
"The tractor by itself is cool, but the tractor integrated with everything else makes it so much more powerful."
Mr Casey has in the past used a souped-up electric golf cart as a utility vehicle on the orchard, now he will be using his new tractor for spraying, mowing, mulching, weeding, and levelling (in addition to making lunch).
Main image: Cromwell orchardist Mike Casey with his electric tractor.
Watch now: Electric Orchard, a Southern Lens production.
Southern Lens - Electric Orchard from Crux on Vimeo.


---