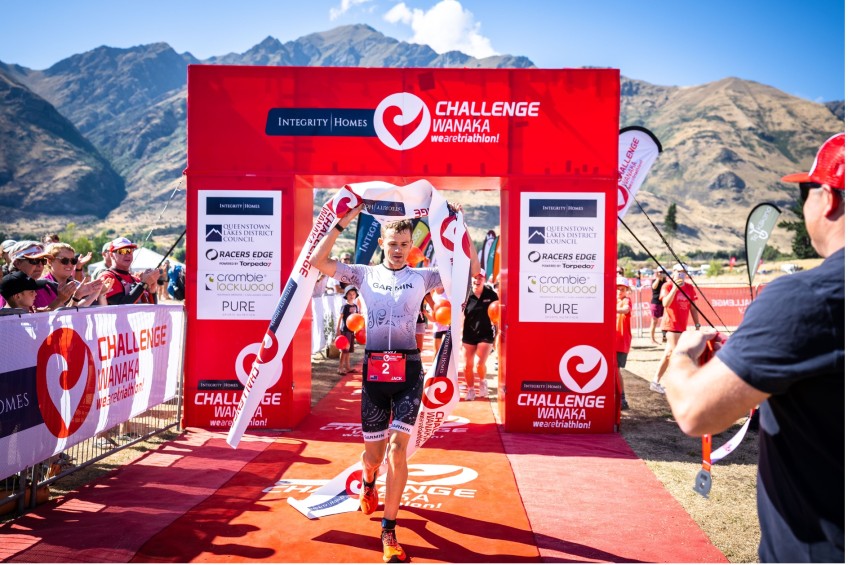 Challenge Wanaka: "It was absolutely beautiful, but absolutely brutal"
Feb 18, 2023
---
From Challenge Wānaka:
Strong running performances in brutally hot conditions have earned Aucklander Jack Moody (main image above) and Australian Grace Thek (image - below left) titles at the Integrity Homes Challenge Wanaka half today (Feb 18). Thirteen men and five women made up the pro field sponsored by Ray White Wanaka.

Moody was able to overcome a disappointing bike ride to power his way to victory in temperatures approaching 30degC on a run course which is normally home to a mountainbike park and included nearly 400m of ascent.

It was his best result from four attempts in Wanaka, his previous best a third place finish at the last event in 2021.

"I'm over the moon," Moody said.

"I keep coming back and it was almost getting to the point where there's a few bogey races for me in New Zealand where I just keep getting close, but not close enough. To finally get the top step means everything, and to do it so late in the race is really special."

Frontrunners Rebecca Clarke and Els Visser appeared to take a wrong turn late in the 90km bike and gave up a lead of nearly three minutes.

The trio which included Grace Thek came into the final transition together, with Thek's cross country background proving the difference over the final 21.1km run as she claimed her third professional victory.

"It was absolutely beautiful, but absolutely brutal," the Melburnian said.

"The whole course there was no real time to ease off, it was just full gas the whole way. I come from a cross country background so I like the trails… I'm stoked to take the win."

Earlier, Christchurch's Mike Phillips emerged first from the calm waters of stunning Lake Wanaka, part of a tight five-strong men's elite group who completed the 1.9km swim in just over 24 minutes.

Early into the 90km bike Phillips and Caleb Noble had managed to put some distance into third-placed Moody, who would then fall further back when he was overtaken by German powerhouse Sebastien Kienle and Matt Burton.

Moody started the run just over four minutes behind Phillips, but by the start of the second lap had cut that lead to little more than a minute, Phillips eventually having to settle for second, with Kienle third.

Phillips wasn't upset to take second place as he looks ahead to Ironman NZ.

"I've been doing some big weeks for Taupo the past few weeks and didn't think I'd have the extra gear today. I'm pretty happy, I felt like I was in control most of the day. It was an awesome run course, I hadn't seen it until today and didn't know what I was in for."

While his run proved pivotal, Moody was also stoked with his swimming performance.

"I've been going to swimming lessons like I was a kid again, just week in, week out doing the basics and trying to fix all the stuff that I was missing as a self-taught swimmer," he said.

"I was having a bit of a tough time on the bike - these boys can really ride these days. I just had to stick to what I know and I had a good feeling that I could run well out there, so I just stayed where I needed to be and pushed each time we went up a hill."

Wanaka local Clarke, a strong swimmer, had a nearly two minute lead out of the water on Thek and looked to build a significant advantage with Visser through the bike stage before they took a wrong turn.

Perth-based Dutchwoman Visser also felt like she had let victory slip away because of the mistake during her bike stage - which also included a mechanical - but didn't want it to spoil her first visit to Wanaka.

"It's an amazing and beautiful course, it's been a really great day," she said.

Integrity Homes Challenge Wanaka half (1.9km swim, 90km bike, 21.1km run) results:
Elite men: Jack Moody (New Zealand) 3:58:01 1; Mike Phillips (New Zealand) 4:00:22 2; Sebastien Kienle (Germany) 4:02:57 3.
Elite women: Grace Thek (Australia) 4:32:30 1; Els Visser (Netherlands) 4:34:59 2; Rebecca Clarke (New Zealand) 4:40:04 3.



---