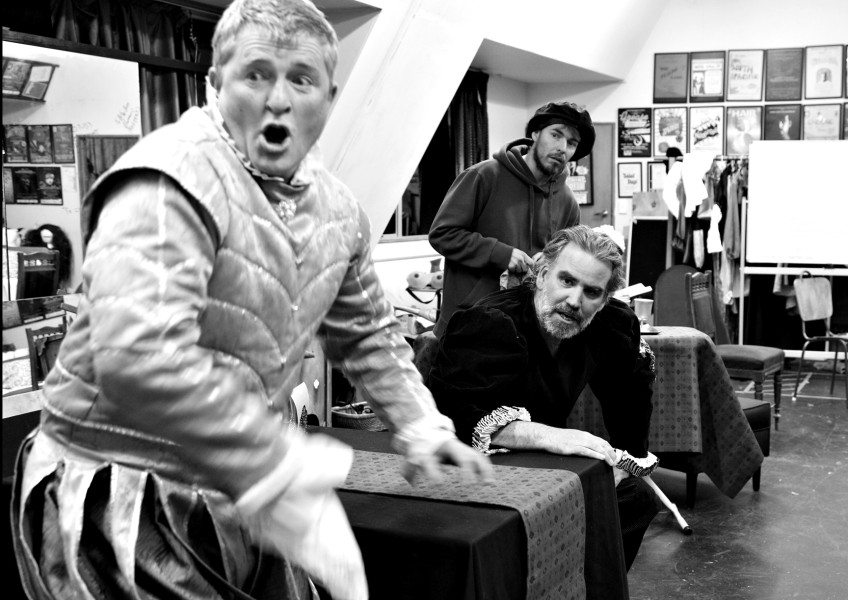 Blackadder 'mash-up' comes to Queenstown
---
With t-minus six days until curtain call, two leads of Blackadder delve into their creative process, love of theatre and the hit 80's show that's inspiration for Remarkable Theatre's latest offering.
Marty Newell, playing the title role of Blackadder, has enjoyed cracking into the character after growing up watching the show.
"Blackadder is so brilliantly played by Rowan Atkinson, and to be given an opportunity to even attempt it is awesome, but very nerve-wracking as well."
Throughout the rehearsals process, he's rewatched with fresh eyes, and noticed similarities between himself and the 17th century Lord, adding some "pieces" of himself in there as well, to make his rendition unique.
"Creating those different characters is such a challenge and it's also a break from the reality of everyday life as well, for two hours a night when you're rehearsing, you get to forget about the real world for a while."
In the craziness of the past few years, the escapism has been especially great, Mr Newell says.
This script is "so brilliantly written" that even after hours of rehearsals over many weeks, he says the cast of 17 and production crew are still laughing at the jokes.
Usually by this time "it's gone a bit stale", he says.
Remarkable Theatre has advertised the production as a mash-up of all the best characters and comedic moments from one particular season of the show, where Blackadder falls in love with a girl disguised as a boy and questions his sexuality.
"We're all just pretty excited to get things rolling…it's been a massive team effort," Mr Newell says.
Opening night is next Thursday, September 7, at the Arrowtown Athenaeum Hall beginning at 7pm, and the show runs most evenings until Saturday, September 16.
Playing the peasant beside Blackadder is Danny Dukinfield, sporting a "battered old shirt", waistcoat and handmade slippers for the role of Baldrick.
He says getting into the role of this "small diminutive figure" was a gradual process, and required a bit more thinking than previous characters he's portrayed. This production marks his fifth outing with the theatre company.
He got involved at the start of last year after moving to Queenstown, and wound up with a new hobby.
"I was in a bit of a headspace where I was just saying yes to everything…I've only just started my theatre journey really, but I love putting myself into another character and bringing them to life.
"It really does just make your life a little bit more interesting, if you then go and become someone else for a while… and you're doing it with people who are so cool and amazing and fun and supportive and everyone's on the same page and in the same boat.
"Why would you not want to keep going back to something like that?"
Having grown up in the United Kingdom, he'd seen re-runs of Blackadder on the comedy channel, but only since auditions began has he sat down and purposely given it a watch.
He was familiar with most of the actors, like Rowan Atkinson, Stephen Fry, and Rik Mayall, having grown up watching their later television shows. He has enjoyed seeing them in their break-out roles.
He says Blackadder is great for those who enjoy dry humour and physical comedy - like Mr Bean.
Keen to catch a show? Purchase tickets and see full performance schedule here.
Main image (supplied): Rehearsal antics on the set of Blackadder, from left to right, Justin Abbiss, Marty Newell and Danny Dukefield.


---