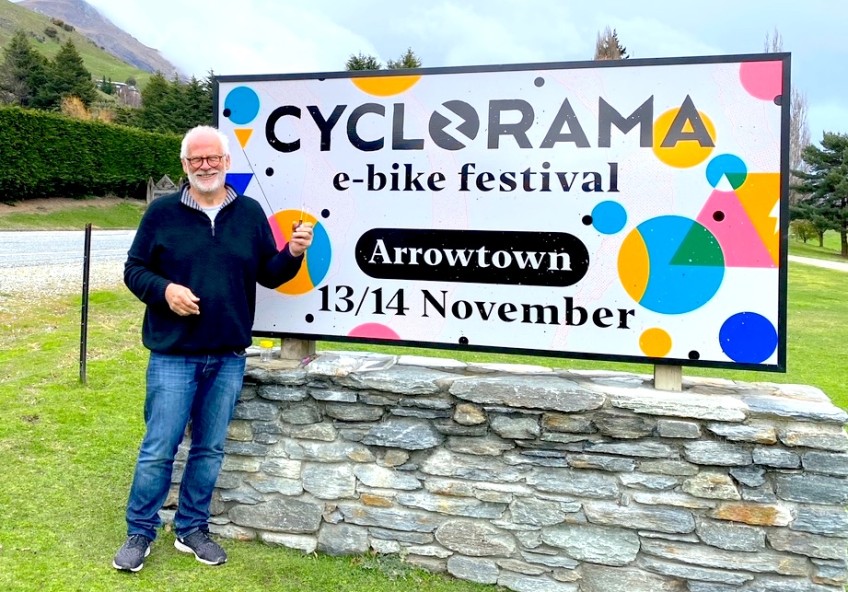 Award winning producer launches NZ's first E-bike festival
Sep 27, 2021
---

The man behind many of New Zealand's top film and TV projects is finding that NZ's first ever e-bike festival has many, if not more, of the challenges involved in the movie world.
Dave Gibson founded and ran the Wellington based Gibson Group for over 30 years before heading the NZ Film Commission. Now he's based in Arrowtown just north of Queenstown and is wondering if life might have been easier in Wellington handling the dark politics of broadcasting and film.
"The thing about film and television is there's lots of layers. Often if you produce something great someone else higher up the chain, like the broadcaster or the film studio, will take the credit. And of course, when things don't go so well it's the producer that gets the blame!"
Dave Gibson likes the fact that with Cyclorama he's closer to the people buying the tickets. If this November's Cyclorama e-bike event goes well – then he and his partner Iris Weber can feel good about it. And if the event takes a few years to find its feet - then that's their issue as well.
So far so good though with strong ticket sales and a novel format that has the whiff of success.
Cyclorama runs in the hills around Arrowtown and the Gibbston Valley on November 13 and 14.
In many ways it has the features of a multiplex cinema playing lots of different types of movies.
There are nine different rides with different themes and different skill levels ranging from adventurous to family type rides that involve pre-arranged stop offs for fine wine and gourmet Central Otago cuisine. There's even a bit of the movie industry in the ride names (click each ride for details/prices):
"In some ways we've accidentally fallen into a hybrid type of tourism" says Gibson. "In the beginning we just concentrated on the fact that e-bikes make all sorts of great locations easily accessible to people of different ages and fitness levels. But then we realised that a whole economic eco-system would get involved in the event format. Hotels, restaurants, bike transport companies – you name it and Cyclorama will touch on their business over that November weekend."
Gibson notes a number of small towns along the Central Otago Rail Trail owe their very survival to cycle tourism. The spectacular new Lake Dunstan trail is expected to bring around 30,000 extra visitors to the region just in year one.
Awarded the Order of New Zealand Merit for his services to the film and TV industry Dave Gibson is enjoying this new challenge.
"Covid is difficult of course. But I've realised there are actually people in New Zealand who have never properly experienced the stunning scenery, wine, art and food in the hills around Queenstown. E-bikes are the perfect way to fix that and if Cyclorama introduces this part of the country to a new audience – then I'll be more than satisfied."
Cyclorama runs on November 13 and 14, 2021. A free e-bike is part of the prize draw open to all ticket buyers who purchase before October 17.


---