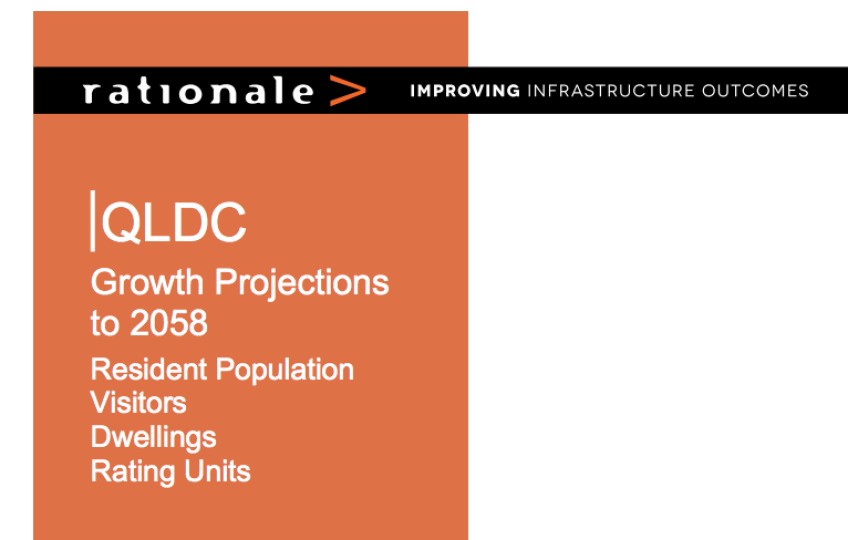 Updated: A'town consultant gets millions as QLDC outsources our future
---
QLDC has provided additional information on this story which is highlighted below*
Rationale, a private consulting company in Arrowtown, is making millions of dollars in fees as local councils outsource everything from economic development to town planning and growth strategies.
The Queenstown Lakes District Council will vote this Thursday on looking at the future of Frankton in an exercise that is expected to cost $840,000. *Rationale is expected to bid for this work as it has worked on a similar document, valued at around $800,000, for the Cromwell Community Board/CODC and was recently paid $860,000 by QLDC for work on the Queenstown CBD Masterplan.
Documents obtained by Crux show that between 2009 and 2016 Rationale was paid up to $670,000 each year by QLDC to tackle virtually every aspect of the council's operations. Rationale's own website lists the services it has provided as town planning, water usage, efficiency reviews, communication strategies, roading, affordable housing, long term financial forecasting for QLDC, ratings models, asset valuations, population projections, sewage schemes and community engagement.
Former QLDC chief executive Adam Feeley is a director of Rationale. He declined to comment to Crux when asked about the process of tendering for QLDC work.
Other key people working for Rationale also would not comment or return calls, including the 75% owner of the business, infrastructure engineer Edward Guy and 23% owner, engineer Tom Lucas. Mr Lucas referred all queries to the QLDC. Communications advisor Jimmy Sygrove, who left QLDC only a few weeks ago to join Rationale, said Rationale would not be making any comment.
QLDC chief executive Mike Theelen and Mayor Jim Boult have told Crux in previous interviews that there is nothing wrong with the council's procurement process that is supposed to share consulting work between a panel of pre-approved suppliers. "There are no cosy deals," according to the Mayor.
Mike Theelen told Crux in a recent interview that using external consultants made sense in order to be able to turn expensive management resources on and off depending on demand, but he said measures were in place to stop one company monopolising the multi-million dollar council consulting budget. Theelen said these measures included a roster of suppliers amongst whom work was supposed to be rotated.
Crux attempted to obtain details of how much the QLDC had paid Rationale, and other consultants, in the past year (2016-2017), but was told by the council that, as this task was complex, it would be necessary to invoice Crux in excess of $1000 for the effort involved. The 2009-2016 overall consulting bill totalled over $47 million.
This "cash for public information" policy from QLDC is at the centre of an investigation by the Office of the Ombudsman after a formal complaint by Crux. The results of this investigation are expected to be published in the near future.
In response to a written question from Crux to the QLDC about the proposed use of Rationale for the Frankton planning work, the council supplied the statement published below. When then asked by Crux where the evidence was for a "panel of pre-approved suppliers" there was no response prior to publication.* QLDC has subsequently provided a list of four consultants on their engineering panel: WSP/Opus, Stantec (MWH), Rationale, and Holmes. Crux has asked QLDC for a breakdown of consulting work awarded to these four consulting suppliers.
Here's the full QLDC statement:
"Please refer to section 9 of the Establishment Report where we set out the procurement process going forward for the delivery of this piece of work. Directly quoting from that section:
To ensure there is integration between the Frankton Masterplan and the Programme Business Case and to optimise outputs within the delivery timeframe, it is proposed that the core delivery team be procured through a single stage competitive tender process. This would be evaluated using the Price Quality Method in accordance with NZTA's procurement guidelines and would enable delivery by a single multi-disciplinary team.
The estimated cost of the Frankton Masterplan and Programme Business Case would be in the order of $840,000.
In summary, Rationale has been engaged to complete the Establishment Report only for Frankton. This is a relatively small commission and is in accordance with our procurement procedures and policy. Stantec (formerly MWH) has been engaged to complete the Establishment Report for Wanaka on a similar basis.
An external Probity consultant will assist QLDC through the procurement process to ensure neither Stantec nor Rationale has an unfair advantage in bidding for the future works.
For reference the Procurement Policy and associated Guidelines are available here (see "Procurement" section): https://www.qldc.govt.nz/council-online/council-documents/policies"
Crux will publish the outcome of the Ombudsman's investigation into QLDC's use of it's new information policy as soon as it is released.

---