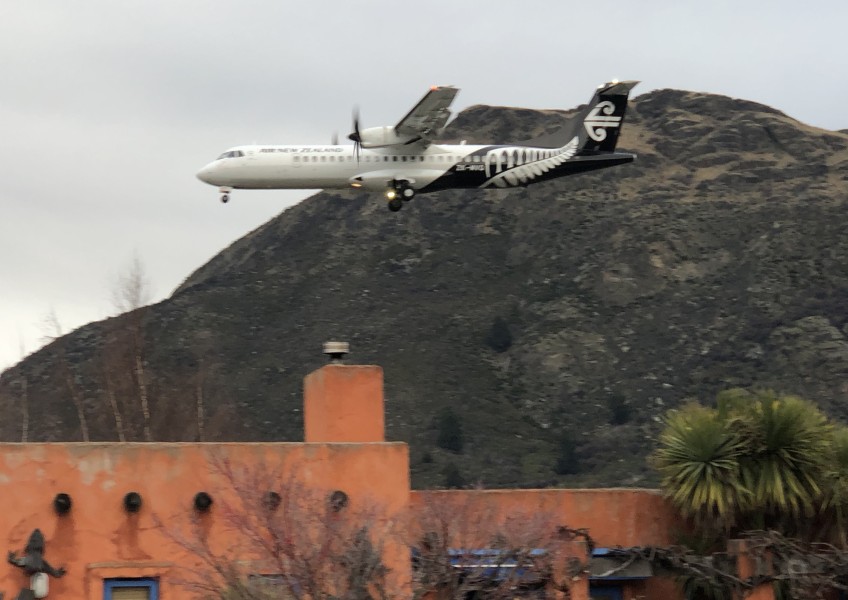 Airways - Air NZ Q'town low level circuits "normal"
---
Shoppers at Queenstown's Remarkables Park shops would have been surprised yesterday to see an Air NZ passenger aircraft flying at low level away from the runway - but Airways NZ says it's all "normal" and nothing to worry about.
An Airways comms person told Crux that Air New Zealand ATR aircraft were having trouble losing enough height on approaching Queenstown's runway from the south and were therefore performing a tight circuit near the airport to get to the correct landing altitude.
NZ 5653, a turbo prop ATR aircraft, from Christchurch to Queenstown was an example of the unusual manoeuvre, being on what appeared to be its final approach over Frankton Road around 4.15 pm. At the same time, NZ 608, an Airbus 320 was positioned at the southern end of the runway ready to take off for Wellington.
The Christchurch ATR then turned right just short of Frankton Beach and flew at low level over Remarkables Park, Jacks Point and Kelvin Heights before landing about 5 minutes later - just after NZ 608 took off for Wellington.
Crux contacted the Queenstown Airport Corporation for information and was then passed no to Air New Zealand. Air New Zealand sent the following reply:
"We have spoken with Airways which has confirmed no incident as you describe has occurred today. Some turboprop aircraft landing in Queenstown today have been making a particular approach which involves completing a circle prior to landing. If you'd like some more technical detail on this you'd be best placed to speak to Airways."
In a brief conversation with Airways late yesterday, Crux was told that ATR aircraft were having trouble losing sufficient altitude over Lake Wakatipu and that "all of those flights are making the same low level circuit" in order to get down to the correct landing level near the airport.
So far today (Tuesday July 16) there has been no response from Airways with additional detail and attempts to contact Airways have not been successful. We'll update our story when we have more detail.
A commercial pilot told Crux that it was not very unusual for an aircraft that is about to take off being delayed in backtracking to the runway threshold, which can then result in an incoming aircraft having to "go around" - but that would be a different situation to what is being described to Crux by Air NZ and Airways.
If you were on one of these flights or have more information please get in touch [email protected]
Main Image: Air NZ AR flight NZ 5653 on final approach over Frankton after making a low level circuit over Remarkables Park, Jacks Point and Kelvin Heights.


---