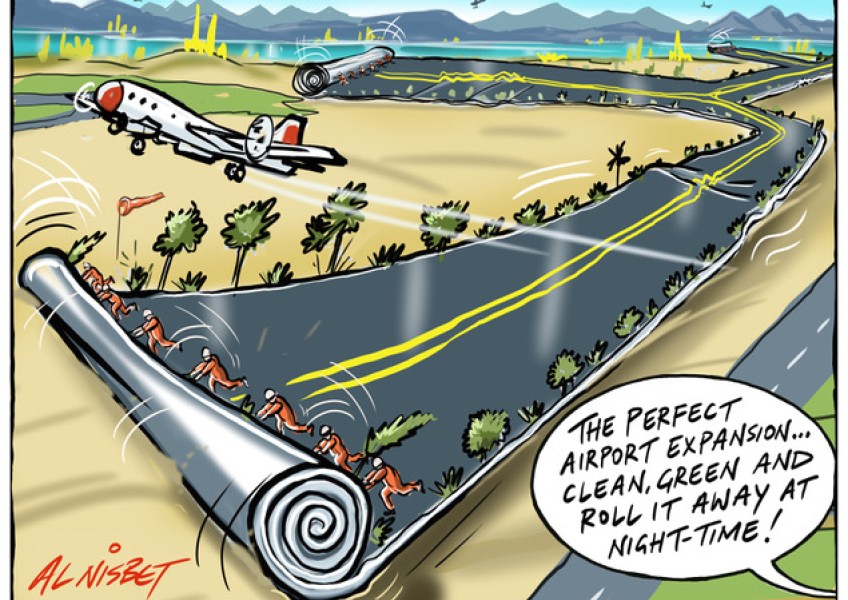 Air NZ: wishful thinking about Wanaka
by Denise McNabb - May 21, 2018
---
Air New Zealand's aspiration for flights into Wanaka could be years away because no aircraft in its fleet can legally land there under the airport's present status.
It has been widely speculated that the airline wants to start direct services between Auckland and Wanaka next summer using A320 jets, but the airport is designated non-certified by the Civil Aviation Authority (CAA), meaning only aircraft carrying up to 30 passengers can land there on scheduled services.
Air New Zealand's Bombardier Q300's are the smallest aircraft. in its fleet and, while they can land on Wanaka Airport's 1200m runway, they are 50-seater aircraft - 20 too many by the CAA rules.
Air New Zealand got around the rules previously by using a 19-seater Beechcraft 1900D to fly scheduled services between Christchurch and Wanaka, from March 2004 to January 2013, on its now defunct Eagle Air subsidiary. It stopped the operation because increased landing fees and aeronautical charges at both airports made the operation uneconomic with so few passengers.
To meet the CAA certification of the airport for jets, there is a lengthy compliance list, including airport security. This could take several years, not taking into account the consultative process with the community.
For a start, the runway would need to be extended to 1900m to handle a 170-seat A320 jet, or to 1500m for a 70-seat ATR aircraft. A 50-seater Q300 would not have the range to fly directly from Auckland to Wanaka with a full load of passengers.
Jets would also require a wider, sealed runway to prevent dirt and grass debris from being sucked into the engine, and the runway seal would need to be strengthened to take their weight. In addition, Wanaka would require a much bigger apron for the planes to park and a terminal capable of handling large numbers of passengers.
Air New Zealand chief executive Christopher Luxon told staff in an internal memo last week that Wanaka was an option the airline was considering.
It's no secret in the aviation industry that the airline has been eyeing Wanaka for several years due to the increasing number of tourists, growing local business activity, frustration its passengers face with congestion at peak times at Queenstown Airport, and because of the more stable weather in the Wanaka Airport area compared to Queenstown.
The ideal scenario for Air New Zealand would be an A320 jet service out of Auckland with international tourists feeding into it, according to an Air New Zealand source. The insider also noted that more than 20 percent of visitors to Queenstown visited Wanaka as well and that the airline saw "genuine long-term growth" in the Wanaka region.
Wanaka Airport's 100-year leaseholder Queenstown Airport has expressed plans for Wanaka to be complementary to its own operation. The Queenstown Lakes District Council owns 75 percent of Queenstown Airport, with Auckland International Airport owning the balance.
Community input
Wanaka's community will have its first chance at a public meeting with airport representatives tonight to voice its opinion on how it wants the future of the airport to take shape.
To set the scene, those attending tonight (and another meeting tomorrow morning) have been sent a five-page fact sheet by Queenstown Airport backgrounding the history and present infrastructure of Wanaka Airport, as well as posing questions about future opportunities for the airport's sustainable growth.

Finding a suitable option will be no easy task. Just about every facet of the airport will need to be rebuilt if it is to be jet-friendly.
Two years ago, consultants Astral Ltd predicted scheduled services were unlikely to resume until Wanaka grew substantially in population or demand emerged for turbo-prop services that couldn't be accommodated at Queenstown Airport, for connecting to the wider region.
Air New Zealand's stance has changed that perception.
Infrastructure

As well as the community fact sheet, there is a lengthy list of major infrastructure needs posted on the Wanaka Airport website. It lists 17 for the airfield, 11 for the terminal, eight for passenger security and 10 for surface transport – 53 in total.
On top of that, there are airfield requirements, community considerations, utility connections and opportunities for commercial and retail businesses, a vital part of airport revenue.
Aerodrome rules will change, new aircraft will be introduced and Wanaka's population will continue to grow - all considerations the leaseholders will need to take into account now, for its tenure during the next 100 years.


---