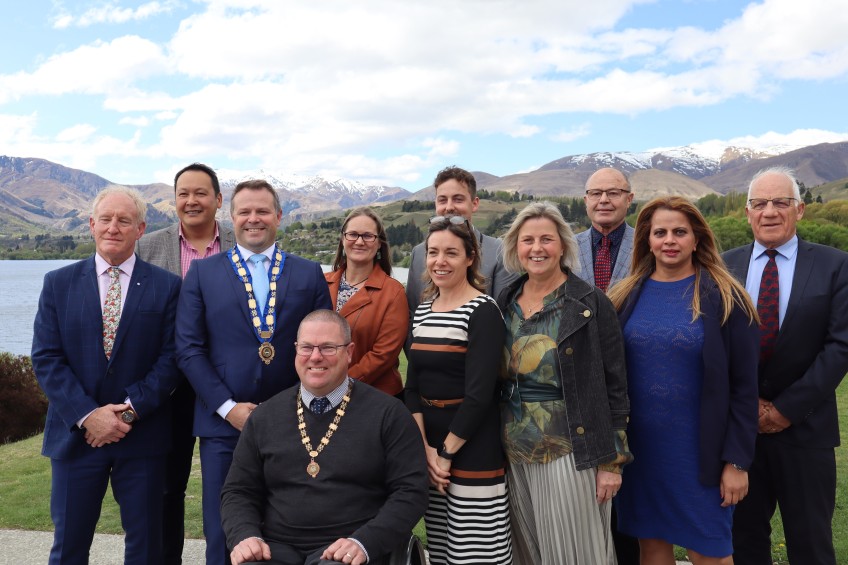 After the campaign - we have a new Council
---
After the occasional drama, and what seemed like an endless round of community debates, the new Queenstown Lakes District Council met for the first time today with any differences of opinion set aside - for at least half an hour.
New mayor Glyn Lewers was sworn in by QLDC CEO Mike Theelen, after which Mr Lewers then greeted each new councillor after they'd signed their respective declarations.
The only absentee was new councillor Gavin Bartlett. CEO Theelen only told the councillors and audience that Mr Bartlett had a "prior engagement". An attempt by Crux to contact Mr Bartlett resulted in him not answering his phone and it eventually going to voice mail.
In a popular decision, Mr Lewers announced that Wānaka's Quentin Smith would be deputy mayor. Former Mayor Jim Boult was not present at the event and he had controversially in 2019 passed over Mr Smith as the highest polling Wānaka candidate in favour of the lower polling Calum MacLeod as deputy mayor.
In the main group photo above are: (Left to right) Craig "Ferg" Ferguson, Matt Wong, Glyn Lewers (mayor), Quentin Smith (deputy mayor), Niki Gladding, Esther Whithead, Cody Tucker, Lisa Guy, Barry Bruce, Neeta Shetty and Lyal Cocks.
No formal council business was carried out today apart from the QLDC's lawyer reading out a list of penalties and forbidden activities for councillors.
Mayor Lewers did not make any kind of inaugural speech, instead appearing to enjoy the moment before the nitty gritty of council business gets under way at the first full meeting on Thursday next week.


---