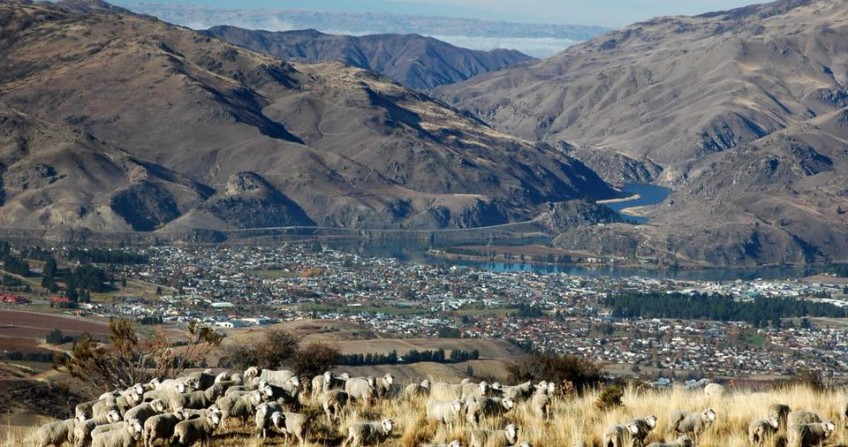 A Tale of Two Towns - Cromwell and Alexandra
by Aimee Wilson - Feb 28, 2019
---
Cromwell used to play second fiddle to Alexandra, and even one of its former Mayors who has lived there 47 years agrees.
Now the 'Fruit Bowl of the South' is a humming little town with a whole new culture.
When accountant Peter Mead was Mayor of Cromwell in the mid-1980s he knew 90% of the population. Today he reckons he would be lucky to know 9%.
There was a street named after him when he left, but no, he doesn't live on it - despite everyone saying he should.
Peter was largely responsible for the 1980s population boom, spearheading a multi-million dollar town redevelopment that was eventually paid for by the Government.
He believes the recent growth and development of Cromwell has been positive, but also knows a few people planning on leaving because it wasn't quiet anymore.
Holiday maker Bill van der Linde, who has been coming to Cromwell since the 1970s, misses the old laid back Cromwell, even as recently as the early 2000's, and describes his second home as now "just another urban sprawl." His comments were posted on the 'You Know You Are From Cromwell When…' Facebook page a fortnight ago.
The Central Otago District Council's Masterplan for the town predicts the population will rise to 10,200 in 2033 and then again to 12,000+ in 2048.
It's currently sitting around 7300 - including surrounding Bannockburn and Lowburn areas.
For some residents, council's plans and public consultations for future growth of the town have gone on too long. Pharmacy owner Jackie Hamilton said people were "disillusioned" by the process and the town was suffering from "survey fatigue."
The Cromwell Pharmacy and Lake Dunstan Pharmacy owner has lived in the area 17 years and she and husband Alistair also own Cairnmuir Station.
Jackie said she understood you have to change the goal posts as the town grows, but the consultation process started nine years ago.
"I'm all for growth and development, however, I have also been involved in three different consultations to change the town centre, and none of them have been completed - so what's the point,"? she said.
But Central Otago deputy Mayor Neil Gillespie said initial public consultations related only to the upgrade of the Cromwell Mall - nine years later with growth at the rate it was, the masterplan was looking at a much bigger picture.
"It was never intended to be a quick fix solution.
"We still haven't nailed the masterplan and there is still more work to be done. More extensive consultation. But we think it has been a major success."
Cromwell residents had it easier back in the early 1980s, when Robert Muldoon agreed to fund the town redevelopment, in preparation for five new hydro schemes in the region.
Peter Mead still has a copy of the agreement between the Cromwell Borough Council and Her Majesty The Queen, for the town to have new water and waste water infrastructure, a library, museum, parks, gardens, footpaths and streets.
While it was meant to be a 25-year loan funded by ratepayers, the Government took over six years later once the remaining Clutha Valley Hydro Development was shelved, and so the loan was void.
"It was a windfall for Cromwell of unimaginable proportions that no-one ever originally anticipated," Peter said.
Cromwell's population soared in the mid 1980s following the town rebuild, and at one stage was up around 4500. The Clyde dam was under construction and there was plenty of work.
But once the work dried up 10 years later it dropped down to 2600. Neighbouring Alexandra was still busy, with government departments such as the Ministry of Works and the DSIR (Department of Scientific and Industrial Research) keeping employment strong.
Arthur Barnetts sat proudly in downtown Alexandra with its own tearooms inside, and the Bendigo Hotel was busy seven nights a week.
Peter said there was no doubt about it - Cromwell soon became the small cousin to Alexandra - and it stayed that well until the turn of the century - 20 years later.
"Alex was the epicentre of everything," he said.
So how did it all turn around again?
Peter puts it down to two important factors - both related to transport.
Firstly, the Lindis Pass was fully sealed - opening up better access from Christchurch, and direct flights were introduced out of Queenstown Airport.
Both transport upgrades significantly increased visitor numbers not only into Cromwell, but into the wider Central Otago district, with smaller towns such as Glenorchy, Hawea and Naseby now becoming more accessible.
"Those places were not so time distant anymore," he said.
Following the recent economic recession in 2006 Cromwell jumped back up to 3500, and in the past 13 years that has since doubled.
Cromwell has become inundated with new people and new life. A whole new cultural change is taking place.
"But it hasn't just happened at the click of a finger. It has happened by evolution," Peter said.
As well as better transport, the introduction of grape vines, more cherry orchards than ever, "and now all those big freight trucks come rolling on in," he said.
Neil - also the Cromwell Community Board chair, said huge investment in property, viticulture and horticulture in recent years had ultimately created "the perfect storm," which meant it wasn't just about the town centre anymore.
"Cromwell has changed. It actually changed 40 years ago."
Newcomer Simon Giles, an Aucklander who owns an apartment at the Highlands Motorsport Park, loves Cromwell, and is setting up a 'Residents for Responsible Development Cromwell' group - which he hopes to replicate in Wanaka and Alexandra.
The former Australian Air Force now international airline pilot, has become renowned for his work on Plan Change 13 over the past year.
"I'm passionate about growth and tourism but without destroying what visitors have come to see…I love the Highlands Park. Cromwell is a largely unsophisticated working town, and not a jet boat town like Queenstown."
He wants to see Cromwell become a destination, "not a dormitory" town.
But the last words go to Neil, wearing two hats but for one council, and who has possibly lived in Cromwell as long as Peter Mead.
"You've got to know where you have been to know where you are going."


---